Calling all Lushies, we've got some exciting news to share with you! Vegetarian and ethical cosmetics brand, LUSH Fresh Handmade Cosmetics, is excited to announce its incredible growth in the region. The beloved beauty brand is now more accessible to cosmetics-lovers, as it unveils two new stores in the UAE. The brand aims to further expand its reach and be easily available to consumers through its new doors in Sharjah and Al Ain.
LUSH is proud to announce its landmark launch in Sharjah as it rolled out its first store in the city at Al Zahia mall last September. The exciting debut store in the city is located on the first floor featuring the stunning range of bath and body essentials and new launches. This is followed by the opening of its second store in Al Ain, at Al Jimi Mall last October. With its pioneer outlet in Al Ain at Bawadi Mall, the brand continues to cater to the residents of the area by offering its fresh handmade cosmetics in more convenient shopping centres.
As part of its long-term expansion plans, LUSH is set to open a new store at Sahara Mall, Sharjah, in the coming months. The branch will be the brand's 2nd location in Sharjah. The store design will be based on the core of LUSH's vibrant and fresh interiors.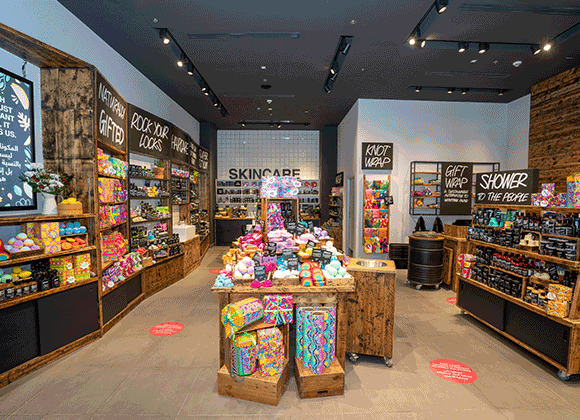 The new store locations feature a wide array of all-time favourites such as the Intergalactic Bath Bomb, Snow Fairy Shower Gel, Dream Cream Body Lotion, Mask of Magnaminty Face and Body Mask, as well as the newly launched aromatic fragrance range, and stunning makeup range. The expansive stores allow the customers to revel in the fantastic offerings of the brand with private consultations from LUSH specialists that would advise the consumers on the best LUSH product suited for them.
Comments Anita Baker, LUSH's Managing Director, "Now more than ever, shoppers finally understand the value of consuming ethically-produced products that are sustainable and cruelty-free. We at LUSH, know this very well and want to ensure that we are accessible to our consumers wherever they are – This is why we continue to open doors from all over the region to cater to our shoppers and let them revel in the delightful products we offer. As we strive to be near our Lushies, our focus on physical growth and expansion in the region continues to be a main focus for us as well."
LUSH has over 900 shops around the world with operational branches all over UAE, Qatar, Bahrain, and Kuwait.