Lebanese Fashion designer Abed Mahfouz opened his new showroom at City Walk with UAE's media personalities and launched his new 2022 bridal collection bearing his special touches that gave him his local and international fame.
After designing and making evening gowns with his sister, Mahfouz recognized his true fervor for fashion, and started designing and drawing complete fashion collections since 1982, which attracted attention and won admiration. This encouraged him to support his talent with everything he needed to be a successful fashion designer and established with his sister the brand that carried his name. He launched it from Beirut to all over the world.
Raised in a modest family in Lebanon, Abed Mahfouz started designing and drawing semi-complete couture collections since 1982 in Lebanon, influenced by family members who are involved in the tailoring business in Beirut. Hence, he grew up being surrounded with all what it takes to become a designer – fabrics, threads, scissors, and foremost family members that work in tailoring.
Mahfouz has a remarkable talent in fashion design, which emerged in the early stages of his life, and transformed it into a unique creative identity that imposed its presence in the most famous capitals of elegance in the world such as Fashion Week in both Dubai and Beirut. He carried his love for it wherever he went, and opened a showroom in the city center, before moving to Dubai recently, to continue his creative career.
Adorned with handmade pleats and folds, each of his dresses, including the bridal collection of 2022 celebrates the beauty of an elegant gesture which is the very essence of couture and Abed captures this perfectly with unique flowing silhouettes in traditional wedding gowns with a modern twist.
In 1999, Mahfouz launched his first collection of wedding dresses in a Beirut hotel and began his global journey with the presentation of a collection of evening and wedding dresses in Milan, and then in Rome, where he lived for 16 years. During this time, he presented successful shows in various parts of the world, before settling in Paris and commuting regularly to Beirut.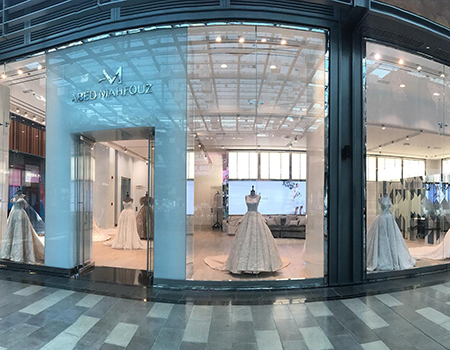 In the year 2001, the official launch of his collection of wedding dresses that bore the name "Halima" marked the beginning of the realization of his continuing dream in the world of fashion. International stars also wore his fashion, including "Angelina Jolie", "Selena Gomez", "Lindsay Lohan", "Elizabeth Banks" and others.
Abed Mahfouz carries his love for Beirut to Dubai and loves and appreciates the global position it has reached. He chose the high-end shopping destination "City Walk" as a new platform for him to communicate with elegant and modern women, as he displays wedding dresses that reflect the successes of his established career in the world of fashion.
Abed Mahfouz's global journey began when he accepted the invitation of the Italian-Lebanese Institute of Culture to present a high-end fashion collection for the summer of 2018, for which he chose the name "Victoria".
It was characterized by the nature of romance and luxury, connecting the relationship between women, luxury, sophistication and strength of presence, noting that Rome witnessed its first show in 2002, at the "Roma Alta Moda Week".
UNESCO also honored fashion designer Abed Mahfouz in 2020, in recognition of his outstanding contributions to the world of fashion, during "Paris Fashion Week" held at the Louvre Museum, where he dazzled the audience with his unique collection of Wedding dresses.
Abed Mahfouz carried his love for Beirut to Dubai and chose the high-end shopping destination "City Walk" to showcase his wedding dresses.