The Arab Fashion Council, the largest non profit fashion body that represents the 22 Arab countries with its base in Dubai and HuManagement the leading celebrities and talent management in the Middle East have announced today signing a partnership agreement to organize and curate the Fashion Icon Awards and the Arab Fashion Week.
The Arab Fashion Week is one of the 5 most important fashion events in the world alongside New York, London, Milan and Paris and the Fashion Icon Awards is new platform launched by the Council last year which is a Pink Carpet Gala Dinner that honor important fashion industry key players from around the world. Both events are graced by presence of A-list celebrities, influencers and media which is the department that is curated by HuManagement under this agreement.
Hady Hajjar, Co – Founder, HuManagement, said: "We are pleased to partner with the Arab Fashion Council to co-organize and curate the prestigious world class events. The partnership has the mandate to foster the growth of the regional fashion scene and showcase UAE as a creative hub".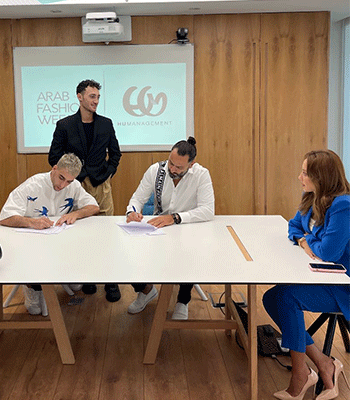 As a result of the partnership HuManagement and Arab Fashion Council will establish a luxury fashion PR department that will focus on fashion and lifestyle brands as well as celebrities' endorsement.
Commenting on the partnership, Mohammed Aqra, Chief Strategy Officer of Arab Fashion Council said: "HuManagement's expertise and savoir-faire is very aligned with the vision of Arab Fashion Council and the positioning of the Arab Fashion Week and Fashion Icon Awards by establishing a stronger alliance and network between the world of fashion and celebrities. we look forward to shaping together the regional fashion and celebrity's scene."