The Arab Fashion Week Men's for Spring Summer 2023 kicked off yesterday in a strategic partnership between Dubai Design District(d3) and Arab Fashion Council. Thousands of audiences gathered to watch the reveal of the SS23 collection of Lebanese Designer Maison du Mec, London-based Permu, Filipino designer Rian Fernandez, and Emirati streetwear label KA-1.
A robotic first cyber runway dog closed the Maison du Mec show — a theatrical effect to fete its latest collaboration with Swiss tech accessories brand Ferronato.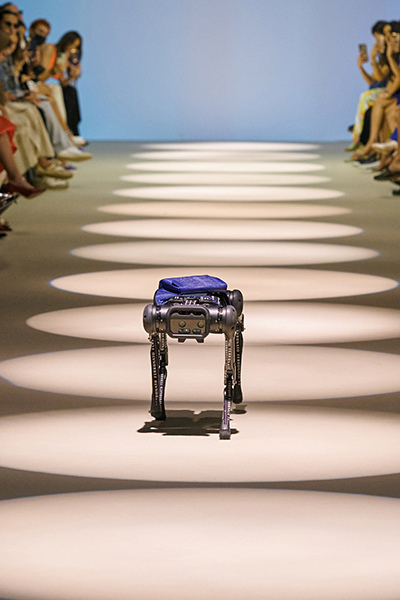 FERRONATO x MAISON DU MEC
Providing the fashion-tech highlight for Arab Fashion Week here, a robotic dog closed the Maison du Mec show — a theatrical effect to fete its latest collaboration with Swiss tech accessories brand Ferronato. The life-size creature carried with it one of the most innovative fine accessories to be showcased here. As if that wasn't enough, award-winning magicians and mentalists, James Harrington and Marina Liani opened the Maison du Mec show with a ten-minute mind-reading and magical-effects performance to an awestruck crowd… sending a major metaphoric message as to just how easy it is to steal one's data.
On the runway and fashioned in upscale leather, nonchalant, sleek silhouettes embedded with privacy protection hardware shared center stage. The capsule is the latest brainchild envisaged by the Swiss label and the Beirut-based brand.  On a broader level, this latest project underscores a wider industry foray, will to navigate and build bridges between regional fashion and the intricate world of technology.
Ferronato x Maison du Mec also underscored that technology can be crafted with luxe appeal, especially with Lebanon-based designer Joseph Achajian at the helm. Merging his aesthetic vision with the European company, the two wove the region's upscale accessories design
know-how with cutting-edge engineering and science. This time adorned in fine leather with ironic, geometric contours, Ferronato's full data privacy protection was integrated through meta-fabrics that block electromagnetic interferences and unwanted tracking via devices, at
the same time.
On the runway, updated French Riviera looks that take inspiration from the heyday of the 1960s were accompanied by easy, soft leather backpacks, versatile, micro smartphone cases, multi-functional clutches and slouchy drawstring bags awash in the same saturated tones of royal blue and burgundy set within a menswear collection that pays tribute to the designers tailoring heritage.
In line with Achajian's spring summer 2023 menswear collection, the accessories are also built around a sense of escapism and daydreams.
"The season's offerings are elaborated as double agents between the effortless and the engineered, the glamorous and the understated, reevaluating the summer wardrobe stereotypes we casually entertain," the designer muses.
An intimate dinner celebrating the joint capsule collection took place at Dubai's Lighthouse Building with the intention of bringing to the fore the innovative future of luxury privacy.
With Achajian's deeply-rooted knowledge of the menswear wardrobe, this is certainly a collaboration to keep an eye on as we face a new tech-driven era.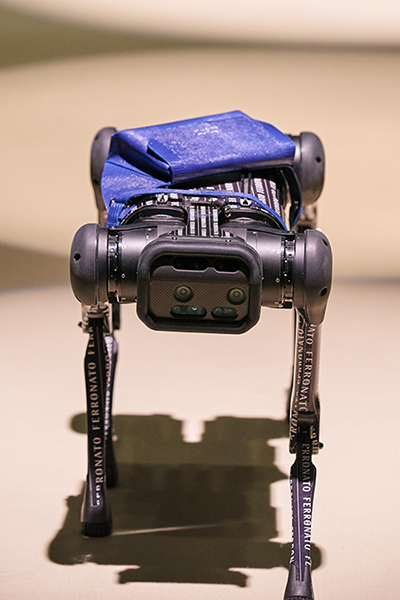 MAISON DU MEC
Who is the Maison du Mec man? Is he a gladiator? A corporate warrior?
A thrill seeker? A seaside dreamer?
Kicking off the Arab Fashion Week Menswear Spring-Summer show, these are some of the questions Lebanon-based designer Joseph Achajian attempted to answer. Staged just four years after he emerged onto the scene with his minimal black and white poplin shirts graced with the
label "New Dreams Every Day." In four years, a devastatic explosion, a pandemic and political and economic unrest have rocked his homeland, but his slogan… his ethos still radiates just the same.
With an eye on the future, Achajian once again stands out on the Middle Eastern fashion scene for his penchant for contemporary tailoring. Hailing from a line of tailors and corsetiere, he grew up around a factory, a family-run business that dates back to the 1920s.
Groomed to pursue a career in medicine, he completed a master's degree in biology but switched gears and went into retail and visual merchandising and styling which set the foundations for the success of the brand he runs today.  Innovative, unconventional designs adapted to a modern age, he embraces classic tailoring and the traditional pillars of suiting: jackets, crisp white shirts and trousers suited for a man living in a hyper connected, jetset age.  And spring summer 2023 was no exception.
On the runway, Mediterranean codes are told in notes of saturated hues of royal blue, bordeaux and cream – a color palette that transcends seasons. A Gilded-Age summer tuxedo was deconstructed, with its refined elements spread throughout a runway collection that included sleeveless vests, cropped trousers, and layers of notch and shawl lapels.
Headed towards an easy summer, the Maison du Mec man is ready for a season of post-pandemic events.  Nonchalant robes, silky track pants and mesh tops accented with innovative swathes of belted leather across the torso and crop tops in leather that show off the six pack
he's been working on. In fact, accessories feature prominently with mirror shades, mono-shoulder sling backpacks and water-bottle holders preparing the Maison du Mec man for the hot desert summer months to come.
In a much anticipated surprise that provided a highlight for Arab Fashion Week here, a robot closed the show, carrying with it, one of the latest fashion tech accessories from the collection Achajian has been working on with Ferronato. The Swiss Label has to its credit the first luxury accessories range with full data privacy protection which integrates meta-fabrics into high-end accessories that are ultra-fashionable and block electromagnetic interferences and unwanted
tracking via devices, at the same time.  With Achajian's deeply-rooted knowledge of the menswear wardrobe, this is certainly a collaboration to keep an eye on as we face a new tech-driven era.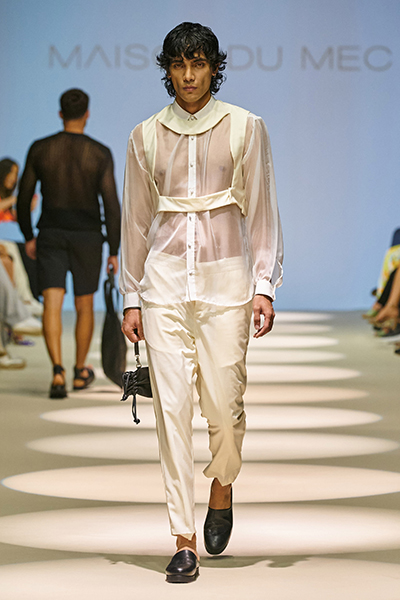 PERMU
Architecting the image of a new hero for spring summer 2023, London-based Permu is the brainchild of designer Heyun Pan and Jing Qian, the design duo that made their debut at Arab Fashion Week's fall winter 2022/23 shows.
Conveyed with body-embracing leather looks and powerful, sartorial silhouettes, Permu embraces individuality of spirit that abides not by gender codes. From start to finish, looks were styled the image of an intrepid explorer navigating a dystopian-style universe, one that speaks to the intricate world of gaming and the sort of aspirational menswear fashions that emerge from it.
Dubbed Permu, which is derived from the word "permutation" a mathematical term referring to a technique that determines the number of possible arrangements in a set, the brand unfurls a spring summer 2023 collection of looks that runs the gamut between club ensembles to emboldened occasion wear.  Jackets are nuanced with laser cut slits, puffed sleeves, exaggerated power shoulder pads and backwards-facing blazers. Challenging preconceived style norms, a sense of movement is conveyed via patent leather shoes fashioned into futuristic shapes similar to nautical rudders or aerodynamic wings. Skin-tight, sleeveless tops and leisure bucket hats inject a dose of levity into the catwalk storytelling that took place on the runway of d3.
Backstage, Pan told journalists that the collection is deeply centered around an attempt to build structure within menswear, tailoring and and innovation at the same time.
The designer, who rose to fame when the label's  fall winter 2022 entitled Concealable Zone of renewable wool fabrics, went viral. Through Permu, he joins Qian, a recent Haute Couture grad, fresh out of the London College of fashion. In a display that demonstrates once again that "replacement and fusion of different fashion styles can lead to a reaction of fresh creativity within the fashion industry."
Permu adds that its Asian production team focuses on innovative garment pattern cutting and infusing menswear with new sartorial technology. This spring summer 2023 season was no exception in terms of how their team used their sartorial savvy to construct a new vision of futurism, which deconstructs runway norms.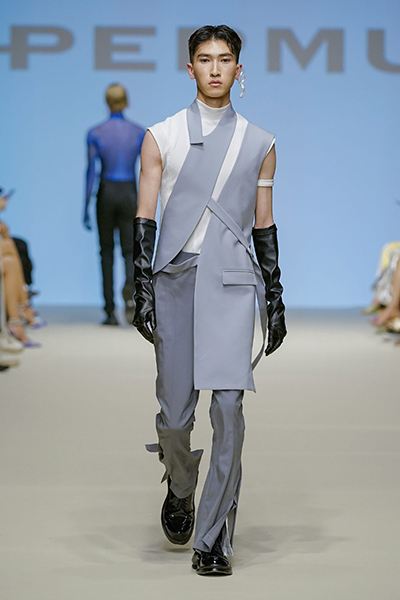 RIAN FERNANDEZ
An explorateur dressed in safari regalia fit for a modern prince, is the sort of man Filipino designer Rian Fernandez speaks to with his latest spring summer 2023 prêt-à-couture men's collection showcased here at d3.
Known for his couture looks driven by a love for traditional Filipino artisanal craft, attention to detail and penchant for pageantry and flair, Fernandez constructs the wardrobe for a modern icon with the same language he speaks to his female clientele – in notes of crystals and elaborate beading made by local craftspeople.  Cleverly-placed was his whimsical logo in gold, emblazoned onto a boldly bare chest and onto sporty cropped tops. Elsewhere, a top of fluffy golden tassels amped up a head-to-toe leather look, while a cropped-sleeved white
dinner blazer and matching shorts spoke directly to his celebrity male clientele.
A designer for Miss Universe beauties over the past six years, Fernandez is one of the most awarded designers in the Philippines and a member of the Council of ASEAN Fashion designers. Known for his show-stopping glittering gowns, today he demonstrates that he possesses fine-tailoring credibility. Breezy summer suits fashioned in colonial-era style were this time crafted with utilitarian pockets, metallic buttons and soft nostalgic lapels. In the same vein, he
transforms old images of the motorist and the hunter, transforming outerwear with a contemporary makeover, the latter grounded in retro notch lapels and traditional blazer elements.
Once again asserting himself onto the menswear arena, the La Salle College of the Arts-educated designer achieves an otherworldliness – one where warrior-culture inspiration resulted in luxe red carpet looks for an emboldened modern man who doesn't feel the need to fit
into cultural paradigms or abide by strict gender codes.  Infusing this week's lineup with something totally fresh, Fernandez injects the week's events with designs that conjure dreams and visions of the past imbued with forward-looking accents.  Fit for a modern prince, floor-sweeping capes and quilted vests call to mind images of heroes of a bygone era during these pivotal times when we all need dreams more than ever.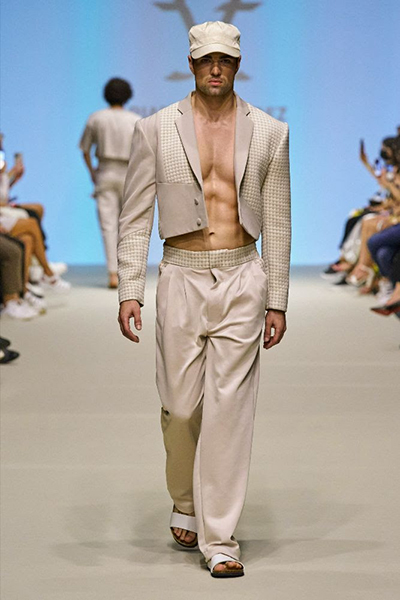 KA-1
Written in a language of slogans and jersey, Emirati streetwear label KA-1 is playing a key role in building the region's streetwear identity, heavily rooted in the region's ongoing era of industrial
prowess. Inside Dubai's d3's fashion space, the brand's spring summer 2023 lineup was built with comfort and multi-functionalism at its core, speaking to an ever-more casualized modern jetsetter and "woke" generations. Awash in desert tones of ecru, khaki and olive green and
punctuated with pop colors of pink and sporty ones like royal blue, KA-1 also embraced the rapidly-evolving excitement of the region, one of the most international and modern in the world.
In terms of style, the idea of everyday chill is expressed through multifunctional pockets, quirky straps and elastic tapering on trousers. Chunky checkerboard prints on totes and backpacks fortify the lineup with an unexpected splash of fun, while kitsch details and characters inject a dose of youthful positivity throughout.
Founded by Emirati entrepreneur Mr. Saif Belhassa, Chairman of Saif Belhassa Holding, the young brand is testament to the fact that the Emirates has its potential to construct its own pop culture and create its own icons.
Season after season, KA-1 purveys casual, comfortable looks that take on the local culture with a "home-grown" ethos and very much exudes this pride with every hoodie and t-shirt. Spring summer 2023 menswear collection is emblazoned with "We are the Future" a salute to the
UAE's recent 50th Jubilee and the fashion forward culture that has emerged from it.
The teddy bear fashioned with a dollar sign emerges as the unexpected protagonist of spring summer 2023. Crafted onto cross-body bags and other accessories, the brand's fluffy mascot closes the curtain on yet another fresh and future-looking season of newness.