The Third and Final Day of Arab Fashion Week Men's Spring-Summer 2023 kicks off with Lebanon's Emergency Room, UAE-based label Amato and Federation De La Haute Couture et De La Mode-supported designers Lazoschmidl and Arturo Obegero
Eco-Conscious, Poetic, Escapist are among the keywords that epitomize the collections unveiled on the final day of Arab Fashion Week.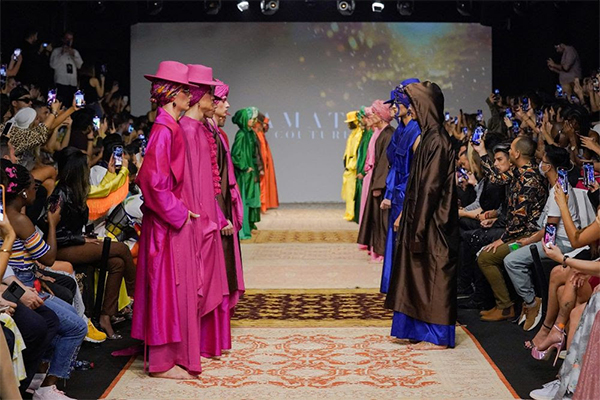 EMERGENCY ROOM
Local plant-based, tie dye batik methods from Lebanon were very much at the heart of Beirut-based brand Emergency Room's eco-conscious spring summer 2023 collection. Who knew a fashion-forward label with a club vibe can be good for the planet too? The array ranged from dystopian, black micro numbers for women, to bohemian knit cardigans for men and to tropical bowling shirts. It's hard to believe the label finds all the building blocks it already needs in second hand markets. Yet they are still able to tell a fluid story about an empowered generation that abides not by societal norms. One of the most ethically spirited brands on the roster, it's no wonder they teamed with logistics company Aramex for the release of a sustainable collection that will be showcased in October.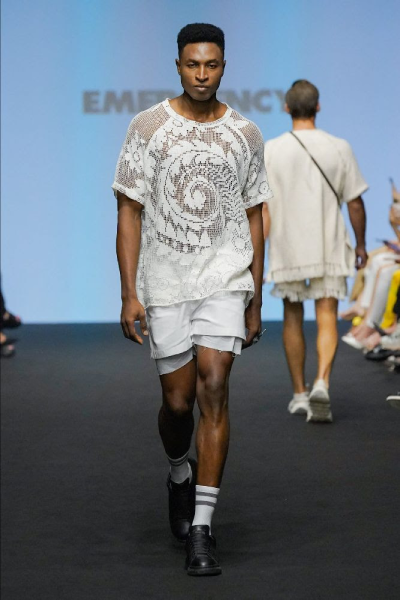 LAZOSCHMIDL
In swathes of iridescence, lurex and crushed velvet, Lazoschmidl, a special guest label presented by the Fédération de la Haute Couture et de la Mode, the French body that coordinates Paris Fashion Week, creates yet again something completely fresh and futuristic without borrowing from runway fashion trends of yore. Winner of the Innovation Prize by the Swedish Fashion Council designer Josef Lazo and Artistic Director Andreas Schmidl use their knitwear and writing backgrounds, respectively, to resonate a sense of fluid individuality and triumph over preconceived notions of dress on the runway and in real life. A youthful spirit permeates, via an ethos inspired by the girl band culture of the early 2000s and the nuanced art of Otto Dix, while flower scan prints feature prominently — a nostalgic remembrance of the dried flowers that adorned the home of Lazo's grandmother.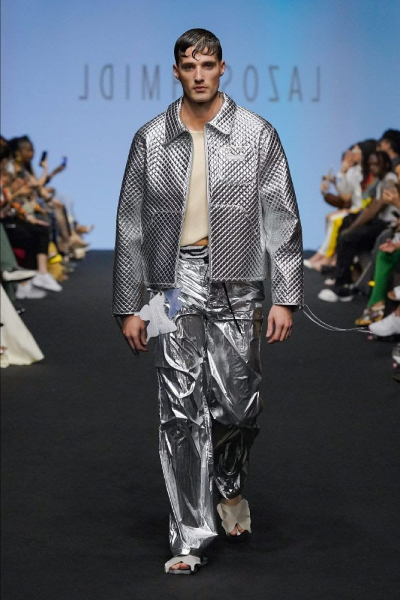 ARTURO OBEGERO
Barefoot, in body-embracing, silky elegance, Arturo Obegero's muse walked the runway like a dancer in an interpretive dance performance. Conveying a sense of simplicity of movement through monochrome primary colors and a dash of lilac and white, the Spanish aesthete unfurled a collection with the gravitas of a fashion veteran. Lest we forget, the young designer who cut his teeth at Lanvin, is also the renowned creative mind behind Harry Styles' audacious, body hugging, red-sequined jumpsuit for the video "As You Like It." It's hard to believe that this spring summer 2023 only his third fashion show to his name. This time presented by the Fédération de la Haute Couture et de la Mode, the French body that coordinates Paris Fashion Week. With sartorial flair, theatrical costumery and Parisian panache, Obegero provided a sophisticated high note for the last day of shows here at d3.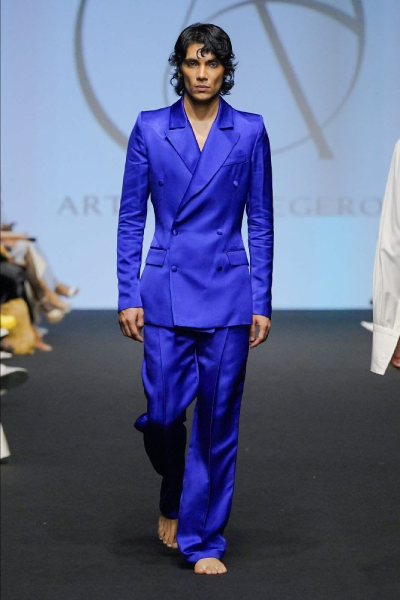 AMATO
With luxe looks fit for a modern maharajah, Furne One's first Amato Couture menswear runway show closed Arab Fashion Week here with a Holi Festival-like explosion of colors. Inspired by a 2019 trip to Mumbai, Delhi, Kolkata, Goa and Agra and the Taj Mahal, the famed Filipino designer turned vintage Indian costumery into contemporary regalia awash in a palette dominated by royal blue, marigold orange and fuchsia. "I was so inspired by the colors… deep reds, beautiful blues and it was all very festive," mused the designer, before his epic show that took place at Dubai's d3. Beads, sequins, and Indian silk served as the basis of this collection of satiny turbans, theatrical bomber jackets, hooded robes, fanciful trousers and pleated skirts that were a salute to the sarongs and Patiala Dhoti pants of a bygone era. With a runway made of Iwan Maktabi fine oriental carpets, one strikes a chord with the region's fashion elite, captivating an ever-more cultivated male audience in a language that transcends regions.