DSF Market Al Seef celebrates 'learning by doing' through educational and interactive cultural experience 

Extensive programme of themed weeks and live entertainment makes it an unmissable experience for the whole family 
Dubai Shopping Festival, in partnership with Dubai Holding Asset Management, is once again returning to the charming Al Seef, Dubai's popular waterfront promenade famous for its inspiring Emirati heritage, with a family focused DSF Market packed with fun activities, workshops, live entertainment and amazing fireworks.  
Running until 30 January 2022, the theme of this year's market is centred around the act of 'learning by doing', and celebrates the spirit of passing knowledge down from generation to generation.  In the style of a walkable outdoor playhouse and museum, the DSF Market at Al Seef will feature four zones inspired by the natural elements – Water, Air, Earth and Fire – with educational, interactive art installations that bring to life the rich culture and history of the Emirates.  
Building on the 'learning by doing' and elemental themes, a series of competition-winning artworks from students across Dubai schools (grades 6 to 12) are on display at Al Seef until 30 January. Run by DSF in partnership with KHDA, the young artists were asked to show how, "I can change the world through sustainability" using a medium of their choice – from photography to collage. Each of the talented winners received AED500 vouchers to spend at Al Seef. 
A number of themed weeks will also be part of the calendar for this very special cultural experience. Coffee Week, from 6 to 19 January, is designed for coffee aficionados to sip and savour the best of coffee culture from authentic Arabic gahwa to Italian cappuccino, and will offer barista experience, tastings and workshops.  Meanwhile, Date Week from 6 to 19 January, will transform the neighbourhood with date inspired food, drink, desserts and more.  
Ahmed Al Khaja, CEO of Dubai Festivals and Retail Establishment (DFRE), said: "Al Seef is a very special place designed to preserve the culture and history of our Emirates.  The DSF market at Al Seef is very much in keeping with that sentiment, and this year is themed around the act of 'learning by doing', taking inspiration from the Emirati fishermen, pearl divers and falconers who all passed down their knowledge and showed the next generation how things are done. With it's fun, interactive and innovative elements and extensive entertainment programme, DSF Market Al Seef is an experience for the whole family to enjoy."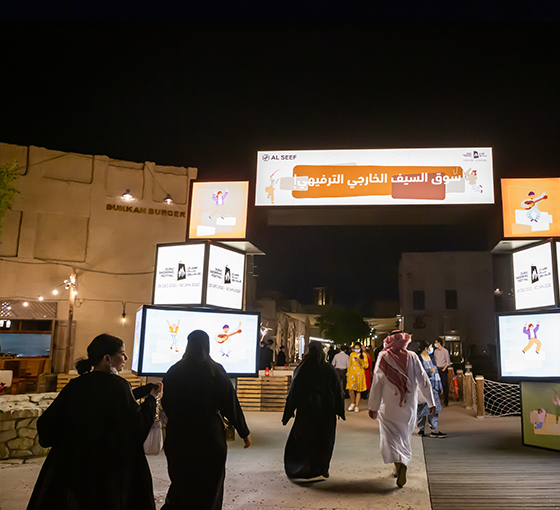 Fareed Abdelrahman, Managing Director of Retail Destinations – Dubai Holding Asset Management, said, "Dubai has earned its reputation as a global centre for tourism and leisure by consistently delivering unrivalled and innovative experiences. The emirate's retail and events calendar especially during the winter season attracts residents and visitors from the region and beyond to participate in memorable activations and showcases, and we have no doubt this year's line-up will exceed expectations. Our strategic partnership with Dubai Shopping Festival is a testament to our commitment to raising the bar for original experiences that spotlight homegrown creatives, our diverse retailers, world-class attractions and local heritage in a safe, immersive way."
Al Seef's DSF Market is open Sunday to Wednesday from 6pm-10pm and Thursday to Saturday from 4pm-11pm. The charming destination hosts a number of bespoke hotels, from the Canopy by Hilton Dubai Al Seef Hotel and Al Seef Heritage Hotel Dubai – Curio Collection by Hilton to the Hampton by Hilton Dubai Al Seef. Take your pick for a memorable stay and enjoy unrivalled access to the neighborhood's history-steeped avenues and all the action at Al Seef's vibrant DSF Market. 
Dubai Shopping Festival (DSF) is running from now until 30 January 2022 with incredible deals, innovative events, world-class entertainment and life-changing prizes. As the longest running event of its kind, DSF has grown over the last 27 years into a signature celebration for citizens, residents and visitors alike. Featuring the ultimate retail therapy from a wide range of homegrown and global brands as well as live concerts, nightly shows, outdoors markets, pop-up dining and more, this year's DSF experience is not to be missed.