Exercise? No thanks! Let's go for an extra slice as Buono Buono offers an unlimited pizza party every Wednesday that you shouldn't bail out from. And treat yourself and your loved ones to some good good weekend for a good good life at Buono Buono's Italian Friday Brunch.
GIRO PIZZA | WEDNESDAYS
Excer-slice your right for unlimited pizza for only AED59 on Wednesdays from 5:00pm until closing at both Buono Buono The Walk in JBR and Sheikh Zayed Road. Choose from a variety of flavours including Margherita, Diavola, Capricciosa, Parmigiana, Bufalina, Vegetariana, Quattro Formaggi, Burrata, Salmone, Tonno e Cipolla, Fiocco, Prosciutto e Funghi, Salamino e Pancetta, and Bresaola Rucola e Grana. Feeling adventurous? Try two of your favourite flavours in one pizza and get double the taste and double the fun.
TUTTI A TAVOLA | FRIDAYS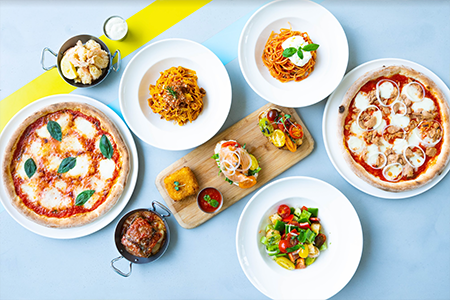 Enjoy an authentic Italian feast on Fridays from 12:00pm to 5:00pm at Buono Buono. For only AED79, you can deep dive into a spectacular five-course Italian brunch that includes starters, salad, pizza, main course and dessert – a perfect way to fab up your Friday.
Begin the feast with your choice of two starters from Pasta fritta, Frittura di Gamberi, Parmigiana di Melanzane, Bruschetta al Pomodoro and Bruschetta al Salmone. Add an Insalata from a refreshing selection of Caesar, Mista, Quinoa and Panzanella. For your mains, take your pick between Pizza cooked in the wood-fired oven or Pasta lovingly handmade from the restaurant's kitchen and cooked al dente. And make sure to leave room for desserts as you have cream puffs, affogato or brownies to choose from.
​​Foodies will surely come back for seconds as Buono Buono, which means good good, brings the traditional Italian dining experience to the city's hotspots. If you're craving the familiar comfort of classic Italian dishes while also seeking that next unforgettable, Instagrammable food moment, look no further as Buono Buono has arrived! A fresh Italian dining concept that takes genuine Italian dishes and reimagines them with a contemporary flair for modern-day foodies, Buono Buono serves up flavorful and exciting Italian cuisine at the heart of Dubai's liveliest dining hotspots – Sheikh Zayed Road and The Walk in Jumeirah Beach Residences.
Giro Pizza and Tutti A Tavola are available at both Buono Buono branches in Sheikh Zayed Road and The Walk, JBR.
Buono Buono is open from 8am-12mn on Sunday to Saturday.
Buono Buono also delivers via Deliveroo and Chatfood.
For more information, like and follow our Facebook and Instagram at @buonobuonouae or call 600 577 778 for reservations.