Former Liverpool FC left-back Jose Enrique met with fans of the Anfield club today to celebrate the opening of the official Liverpool FC store at Mirdif City Centre Mall in Dubai at a special event organised by Seventy-8, the club's official retail partner.
At the new Liverpool club store in Dubai, the Spaniard met with Liverpool fans, signing autographs and posing for pictures with hundreds of supporters in attendance.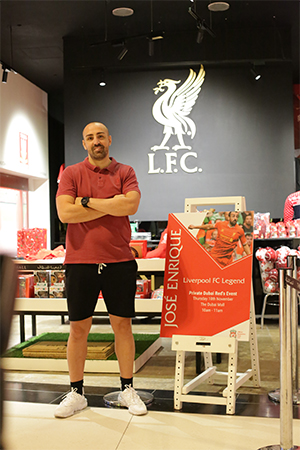 "The level of support for Liverpool FC around the world is well-known, and the passion for the Reds can definitely be felt here in Dubai and the UAE," said Enrique. "To be a part of bringing official Liverpool FC stores to our fans in the region and bring our worldwide family closer to Anfield is very special."
The first of the club's UAE stores opened its doors in Dubai Mall in November 2019, and since then, Seventy-8 has opened two new official Liverpool FC club stores in Ibn Battuta Mall and now in Mirdif City Centre.
Craig McKelvie, CEO at Seventy-8, Sports the official retail partner of Liverpool Football Club, added: "The opening of the official Liverpool FC club store in Mirdif City Centre is a proud moment for the team, and we feel that our current plans to continue the brand's expansion will support the club in aligning its success on the pitch with its commercial activities, and continue our approach of bringing Anfield to Dubai."
On the opening of the new club store in Mirdif City Centre Mall, Dubai, Mike Cox, Senior Vice President Merchandising at Liverpool FC, said: "We're delighted to celebrate our new Liverpool FC club store opening in Dubai, the support we feel from our supporters in the UAE is truly incredible and we are committed to bringing Anfield a little closer to them through our stores."