Malaysia's Pavilion at EXPO 2020 today announces it will feature 1,000 cultural and entertainment events and shows which will take place during EXPO 2020 in Dubai from 1st October 2021 – 31st March 2022.
Visitors will get a glimpse into Malaysian culture with daily dance performances carrying the harmony in diversity message of the award-winning Malaysia, Truly Asia tourism campaign. The 12-member cultural troupe from the National Department of Culture and Arts (JKKN) will perform five daily shows from noon onwards to entertain visitors to Malaysia Pavilion and a daily show at the Earth Stage in Sustainability district at the expo site from 7.00pm – 7.30pm.
Dubbed 'Malaysia, Truly Asia', the showcase includes a repertoire of over 20 selected dances reflecting the different cultures of the multi-ethnic groups in Malaysia and have become a unique identity of the country. The performances will take place at the amphitheater located in the Energising Harmony segment of the pavilion.
"The cultural segment is a permanent and important part of the Malaysia Pavilion as a tourism attraction. Expo 2020 Dubai is a significant platform for Malaysia to promote our attractive offerings as a tourism destination. It is essential in reviving the pandemic-hit tourism sector as we look forward to welcoming visitors once more to our shores as soon as borders reopen for travel," said Michelle Lau, Malaysia Pavilion director.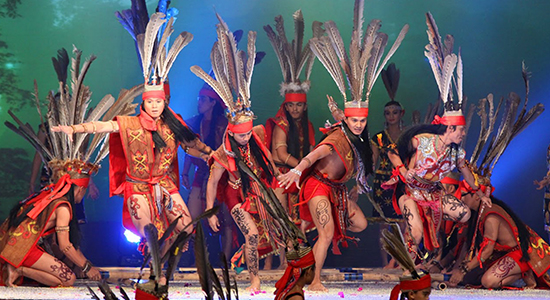 Arts and craft-loving visitors who want to learn something new can attend daily artisan craft demonstrations between 11.00am and 7:30pm on the Pavilion's ground floor. The demonstrations will be hosted by three craftsmen from Kraftangan Malaysia who will show visitors how to create hand-painted batik, weaving and jewellery and costume beading. Every last Saturday of the month starting 30th October 2021, the Malaysia Pavilion will give a recreational butterfly-shaped kite flying treat to the public at Forsan Park​, Expo 2020 Dubai​ in conjunction with the Pavilion's #MyButterflyEffect Campaign.
In addition to its cultural performances, the Malaysian Pavilion will hold weekly thematic business-focused programmes over the 26 weeks of the EXPO. Each week will cover a specific theme across ten industries divided into six clusters, namely:
Science, Technology, Innovation & Environment
Trade & 4th Industrial Revolution
Health, Education, Tourism & Energy
Entrepreneurship & Digital Economy
Agriculture, Agri Commodity & Water
Sustainability
The weekly business programmes will each have their own packed agenda discussing some of the most pressing challenges across different sectors, as well as the signing of multiple MoU's each week. A dedicated Eco-Tourism Week will be hosted at the pavilion by the Ministry of Tourism, Arts and Culture from 26th December 2021 – 1st January 2022 to highlight Malaysia as a green, sustainable and biologically-rich tourist site for those who yearn to enjoy nature and its wonders.