Dubai Festival City, Al-Futtaim Group Real Estate's fully integrated destination, will host the fourth season of the Dubai Festival City Half Marathon on October 22nd with the strong support of Dubai Sports Council, Dubai Police, Dubai RTA and Dubai Municipality.
Taking into consideration all the COVID-19 safety measures as per the UAE health authorities and the UAE government, Dubai Festival City will host the marathon, organised by RaceME, one of the leading sports event company in the UAE. The first race is scheduled to start at 6:30am and participants can register on or before October 19th.
Depending on the level of skill, runners can take part in the 21.1km half marathon, the 10km or 5km routes. The event also includes a 1km fun run for the kids.
The marathon is open to both seasoned marathon runners as well as aspiring amateurs and the route will take them through some of Dubai Festival City's most scenic locations including the Dubai Festival City Mall, Automotive Park, Festival Bay, Marsa Plaza and Al Badia Residences. There is also a Race Village located close to Festival Bay packed with several F&B options for spectators and participants.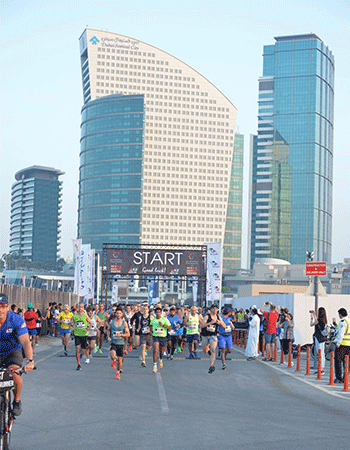 The Dubai Festival City is a holistic destination focusing on a large number of health-related events.The run provides a great opportunity for participants of all levels to come together, enjoy and truly embrace the spirit of fitness. The destination promotes a healthy lifestyle for all its residents, visitors and tenants therefore hosts marathons, events and activations in order to help everyone reach their fitness goals and lead a better life.
To book your tickets, please visit https://raceme.ae/event/dfc-half-marathon.
For more details on Dubai Festival City, please visit dubaifestivalcity.com.