Fashion industry, a 3 trillion dollars' worth industry, contributes to 2 percent of the world's GDP. Landscape of industry is changing rapidly to meet the competing demands of digital savvy consumers, particularly millennials. Technology is altering the way the fashion industry works- from design to retail- tech is revolutionizing the fashion world. Fast fashion leaders Zara and H&M are best known for implementing technology in their rapid-design, supply chain system, omnichannel retailing, and in-store store experience. Let's have a look at some of the top tech trends that are reshaping the fashion industry:
Artificial Intelligence
Agility and personalization are essential to stay relevant in a highly competitive fashion marketplace. Fashion houses are harnessing the benefits of Artificial Intelligence (AI) to predict the trends, automate garment construction, and customize designs to deliver a personalized offering to fashion lovers. Global fashion and retail industry investment in AI is expected to amount to $7.3 billion by 2022.
Augmented Reality and Virtual Reality
In today's experience economy, millennial consumers value experience more than materialistic consumption. Living up to the changed expectations, fashion brands are curating in-store omnichannel retail experience through augmented reality and virtual reality. Interactive displays not only enhance store appeal but also tell a brand's story. Consumers can now use VR mirrors in fitting rooms. Coach, an affordable luxury brand, provides shoppers with full access to its runway shows through VR headsets installed in stores. This in turn increases customer engagement and brand loyalty.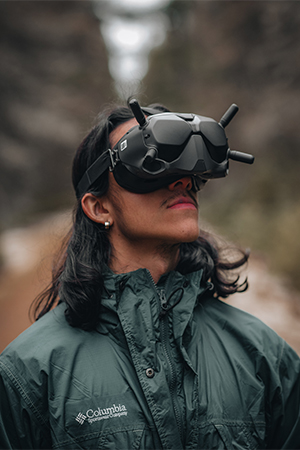 Wearable Technology
With the growth of Internet of things (IoT) and customer adoption of smart devices, the demand for wearable technology increased rapidly. Smart watches and fitness trackers witnessed a 22% surge in 2020. The trend diffused to 'tech togs', jewelry, shoes, and other fashion accessories that incorporate computing technologies to record, analyze and transmit customer's personal data. Denim trucker jacket worth $198 by Levis Strauss smartly incorporates technology to improve cycling experience.
Livestream Shopping
Livestream shopping is one of the most effective marketing strategies of virtually connecting with the customers. It allows e-tailers to reach out to vast customers, demonstrate the product through a live video and interact with them in real-time, on a one-on-one basis. This marketing strategy was very effective particularly during the pandemic. In the year 2019, livestream shopping generated $60 billions of global sales.
Clearly fashion brands are shifting gears from traditional to technology to better align with changing behavior of consumers and carve significant competitive advantage. But, would they have it any other way?