Swatch pays tribute to Her Majesty the Queen's colorful signature style with HOW MAJESTIC. The timing is everything as on February 6, 2022, the Queen will be the first British Monarch to celebrate a Platinum Jubilee, marking 70 years of service to the people of the United Kingdom, the Realms, and the Commonwealth. 
With seven decades of extraordinary service, a love for animals—notably corgis and horses, a collection of massive palaces, and the ability to change with the times, Her Majesty Queen Elizabeth II is a global pop culture and fashion icon. Her Majesty's wardrobe is defined by the staples that have been constants throughout her reign: black handbags, pumps and heirloom brooches that have seen her through countless royal walkabouts, weddings, state visits, and audiences with the world's most senior dignitaries. However, it's her love of bold color and statement millinery that ensures one of the world's most recognizable women always stands out from the crowd. 
Her Majesty has been known to perfectly time the color of her outfits to reflect the occasion. Deep green for a drive in the countryside, bright yellow to mark a joyful event, head-to-toe Autumnal colors to take her loyal corgis to the park, and so on. Swatch marks this milestone Platinum Jubilee with the HOW MAJESTIC watch that features a playful and colorful twist.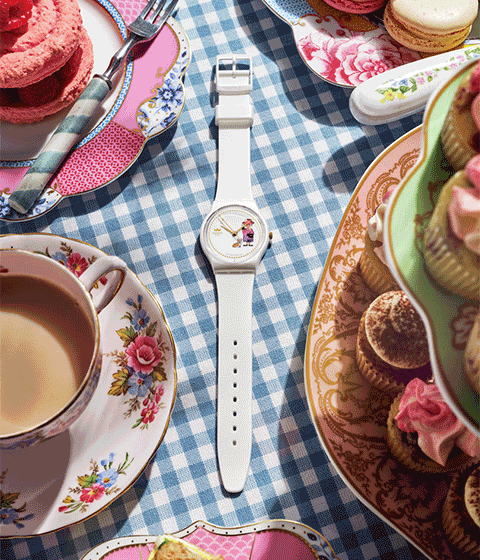 HOW MAJESTIC GENT is one the most uplifting homages to Her Majesty's style and presence thanks to the calendar wheel that changes the Queen's outfit color daily. Some days her attire will look more orange, then more pink, then purple, and blue, etc.
Her Majesty, complete with a statement hat, brooch and handbag, is depicted next to one of her trusty corgis on the white dial. Lending a regal touch are the gold-colored printed crown above the Swatch logo and the 70 gold-colored printed dots to mark the Queen's 70-year reign. The case and strap in matte white feature a metallic effect, bringing a royal shine to the bracelet.
Included in the special sleeve packaging, under protection of one of the loyal and iconic Queen's guards, is a unique surprise – a sparkly silver-colored crown.