It has been a year since the globe has embraced a shift in the lifestyle for most, if not everyone.  A lot of countries have been in numerous lockdowns one after the other, the entertainment industry has experienced a setback, the fashion industry and retailers have seen the necessity of e-com more than ever to remedy a crisis, borders have closed down and travelling has become an unticked box in our checklists.  
With the thought that fashion is a fast-paced environment, there comes science this year with a steadfast response to the pandemic, most especially in the field of medicine, as the vaccines have become available for most states.  Gratitude blooms as hope alights with the most recent and committed development.
Celebrating the innovations and wonders of this hope, the fashion industry has expressed and reflected hope in the Spring Summer 2021 Trends; oversized and relaxed pieces are dominating luxury brands as a reaction to an easier work environment while we embrace working from home, florals and vibrant hues has once again emerged the summer collections to signify a brighter day.  And sustainability has become a staple word in our vocabulary.   
Though at the moment it seems that the enlisted can't be packed to the most coveted summer suitcases, there is no reason to look less "tres tres chic" working from the bedroom or attending a video conference.  The late great Karl Lagerfeld once said; "Sweatpants are a sign of defeat.  You lost control of your life so you bought some sweatpants."
Look fresher-than-ever in social media with the latest in global statements and rise against the pandemic.  Because spring has sprung. 
Never has workwear been of so much interest than the present as everyone gets themselves equipped with their left and right video conferences.  As function becomes form, workwear is re-imagined by Heron Preston with signature logo patches, and ingenious construction.  A Cold Wall introduced richer colors in its utilitarian approach.
If you're living on this side of the globe – invest in resort wear.  Having 365 days of summer is reason enough to have an entire closet garbed with sheer fabrics, bright and vibrant colors, from island boho styles to French nautical stripes.  Try watching the live stream of designer Alessandro Michele's showcase for Gucci SS21 featuring his design team.  There has never been a good time to look glorious in the sun with an oversized pale tinted lunette, a much bolder floral print short, shirt, or robe, paired with the latest oversized raffia.  Staycations need not look less extravagant, the bolder the print, the brighter your vibe.
Nothing exudes coolness, if not a Zen feeling; than an easy and comfortable oversized attire that's paired beautifully to make it not appear lazy.  Adding to its countless advantages is a lengthy figure with a high waisted wide legged trouser.  Almost every designer this season had taken a version of a wide legged trouser.  Setting the tone are luxury brands Lanvin, Hermes, Wooyoungmi and Zegna with their take on comfort .  A personal top pick with this trend is the oversized knit and bermuda by Loewe, with plush color tones that exude a sunset vibe.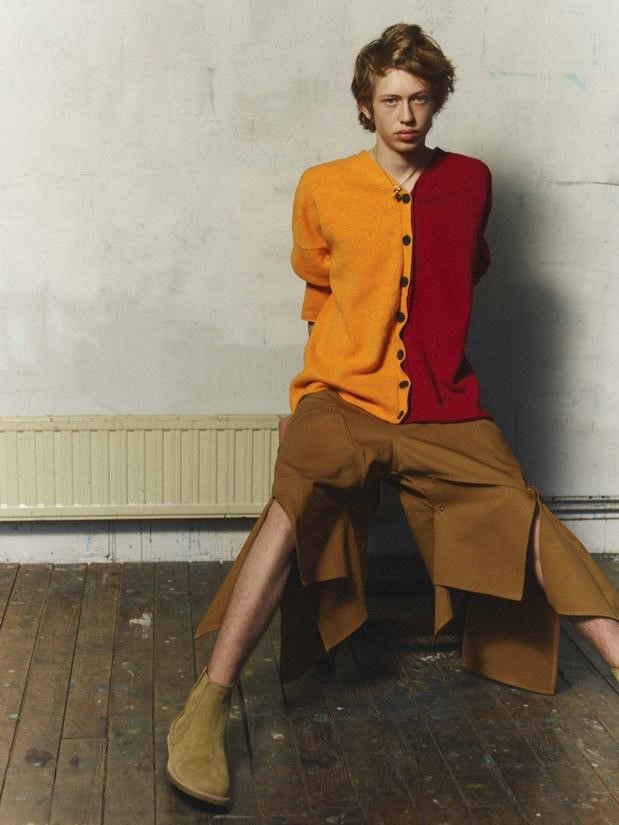 The aviation jacket comes back in season with different silhouettes from Gucci's 70's inspired cut to the minimalist bomber by Zegna, and divinely constructed take by Prada.  Local brand Victor Closet has topped this trend with another as they serve us a monochromatic logomania bomber.  
Empty your handkerchief drawer and make way for the latest accessory of the moment.  If you have only a few masks on hand, you're missing half of the story.  Over the days, people have realized the necessity of matching their outfit with a high-quality face mask.  Not that there's anything wrong with a double layered non-surgical mask, in fact, with masks, one should consider substance over style.  With all being said, I would find it a waste to garb myself in a dapper outfit only to find myself in a light blue disposable mask.  Brands have adapted to the new norm and produced masks as society gears its way through the pandemic.  Garimon Roferos created masks with renaissance print, and Atelier Ignacio has proudly produced an anti-bacterial face mask in several colors and prints, and even embellished with crystals for that much-awaited long deserved gathering.  The Giving Moment uses eco-friendly fabrics and even gives a donation for every piece purchased.  If you're not into this trend yet, trust me, this year is going to be big on masks still.
#thevictormagazine #victormagazine #fashion #fashionmagazine #magazine #art #lifestyle #dubailife #influncerlife #blackfashion #culture #victor #UAE #dubai #instagram #influencer #influencers #socialmedia #social #beauty #antiaging