On its 10th year, the United Nations Alliance of Civilization (UNAOC) in partnership with BMW Group and with the support of Accenture, held the prestigious Intercultural Innovation Award Ceremony last 18th of November 2021 at the Germany Pavilion in Expo 2020 Dubai within its themed week on tolerance and inclusivity.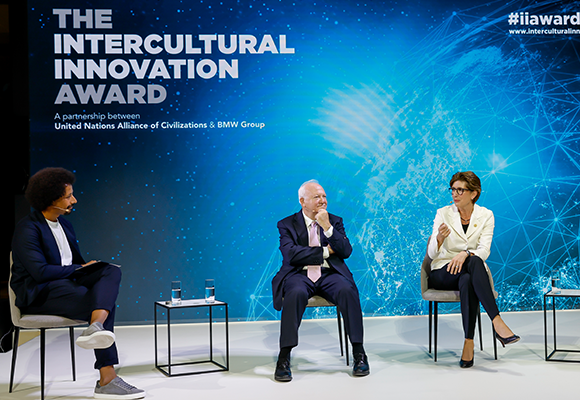 The ceremony was hosted by H.E. Mr. Miguel Ángel Moratinos, Under-Secretary-General and High Representative for the United Nations Alliance of Civilization (UNAOC) and Mrs. Ilka Horstmeier, Member of the Board of Management of BMW AG, Human Resources, and Labor Relations Director. The decade-long partnership between UNAOC and BMW Group is a testament to their joint contributions to fostering diversity and social inclusion worldwide. 
For this year's Intercultural Innovation Award, over 1,100 applications were received from 120 countries. Following a competitive process, 10 global innovative grassroots projects were selected that promote intercultural dialogue and work toward a more peaceful and socially inclusive world: 
The awardees, in no particular order, include: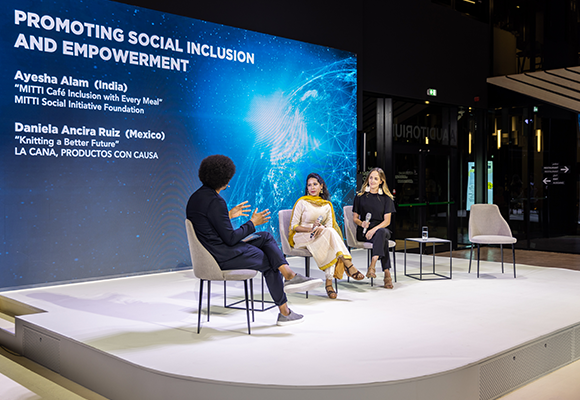 Project: "MITTI Café Inclusion with Every Meal"  
Ayesha Alam (India) – Director and Chief Strategy Officer
MITTI SOCIAL INCLUSIVE FOUNDATION
MITTI Café implements inclusive cafes managed by persons with disabilities that connect people, generate livelihoods and create awareness about inclusion through the medium of food.
Project: "Knitting a Better Future" 
Daniela Ancira Ruiz (Mexico)- Co-Founder and CEO
LA CANA, PRODUCTOS CON CAUSA
La Cana is a social enterprise that seeks to create fair employment and provide skills training for the incarcerated women, enabling them to earn an income away from crime though the creation of high quality products.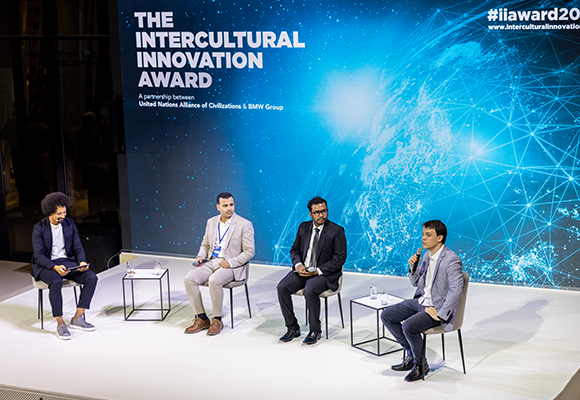 Project: "Dialogue on the Human Fraternity Document"
Youssef Aroog (Egypt)– Co-Founder and President
MEDITERRENEAN YOUTH FOUNDATION
The project serves as the first youth dialogue in the world on the Document of Human Fraternity for World Peace and living together. The project empowers youth in the region to promote the concept of human fraternity, intercultural and interfaith dialogue through a series of workshops and sessions. 
Project: "SMART Advocates: For effective dialogue to address the grassroots conflicts"
Kishoth Navaretnarajah (Sri Lanka) – Co-Founder and Programme Designer
STREGTHENING YOUTH LEADERSHIP COLLECTIVE (SYLC)
SMART Advocates is designed to train individuals who have the passions to engage in effective advocacy through visual storytelling to address the grassroot conflicts and to build a better Sri Lanka. 
Project: "Politize! Ambassadors Program: Promoting Civic Empowerment for All"
Vinicius Zunino (Brazil)- Leadership Foundation Coordinator
POLITIZE! CIVIC EDUCATION INSTITUTE
Since 2018, Ambassadors Program Politize! provides knowledge, training and experiences to build a new generation of citizens aware and committed to democracy. It aims to develop new generation capable of positively impacting public policies through all the cities in Brazil.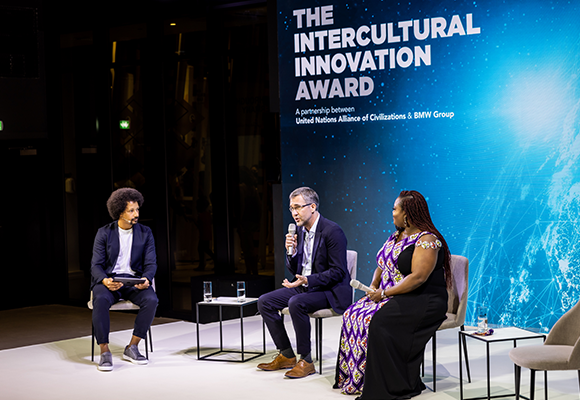 Project: "Always Remember, Never Forget"
Alexander Wenzlik (Germany)- Board of Directors and Managing Director
SPIELIN IN DER STADT 
Always Remember, Never Forget aims to make memories visible again in public places through physical presence and performances, to conquer cities in a reminiscent way and to further explore using the human body. 
Project: "Creative Youth Boot Camp: Art for Social Transformation"
Rita Ezenwa-Okoro (Nigeria) – Founder and Lead Visionary 
STREET PROJECT FOUNDATION
Creative Youth Boot Camp galvanizes young individuals from over 200 ethnic groups in Nigeria to co-create using performing arts as a tool to confront social issues such as gender inequality, lack of inclusion, xenophobia and violent extremism, plaguing the development of women, the youth and young people with disabilities.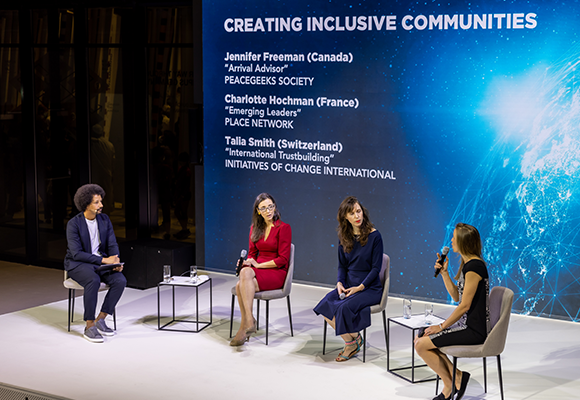 Project: "Arrival Advisor"
Jennifer Freeman (Canada)– CEO
PEACEGEEKS SOCIETY 
Arrival Advisors connect refugees and immigrants to trusted settlements and service information so they can plan their settlement journey in Canada. 
Project: "Emerging Leaders"
Charlotte Hochman (France) – Founder and Head of Innovation
PLACE NETWORK
PLACE was born in 2017 to enable newcomers (including refugees, asylum seekers and migrants) to be credible leaders, influential contributors and active shapers of European host societies. The project creates a link between migration and innovation by making visible and accelerating migrant-led innovation. 
Project: "International Trustbuilding"
Talia Smith (Switzerland)-  Program Manager
INITIATIVES OF CHANGE INTERNATIONAL 
The Trustbuilding Program prioritizes the needs of communities in conflict, which are working on transformation of their societies. They explore individual change and create safe spaces for community leaders and young people to have honest and open dialogues about uncomfortable issues that pose a challenge to initiating positive change in one's life, families and communities. 
These 10 selected projects will receive financial support of 200,000 USD to be divided equally, and each one of them will also benefit from professional mentorship support from the BMW Group, UNAOC, and Accenture. The recipients will also receive managerial and strategic project support and become part of the "Intercultural Leaders" network, a global platform which connects professionals and managers across the globe.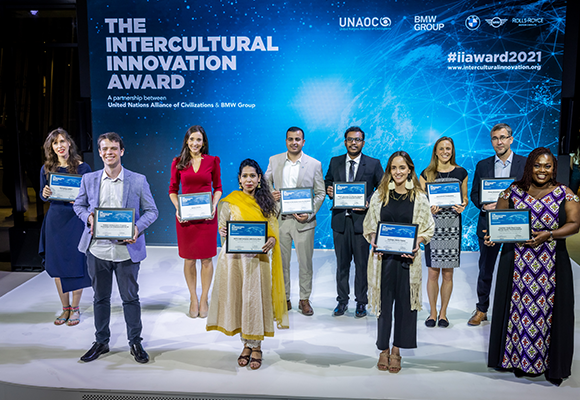 ABOUT THE INTERCULTURAL INNOVATION AWARD
The Intercultural Innovation Award is a partnership between the United Nations Alliance of Civilizations (UNAOC) and the BMW Group, with the support of Accenture, that selects and supports innovative grassroots projects that encourage intercultural dialogue and work toward a more peaceful and socially inclusive world by building mutual respect among peoples of different cultural and religious identities, rejecting violent extremism and embracing diversity.