The Ritz-Carlton, Dubai International Financial Centre is pleased to reveal its variety of offerings for the month of October. The opulent hotel invites guests to treat themselves to its F&B specials across some of its most renowned outlets.
Pamper your palate with delicious Normandie Oysters, along with fresh and elegant champagne at Café Belge, a classic European restaurant that has become a synonymously popular dining venue with the best European cuisine in Dubai. With two incredible packages – AED 250 for 2 glasses of Champagne and 4 pieces of Oysters or AED 750 for 1 bottle of Laurent Perrier Brut Champagne and a platter of 10 pieces of oysters, guests can indulge in the quintessentially great food alongside the perfect ambiance.
Making its post-summer debut, DIFC's modern urban oasis, Flair 5 has re-opened armed with weekly themed events and an elevated nightlife experience, helping guests to escape from the concrete jungle to immerse within the tranquil garden space.
Nestled in a modern architectural skyline awaits a little bit of heaven to ignite all your senses with exotic, fresh, and unique offers. Take a pick of your favourite weekly deal including 'The Secret Garden Brunch', starting 8th October and available every Friday between 1 p.m. – 5 p.m., with four wonderful packages starting with the innocent package at AED 345 inclusive of soft drinks to the French Flair package at AED 745 inclusive of champagne.
Additionally, every Wednesday between 8p.m. – 12 a.m., ladies can indulge in three free drinks at the bar with the Bloom Ladies Night offer, getting their dose of mid-week bliss with a resident DJ that promises to keep the volume and energy levels at an all-time high.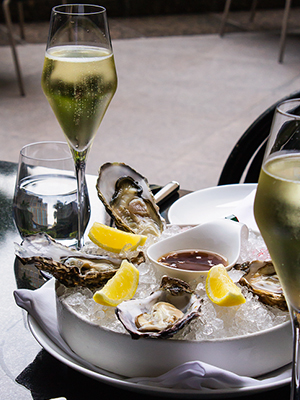 Bubbles & Oysters
Where: Café Belge at The Ritz-Carlton, DIFC
When: All through October from Sunday – Thursday (not available on weekends)
Time: Between 12p.m. to 7p.m.
Offer & Price: AED 250 – 2 glasses of Champagne and 4pcs of oysters
AED 750 – 1 bottle of Laurent Perrier Brut Champagne and a platter of 10pcs oysters
For reservations, email [email protected], or call +971 4 372 2555
Secret Garden Brunch
Where: Flair 5 at The Ritz-Carlton, DIFC
When: Every Friday, starting 8th October
Time: 1 p.m. – 5 p.m.
Entertainment: Live entertainment
Offer & Price:
Innocent – AED 345 inclusive of Soft Drinks
Hard Deal – AED 445 inclusive of House Beverage
Italian Trade – AED 545 inclusive of Sparkling
French Flair – AED 745 inclusive of Champagne
For reservations, email [email protected], or call +971 4 372 2555
Bloom Ladies Night
Where: Flair 5 at The Ritz-Carlton, DIFC
When: Every Wednesday
Time: 8 p.m. – 12 a.m.
Entertainment: DJ
Offer: 3 free drinks around the bar only
*No reservation, first come first serve only