Six lighting installations from international artists exhibited in Dubai for the first time ever for DSF

Emirati and UAE artists light up the Al Seef District with innovative and sustainable installations

One of the world's leading drone companies creates three exclusive new drone light shows specially for DSF 

Much loved DSF fireworks complete the lighting spectacular across the city in January 
Dubai, United Arab Emirates, 6 January 2022: The 27th edition of Dubai Shopping Festival is adding more exclusive experiences to its unique blend of shopping, prizes and entertainment with the first ever Dubai Lights project, Al Hai Light Installations from local artists at Al Seef and three never-before-seen Drone Shows.  
Renowned international artists from across the globe are exhibiting acclaimed lighting installations in Dubai as part of the inaugural Dubai Lights project, including a specially commissioned piece called City Gazing Dubai by VOUW at DIFC.  This impressive light sculpture maps the city of Dubai against a unique composition of music and is one of six interactive lighting exhibits taking centre stage this DSF at locations across the city. 
Other installations at The Pointe include Absorbed by Light by Gail Mary Lucas where visitors can join beautifully lit figures on the seating bench for a highly instagrammable experience and Talking Heads, a creation by artist Viktor Vicsek that spotlights four thousand LED lamps to showcase different facial expressions located at the valet parking area. 
Cyclists are in for a treat at the beach in La Mer with Lightbattle X, a fun interactive feature from artists, Venividimultiplex. Pitting cyclists against one another, this installation sees up to four cyclists at a time race to light up the piece in a flood of colours.  Also at La Mer, experience a botany-inspired laser show, complete with relaxing soundtrack from the artists Tom and Lien Dekyvere, with the travelling lighting structure, Rhizome.
The mesmerising Infinita from Balmond Studio completes the line-up at Last Exit Al Khawaneej . The installation is a triangular pyramid with a bright sparkling quartz structure composed of multiple tetrahedrons of cracked crystals with the internal structures reminiscent of Alice in Wonderland's Looking Glass. 
The lighting spectacular also extends to the popular DSF Al Seef Market which is exhibiting a series of innovative and sustainable art installations.  Al Hai – which means 'the neighbourhood' in Emirati dialect – features the creations of Emirati and UAE-based artists: Raghad Al Ali, Fatima Alawadhi, Eman Al Rahma, Rowdah Alsayegh, Ahmad Geaissa, Abdullah Khouri and Yara Manla and depicts elements of the traditional Emirati community. Visitors to Al Seef can enjoy an enthralling exploration of light and imagination as they stroll around the popular area of the city.
The second edition of the DSF Drone Light Show is also back by popular demand at  Bluewaters, The Beach opposite JBR and the newly opened global attraction, Ain Dubai.  Running daily at 7:00pm and 9:30pm, the three new and exclusive shows running on rotation are complemented by the spectacular lighting show on Ain Dubai. Set to the much-loved 'Ya Salam Ya Dubai' song by Rashed Al Majed and RedOne; the Expo 2020 anthem, 'This is Our Time' featuring Hussain Al Jassmi, Almas and Mayssa Karaa; and David Guetta's global hit 'Titanium' featuring Sia, the DSF Drone Light Show showcases mesmerising choreography and tells the story of the UAE's past, present and future with AR elements.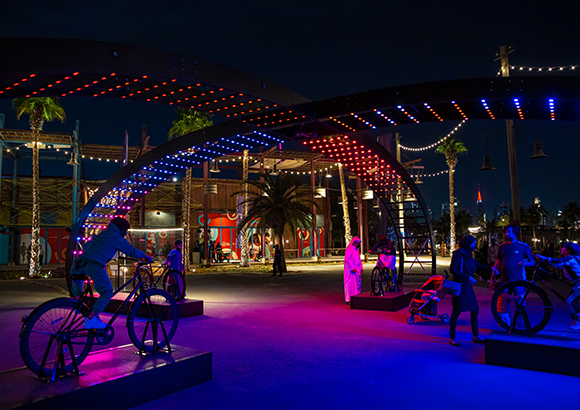 The sky will also continue to be lit up every evening with a very special DSF firework display to mark each day of the world's longest running retail festival. The DSF Market at Al Seef, which is packed with fun activities, workshops and live entertainment for the whole family, will play host to fireworks by Al Zarooni Group until 12 January.  After which Bluewaters and The Beach Opposite JBR will take over the spectacular with a special joint display with the DSF Drone Show until the 23 of January, concluding with the grand finale at The Pointe until the end of the festival on 30 January.   
For more information on dates and time, please visit @StyledByDubai, @CelebrateDubai, @dsf_markets and #mydsf on social media channels and www.mydsf.ae. 
Dubai's malls, retail stores and attractions are all continuing to adhere to stringent COVID-19 health and safety protocols issued by public health authorities, while taking all the necessary precautions to keep visitors and shoppers safe and at ease.
-ENDS-
About Dubai Shopping Festival 2021-2022
Shop, win and be entertained as Dubai Shopping Festival (DSF) returns from 15 December 2021 to 30 January 2022 with incredible deals, innovative events, world-class entertainment and life-changing prizes. As the longest running event of its kind, DSF has grown over the last 27 years into a signature celebration for citizens, residents and visitors alike. Featuring the ultimate retail therapy from a wide range of homegrown and global brands as well as live concerts, nightly shows, outdoors markets, pop-up dining and more, this year's DSF experience is not to be missed. 
About Dubai Festivals and Retail Establishment
Dubai Festivals and Retail Establishment (DFRE) is responsible for developing Dubai's retail and festival sectors and supporting the positioning of Dubai as a world-class tourism destination with year-round family entertainment, shopping and events.
 For further information, please contact:
Dubai Tourism
[+971] 600 55 5559