Once again, winter is approaching in the Middle East. The humidity in the UAE has cooled down, the perfect time to venture outdoors. Bring out those sweaters from your closets, warm yourself up under a blanket fort in the comfort of your living room; watch holiday movies with friends and family. With the festive season around the corner, what holiday would be complete without a warm, comforting meal?
Good, warm and soulful food enhances the vibes during the festive season; as it goes hand-in-hand. Be it during a family get together, Christmas parties; a splendid spread awaits for the guests to feast on. There are many dishes that are an absolute must during this festive season, some traditional on Christmas Eve. Since this is the time where we spend quality time with family and friends, planning a heartful menu is very important to make ahead and add unique touches to traditional dishes; impressing your guests. That's what we've done to introduce a 3-course winter menu: Adding a bit of Middle Eastern touch to these traditional, winter dishes.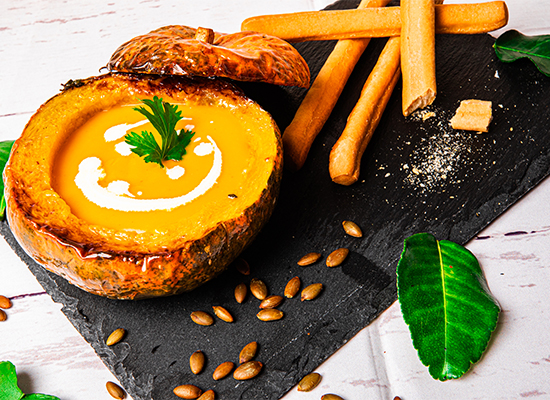 Butternut squash is a well-populated vegetable throughout fall and winter, what better way to accumulate this ingredient into the menu with a good warm Roasted Butternut Squash Potage? It's thick and creamy texture with kaffir scented Coconut Cream that makes the dish shine. You can serve it in your treasured flatware, or be fancy and impress your guests by using roasted pumpkin bowls to serve up. Don't throw those seeds away; toasting them would make a lovely topping for the soup.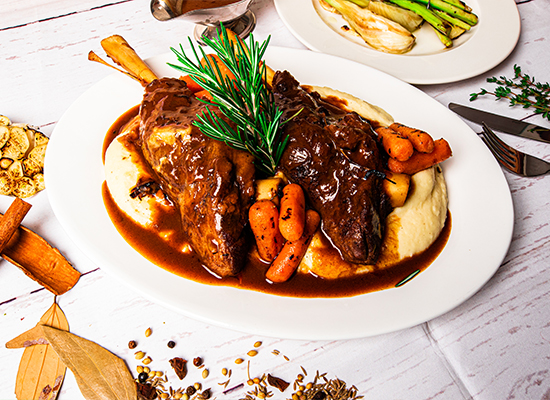 While Turkey and Chicken is mostly seen at festive tables; lamb shanks make a more unique and stunning impression at the dinner table. Slowly braising these Baharat spiced (Middle Eastern spice mix unique to every household) beauties, creates a tender and succulent off the bone meat, while creating a luxurious depth of flavor in the aromatic delicious gravy . A smoothing effect to add with creamy mashed potatoes paired with grilled winter vegetables like parsnips, baby carrots, asparagus and fennel.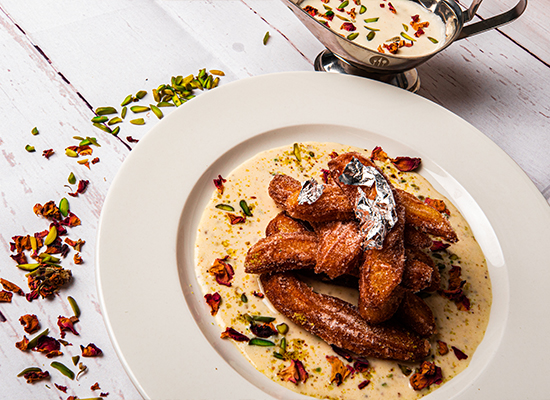 When it comes to dessert, how about a Spanish influenced dessert with a Middle-Eastern touch. Yes, you probably guessed it! CHURROS : This deep-fried, cinnamon sugar coated delight has been paired with the ever so decadent Pistachio and Rose Crème Anglaise; this is exactly what is needed to end that stupendous meal.
So there you have it, right at your dinner table, your guests can explore the festive flavours through these 3 warm heartful dishes while getting a hint of that Middle Eastern touch. With the apt winter ingredients, your festive dinners' will be one to never forget.
Student team: Anjali Nair , Shruthi Kuttipravan, Chantel Barrett and Abhishek Achary Bachelor of Hotel Management Students (Amity University Dubai)