The Ministry of Environment and Water (KASA) will host Malaysia's weekly trade and business programmes at Expo2020 Dubai with the theme 'Green Growth: Ready for Global Opportunities', from 18th October until 6th November 2021. During the three week programmes, three Memorandums of Understanding (MoUs) and three Letters of Intent (LoIs), with business opportunities valued at $1.275 billion, are expected to be signed between Malaysian and global companies.
In Week Three of the Expo, 18th to 22nd October 2021, KASA is organising a trade and business programme themed 'Green Technology Innovation'. This programme showcases Malaysia as a leading nation in green technology innovations and climate change, promotes the country's green technology industries to the global market and attracts strategic green technology investments into the different sectors and industries of the country's economy.
Week Four, 23rd to 30th October 2021, will carry the theme 'Climate Resilience and Sustainable Infrastructure'. In this week, KASA will highlight Malaysia's agenda and strategy to address climate change and build a green economic model. The Climate Change Conversation on Sustainable Infrastructure forum on 25th October 2021 will explore urban development challenges which is a major contributor of greenhouse gas (GHG) emissions.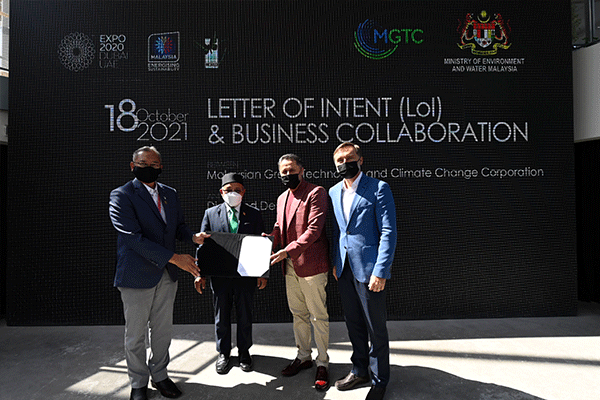 Week Five will focus on the theme of 'Low Carbon Cities' from 31st October to 6th November 2021. The Climate Change Conversation on Sustainable Cities scheduled for 1st November 2021 will feature the Mayor of Kuala Lumpur representing Malaysia, among other international panelists. This forum will be an exchange of ideas on programmes that are implemented locally and the respective countries' goals in developing sustainable cities.
KASA's participation in Expo 2020 Dubai is a collaborative effort with PETRONAS, World Islamic Economic Forum Foundation, and strategic partners such as Next Green Global, Ficus Venture, Freed Holdings, National Art Gallery, UN Global Compact Malaysia, Sunway Planetary Health Centre, and other Malaysian private companies with global experience.
Malaysia's participation in Expo 2020 Dubai is spearheaded by the Ministry of Science, Technology and Innovation (MOSTI) and implemented by the Malaysian Green Technology & Climate Change Corporation (MGTC), an agency under KASA.