Dan Bolton Creative Management Agency (DBCMA) which specializes in creative performances, production, castings, artist management, and event design, concluded its involvement with Expo 2020 by providing a long list of spectacular entertainment. The vibrant shows that kept the entire world on their toes and throng the largest event in the Arab world for full 6 months owe their fair share to DBCMA.
Known for creating impactful and unique experiences, the creative management agency provided world-class talent for everything from daily and ongoing entertainment programmes to exclusive shows that drew crowds in. The mega Coldplay Concert that took Dubai by storm and rocked Expo 2020 saw uber-talented DJs such as DJ Stylez, DJ Bliss opening the show and setting the right mood for the evening in the DEC Arena with massive screens broadcasting live for the audience – DJ's courtesy of Dan Bolton Creative Management Agency. The unforgettable and riveting Infinite Night concert by Alicia Keys also saw spectacular dancers along with the costumes that were provided by DBCMA. 
Moreover, Dan Bolton Creative Management Agency provided musicians, aerialists, dancers, acrobats, violinists, and other talents from around the world to put on unforgettable performances. Especially noteworthy were the Australian Pavilion shows which brought forth an astounding lineup of nonstop performances. Australia was also one of the busiest pavilions of Expo 2020 and made visitors feel like a part of the Australian community. 
Dan Bolton Creative Management Agency also collaborated with the Morocco Pavilion for their exclusive once-a-month fashion shows and supplied models that wore gorgeously designed traditional Moroccan kaftans along with backstage staff that managed the beautifully-put-together shows.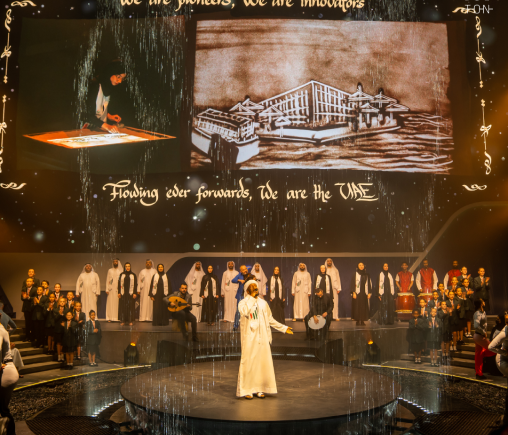 For the DP World's UAE Golden Jubilee Show, DBCMA partnered with The Open Lab and supplied singers, choirs, drummers, cultural dancers, orchestra, and sand Artist. The resulting immersive dance and the audiovisual show brought to life the amazing story of the UAE, starting from its early days of dhow trading, life in the desert, pearl diving, oil exploration, and modernisation, and ending with the country's foray into space exploration. The magical event came to life thanks to multiple overnight rehearsals and Dan Bolton Creative Management Agency in collaboration with the Creative Director and talent from the UK putting together a spectacular lineup of professional artists. 
'WHY?'- the Musical, created by Shekhar Kapur with music by A.R. Rahman, was yet another feather in DBCMA's cap during the Expo 2020 run. The musical followed the story of a curious young girl and a wise old man in a dynamic spectacle that took audiences on an incredible journey of discovery, while also instilling empathy towards the planet. For the show, Dan Bolton Creative Management Agency supplied 8 cultural groups including performances from Chinese, Indian, Filipino, Sri Lankan,Whirling Dervish, Ukranian, Indian and Flamenco received standing ovations as they came together wearing their unique costumes and showcased their traditional dances on a single piece of music highlighting in all their glory and pride that the world is indeed 'one'. 
DBCMA also collaborated with Artists in Motion (AIM), a creative projects company, and supplied highly accomplished dancers and other talents for the Diwali Show at Al Wasl and New Year's Eve Spectacular. The creative agency also helped with multiple other events around the site. DBCMA started its engagement with Expo 2020 as early as 2019. The company planned the Expo Pavilion Premier Project that started from mid-Jan in 2021 and went on till Ramadan. For two and a half months straight, an eclectic range of musicians came together to showcase and give guests a taste of what to expect at Expo 2020 and for what was to become the Arab world's most glorious event.