Referred to as the "Godfather of Singapore Fashion" and hailed as one of the "Singaporeans who mattered most in 2009 by CNNgo. Victor Magazine had a chance to talk to Mr.Daniel Boey, a fashion genius and one of the respected fashion authorities in the region, giving us a picture of his digital innovation that nurtures and inspires Asian Fashion Talents to become part of a global platform. 
Tell us  something about yourself
I am best known in the industry as a fashion show producer, curator of festivals such as Singapore Fashion Week, Singapore Fashion Festival and now the Front Row Style. I love working with designers to tell their stories through Runway Shows, Editorials and Fashion Films. As a Fashion Storyteller and Showrunner I started to indirectly discover and nurture talents such as models and prepare them for the industry particularly the Asian faces. I am very passionate about discovering new creative talents in fashion of Asian descents. I believe that there's more out there aside from the famous ones like Philip Lim, Thakoon and Alexander Wang.  Having been in this industry for the past 31 years , I think I've paid my dues through all the commercial things that I have done , and it is time for me to start following my real passion and give back to the industry by mentoring the next generation of Asian Fashion Stars.  

Being in this industry for the past 31 years can you tell us the highlight of your career
A lot of things have happened in the past 31 years. Fashion has been evolving all the time. Thirty one years ago when I started in fashion it was really different. The way designers used to do fashion shows, the models used to be discovered and editorials used to be shot were completely different. 

In those past experiences I had a lot of highlights but what I can say is that I had a major turning point in my career. It was when I started working in the UK, because here in Singapore you were never appreciated until you work in the West and start working in the so called fashion capitals. I started working in the likes of Vivien Westwood, London Fashion Week, Edinburgh Fashion Festival and that is when I started getting noticed in Singapore. I called it a turning point because when you start getting noticed, you are put in the position where you can help others and that was the time when I began to promote Singapore and Asian designers in London and Paris, as well as models in the west. I believe in what the movie Spider Man says " With great power comes great responsibility". I see that as something and it was a point for me to give back, because when I started I had a lot  of support from people and now it comes full circle.  This is the time to start supporting as well and that was when my perspective in fashion completely changed. 
You were tagged as Singapore's Godfather of Fashion. How do you use this title to make an impact in the industry?
When I got tagged as the Godfather of Singapore Fashion it suddenly blew up. I was kind of embarrassed at first because I didn't do this for fame just because I wanted to be known. I do this because this is my passion. And then the journalist who called me and gave me that title as the Godfather was the Editor of HerWorldPlus Niki Bruce. According to her she called me by that title because everyone acknowledges me as the Godfather of Singapore Fashion. She challenged me that if i can take this, embrace it , do good and help the industry then i would not be in vain. And it goes back to nurturing people, then I realized that if accolades like that were given to you, you improve yourself, you improve the industry, you improve people , then by all means you will embrace those titles. As a person, I always believe in the values of  "Paying it forward." With these accolades given to me I help others to become the best designers, become the best Asian Supermodels and for them to become the best versions of themselves. 

We at Victor Magazine  celebrate innovation and artistry. As the founder of Front Row Style can you share more about it?
Before the pandemic started, there's already a lot of discussions about how fashion needs to move forward. How print media needs to keep up with the digital media, even Instagram is becoming the new platform in promoting fashion. And then the pandemic comes, and it really pushes us against the corner , and it's either you embrace or you learn or you get left behind.  I remember when Singapore went into a lockdown, we really started to have a serious conversation. What's going to happen? , just because we're in lockdown, just because we have COVID, we need to move forward, life goes on. 

Different creative and performing arts industries come together. The theatre, the musicians, the artists even the museums started pivoting towards virtual performances and productions. And that is when the question started popping into my head "Why hasn't the fashion industry come together"? " Why can't we take this opportunity to unite and push ourselves into the forefront and use the digital realm"? And during that time it was very timely that my counterparts in Malaysia, The Philippines and Thailand had the same idea. We texted each other and agreed that this is happening. We all come  together in solidarity to do something and I am very lucky to have so much tech. support here in Singapore and eventually we decided to start the FRONT ROW.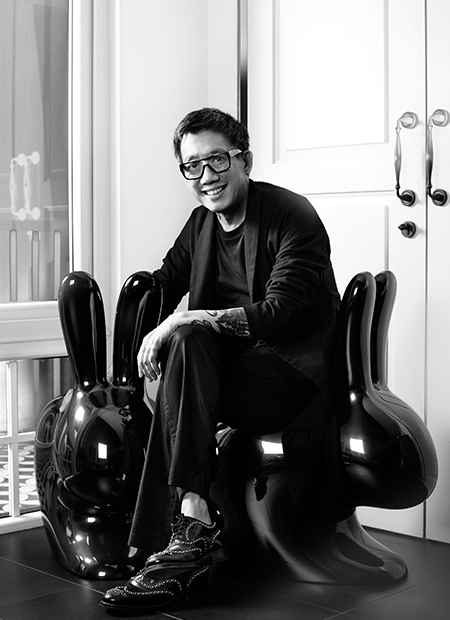 Intentionally when we started FRONT ROW I did not want to include the word Fashion in the festival, just because there's more to fashion than just clothes. Support industries like media, the journalists, the educators, stylists, photographers, hair and makeup artists, show producers, we are all important links that bind the fashion industry. If I call it a digital fashion festival , people are going to look at it as if only for fashion designers, which is not the case. It was meant to set up and to celebrate everything about fashion. It was also meant to be a B2C platform. When you watch the fashion show and you like the clothes, it will link you directly to the designer's website  where you can buy the clothes. We acknowledge all the contributors in FRONT ROW, like other members of the fashion community. If you like to work with the stylists, the photographers, makeup artists you can contact them and be connected through their social media handles. It is trying to make Asian Fashion more democratic, and it is also a platform trying to promote Asian talents to the world. 
When we started the FRONT ROW I didn't want it to become a digital version  of what happened in the past . It had to represent how fashion was perceived in the future. What does fashion in the future represent apart from digital? It is responsible fashion, things like sustainability, eco-friendly fashion, and the circular fashion economy. Everyone is talking about these things. In FRONT ROW we have the responsibility to represent all that because this is really the future of fashion. Aside from promoting sustainability we also give chances for new designers to rise, not only those famous names that we used to showcase in Fashion Weeks before. We believe that they are really the future of fashion. I love to champion designers who are called "Fashion's best kept secret" . Fashionista's know them but the world needs to start knowing them. You don't have to have a very big business, some of our designers are designers that are trading on ETSY, they just don't know how to do business but they are doing amazing things. 
Moving forward,  we are trying to make it as a hybrid model, like what Louis Vuitton calls it a "figgital model" By next year we are trying things like "metaverse", because you cannot move forward if you will not embrace things in the forefront like collaborating with people like in the gaming community. I believe not because you are embracing these things you are losing your identity but you are becoming more prepared and versatile to the demands of the future. And that is how we see FRONT ROW is heading forward. 
Do you believe that FRONT ROW STYLE is an influential means of exhibiting artistry  and encouraging future Asian designers to strive better?
I really hope so. At the end of the day, I believe that FRONT ROW is not the only    

platform who can influence, i hope that by starting this , it will inspire people to  dream and to set up their own platform. The more FRONT ROWS in the world , the more opportunities for these designers and creatives to be seen in the world. With great response that i got for FRONT ROW i got encouraged, and i am hoping that his can also be an inspiration to people who have different ways of thinking to start leading their own versions of FRONT FROWS, and then we become the Asian Fashion Army taking the world to know who we are and what we do. 
As a leader in the fashion industry can you share with us how you define yourself as an influencer to the other talents in the industry?
I see myself as a creator rather than an influencer. I want to be with people with the skill sets that I don't have. Because I believe that is one of the ways to grow. And that is why after 31 years I am still here in this industry, because I realized  that I need to learn from others. Keep being influenced by people who inspire you. Using my experience to influence and touch someone else and to push forward their ideas I think being an influencer is something that is positive. Being an influencer is not just posting beautiful pictures on Instagram and nice videos on Tik Tok just to get likes, but i think if you can do something valuable to someone and to keep them pushing ahead then that is becoming a positive influencer. Also I see myself as a dreamer, because you need to dream in order to think ahead and do things to embrace the future. 
What advice would you give to our readers, especially those who strive to be in the fashion industry as their careers?
It is always very tempting to say "Follow your dreams" but also remember that fashion is a business. Whilst I say "Follow your dreams" and "Think big" , "Think realistically" as well. Ask yourself, do you have the talent  to be in this industry to create new things? Because you come to this circle to become a leader not a follower. Do you have the drive to be in the fashion industry?, because it is a very tough and competitive industry to be in, but it can also be a fulfilling industry to be part of. Another thing that I would like to mention is that "Dig deeper into yourself" . You are the only one who knows in your heart whether you have the stamina, the capability of being in this industry. And if the answer is Yes! then go for it. Remember that you are never too old to keep learning. Like myself, I always keep on learning from the people around me. I get so inspired with the young generation and their fresh ideas, because I believe that we need to be always relevant all the time. You can never rest in your laurels. The amazing things that you have done years ago would be obsolete today, but these amazing things  you do will create your legacy and will give you the experience to move forward and be better.