Science workshops where kids between the ages of 7 and 11 years of age can have fun through experiments and get a playful introduction to science, are now open at the German Pavilion at Expo 2020 Dubai. Researchers' World or 'Forscherwelt' in German, is located at CAMPUS GERMANY and is part of an international initiative launched by Henkel, the German FMCG company, over 10 years ago to get children excited about science and awaken their researcher's spirit.
During the free science classes at Forscherwelt, children can get involved in experiments and discover how to develop their own glue formula, how toothpaste works or the process to make clothes become clean again. Tailor-made sessions have been designed especially for the cultural programme at the German Pavilion at Expo 2020 Dubai that will teach children how to save energy, recycle paper and use renewable raw materials. The workshops are conducted by dedicated trainers from Children's City, an edutainment entity of Dubai Municipality.
At the official opening of Forscherwelt at the German Pavilion earlier today, Ashraf ElAfifi, Henkel President India Middle East & Africa said, "Expo 2020 Dubai is bringing the world together and inspiring us all to reunite and act for the good of future generations. To be part of a global event of this magnitude and bring our love of science to so many children is an honour for our team."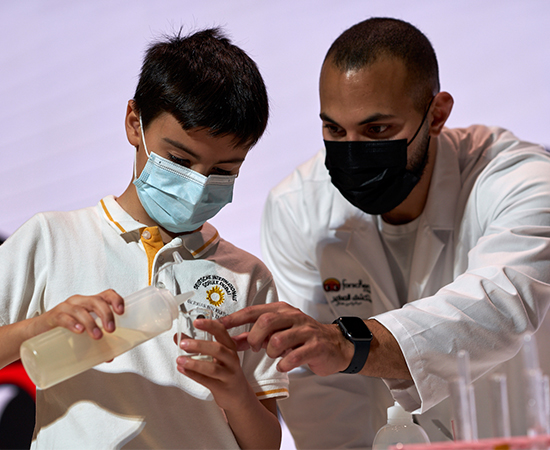 The science lab for children at the German Pavilion at Expo 2020 Dubai follows the opening two years ago of the largest Forscherwelt facility anywhere in the world and the first of its kind in the Middle East, at Children's City, Dubai Creek Park.
Csaba Szendrei, Henkel President GCC added, "We are looking forward to welcoming hundreds of children to Forscherwelt at the German Pavilion to have fun and enjoy being young researchers. Our team has designed a series of new experiments based around sustainability for the kids to get involved in. Building a more sustainable future is ingrained in the way we do business, support communities, approach innovation and develop new technologies and we want to pass on this knowledge through the enjoyment of science."
Forscherwelt Science Lab for children is located at the German Pavilion – CAMPUS GERMANY –and sessions are free and available for children aged between 7 and 11 years of age. The Forscherwelt team will be offering 45-minute modules, for up to six children per module. The sessions are available to book in advance or depending on availability, walk-ins on the day.
For further information and bookings please send your interest to [email protected]