Mony, you were born in Egypt. What memories do you have of those early years and were there any specific people or events that influenced you to become who you are today?
I've had a lot of memorable experiences that taught me some of life's greatest lessons and changed the way I see the world. Some stories are delightful to recall while others are just outright embarrassing. Every moment is precious and without them, I wouldn't be who I am today. I recall my having exotic pets, falling in love, getting my heart broken, entering college, going on my first solo trip when I was 18, moving to another country.
MY MOM is the one who influenced me to become who I am today. My mother has been a parent, a coach and a teacher and has affected my life more than any other person I know. She has shown me love and respect and the importance of always getting back up after I fall. She is a survivor and will forever be my hero.
The biggest challenge in life is to always think positively, but to have a positive outlook on life, what are some of the procedures you have to go through?
Maintaining a positive attitude is critical when I want to achieve anything or simply improve the quality of my life. I hang out with positive people, show appreciation for others, keep a gratitude journal, picture the best possible future, focus on my strengths and I smile ALOT!
Your participation in the beauty pageant was something you had thought of as a child or a spontaneous decision you had to fulfill?
It all started when I attended Miss Egypt Pageant back in 1998 with my mother. I was fascinated by the beauty of the contestants, the elegance and prestige of their gowns and costumes too. I also admired their wit during the Question & Answer part. I never had it in mind to become one until I got a call from Youssef Sepahi the director of Miss World Egypt in 2018 to enter the competition!
It is said that beauty comes from inside and is a God-given quality. What do you think about this?
The beauty of a woman is not in the clothes she wears, the figure that she carries, or the way she combs her hair. The beauty of a woman is seen in her eyes, because that is the doorway to her heart, the place where love resides. True beauty in a woman is reflected in her soul.
Being crowned Miss Egypt 2018 and representing your country at Miss World Pageant in China, did this make you more responsible for and the conveyor of a certain message that had to be heard?
As I always say: heavier with responsibilities, yet lighter at heart!
One of your main contributions is your support for the first animal protection law in Egypt. Tell us what made you act pro this?
I have a dog called Kiki. She is my Furchild! To help others is in my DNA, especially those who can't help themselves. Women, Children and animals are my true passion projects. 
Animal Protection Foundation (APF) is a non-profit charity and dog shelter registered in Egypt under the no. 5630. APF is dedicated to improving the lives of animals in our community and ease their suffering. We do not receive any Government funding.
My role is to make sure that this law comes to fruition, to assert pressure on the parliament, the government and the veterinary field, to show them that we are not a minority. Also, we show them that the Egyptian people are pro mercy and pro justice. We ask people to stand together and give the innocent animals that suffer inhumane treatment a voice, to show them that they must approve the animal protection law. 
What's your vision by supporting some charitable associations?
The empowerment of Beauty with a Purpose as Miss World gave ME THE OPPORTUNITY TO USE MY ABILITIES TO MAKE A REAL & LASTING CONTRIBUTION TO THE LIVES OF THE SICK AND DISADVANTAGED and most vulnerable in our society. 
I truly believe I can help, and I always WILL with or without a crown.
What's the story and concept of your brand?
As a consumer, I am not personally influenced by fashion trends or a slave to fashion like some people I know. Every once in a while, I see something I want and like and if it actually looks good on me, I buy it, but that's hard to do when I know I can usually make it better, myself. This is why I founded ENTI BOUTIQUE to communicate my self-image and fashion sense.
Where do you get inspiration during the creation of your collections from?
With fashion styles, designers and houses ever changing, sometimes one has to refer back to an icon such as Coco Chanel who has a timeless Golden Rule: after looking in a mirror, one should remove one accessory item before walking out the door.
This applies to all aspects of fashion. Give it a try and honor Chanel…you will be surprised how you will both
look and feel.
Tell us about the Mazaj show and how fun is to work in it?
Mazaj channel has literally everything entertaining, from Challenges, Experience, Tips & Tricks, Beauty to Comedy and even Drama and more! I got to meet a group of talented Arab content creators, and I was thrilled to have my own YouTube show "Ma Yeghla Alaik" and co-host with Omar Borkan, film all things beauty and women empowerment with Layla Akil: "Hawas Eljamal – Perfection 101" and cook with Ahmed Al Naheet in "Cooking Tales"
You have been featured in campaigns for beauty brands such as Huda Beauty, Mac Cosmetics, Makeup Forever. How do you feel about this?
It was a dream that came true to model for my favorite beauty brands.
What is your work now and what do you consider the greatest passions in life?
I am proud that I'm contributing to the betterment of hundreds of charities and worthy causes, and even giving young girls someone to look up to if they would have otherwise not had a role model.
And as long as I serve a purpose in today's society, I'm good!
What are some of your favorite sports? 
Does eating count as a sport? If it does, I'm with it.
Can you disclose some of your future plans?
I can't say much now, but I am excited to take all of the experience and knowledge I have gained from modeling and beauty pageants for the past 10 years to support/promote new talents. I am also currently filming my own YouTube show.
Make a wish.
More than anything, my greatest wish is for love and kindness to fill our lives-and a billion dollars. LOL. 
Mony is famously recognized as the beauty pageant titleholder who was crowned 'Miss World Egypt 2018-2021'. She's also the very first female host in Saudi Arabia and the founder and designer of her own clothing line 'Enti Boutique'. Not to forget, The Dubai based presenter hosted 'The Arab Woman Awards 2020', a prestigious event created by ITP Media Group, the world's largest media company in the Middle East and North Africa. She is also the current presenter for "ma yeghla aleek" show on Mazaj YouTube channel. Hailing from the famous town of County Cleopatra in Cairo, Egypt, Mony is without a doubt the prime depiction of a world-class fashion icon.
She has opened shows in Pakistan Fashion Week, graced the fashion boulevards of Milan and has worked with countless world-renowned names and legendary brands such as Huda Beauty, Make Up For Ever, MAC Cosmetics, L'Oréal , Sephora Missguided, Stello, Elisabetta Franchi, Walter Mendez, Dsquared, Kristina fidelskaya, Michael Cinco, Samsung, Lifestyle store, harper's Bazaar Arabia ,Cosmopolitan ME and many more! In addition, Mony is a strong advocate for 'Beauty with a Purpose'; hence, the Dubai-based model and influencer does not restrict herself within the realm of fashion but has gone above and beyond as a Philanthropist and Humanitarian to contribute towards charitable associations around the Arab world and North East Africa.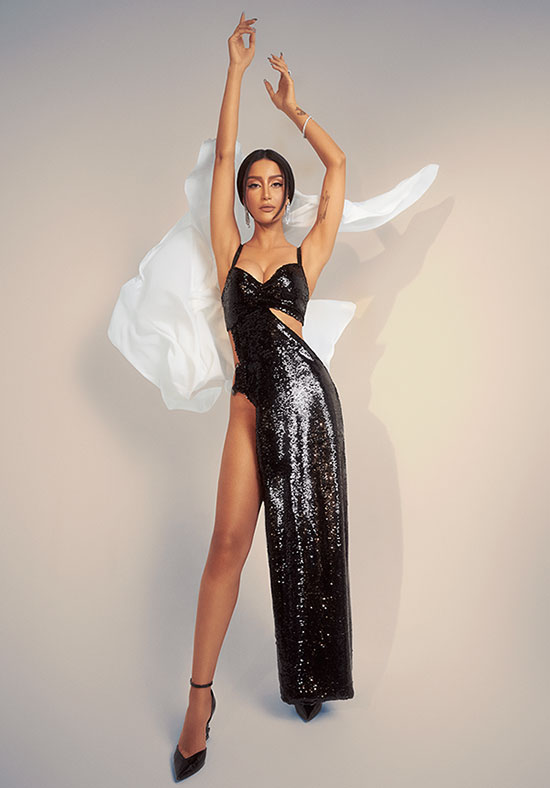 #thevictormagazine #victormagazine #fashion #fashionmagazine #magazine #art #lifestyle #dubailife #influncerlife #blackfashion #culture #victor #UAE #dubai #instagram #influencer #influencers #socialmedia #social #beauty #antiaging