The Poland pavilion was officially inaugurated by representatives of the Ministry of Economic Development and Technology as well as by Monika Dyląg-Sajór, Deputy Commissioner General, EXPO 2020 Dubai and representatives of the Polish Investment & Trade Agency at the 25th Anniversary Edition of Beautyworld Middle East 2021, the largest international trade fair for beauty products, hair, fragrances and wellbeing in the Middle East. Premium cosmetics, including haircare, skincare, makeup tools and much more are on display at the Polish National Pavilion number S1-B26 in Saeed Hall 1 at the Dubai World Trade Centre from 5th to 7th October 2021.
Organised by the Ministry of Economic Development and Technology the Polish Pavilion, comprising 15+ companies, is presenting an array of products with active natural ingredients and effective recipes developed by professionals, with innovative beauty-tech such as substitutes to animal collagen, with plant-derived low-molecular protein. Furthermore, these products have elements to treat various skincare issues by having organic & clean, skin-friendly and environmentally friendly ingredients, with specialisations for men, women and children.
The Polish skincare market is strengthening its position both on the domestic market, through sales growth, and abroad through exports. The products are manufactured sourcing ingredients from plants that are native to Poland, and heavily focusing on the innovative and original packaging, no longer imitating foreign ideas.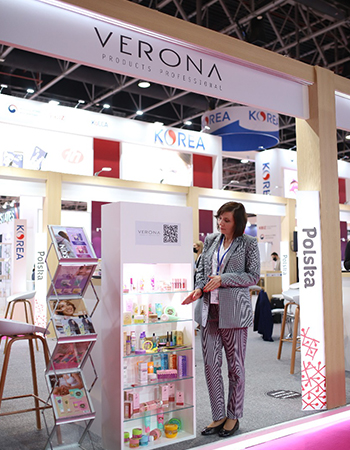 Inaugurating the Polish Pavilion at the Beautyworld Middle East, Monika Dylag-Sajor, Deputy Commissioner General, Expo 2020 Dubai, commented "One of the industries that is promoting sustainable production in Poland is the cosmetic industry. Increasing concerns about cosmetic ingredients, environmental impact and social impacts resulting from unfair trade have intensified on all forums and the industry leaders were quick to evaluate all the aspects of consumer behavioural insights that resulted in the launch of sustainable products across every part of the beauty space. We are now ranked as the 5th largest cosmetics market in the European Union, estimated to be at 3.8 billion euros and anticipated to steadily grow by 5.5% by 2025, according to a report by Euromonitor."
Blanka Chmurzyńska Brown, Director General, Polish Union of the Cosmetics Industry, commented, "The entire domestic Polish cosmetics market is currently worth almost 4 billion EUR and has been growing steadily at the average rate of 4% per annum. Moreover, after Brexit, Poland is the 5th biggest EU cosmetics market, and the forecast for further growth estimates approximately 8% value growth in 2021. Our aim to participate in this global beauty fair is to educate the audience and create awareness about Polish brands that create skincare products with organic and natural ingredients – for children and adults alike."
"The Polish cosmetics market is characterised by tradition, motivation, flexibility, high-quality management, and first and foremost people and their creativity. These brands are known to deploy traditional methods, and at the same time, meet the standards defined by the certification institutes that test natural and organic cosmetics. Consumers in the UAE and the Middle East have become increasingly aware of clean and sustainable processes and products, thus natural cosmetics are becoming predominant. The Middle East Cosmetics Market Outlook 2025 cites several market forces influencing the US$32.2 billion growth, including a high level of disposable income and demand for ethical products. The increasing appetite in the Middle East for such brands is what we are committed to capturing with our presence at Beautyworld Middle East," commented Zaneta Berus, Managing Director of BERM, the operator of the Polish Economy's brand program on behalf of the Ministry of Economic Development and Technology.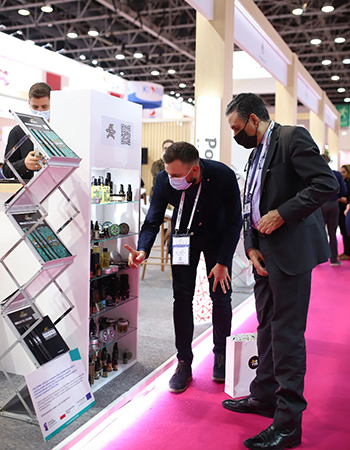 The brands will also be demonstrating a machine learning element with an intelligent skin analysis module to provide customers with the best fit of products for their skin type. Pairing that along with the natural plant-based products that have a multitude of health benefits for the skin, along with an assortment of beauty tools like face rollers and makeup brushes – there will be something for everyone at the Polish Pavilion.
Some of the brands that are exhibiting at the global beauty trade fair include Bosqie, Bielenda, HiSkin, Clochee, Pan Drwal, Ziaja, Pharmedis – Marmed Health, Verona, Krayna and much more.
Bosqie offers natural prebiotic cosmetics that help strengthen and rebuild the natural bacterial microflora on our skin and protect it against the proliferation of pathogenic bacteria, as a result making the skin healthy and beautiful and improving its resistance to adverse effects of external factors. Bielenda is known to manufacture the best quality natural cosmetics for face and body care for over 30 years. Today, the company's offerings include over 400 of the best quality products targeted at both – individual and professional customers.
HiSkin face and body products have been developed based on their own technologies and formulations. Replacing animal collagen with low-molecular protein of plant origin, their products consist of approximately 90 to 98% of a combination of the highest quality natural ingredients. Clochee is known to prepare ecological cosmetics by creating products in accordance with European standards, consisting solely of selected natural ingredients and certified organic raw materials that will bring you closer to nature.
Pan Drwal, natural cosmetics designed for men for beard. Ziaja is a brand encompassing a wide variety of modern products designed to help all skin types and skin problems.
For more information on the Polish brands participating at Beautyworld, please visit Polish National Pavilion at the Sheikh Saeed Exhibition Centre, Hall 1 or visit https://beautyworld-middle-east.ae.messefrankfurt.com/dubai/en.html