Rove wasn't built in a day. Located in the heart of Dubai, standing magnificently proud and grand, this award-winning lifestyle brand has a lot more to offer than just a simple getaway. Not being afraid of colouring outside the lines, Rove Hotels provide its guests and visitors the missing gem that is aimed in connecting them toward the city while simultaneously unwinding and taking in the effervescent view.
Keeping sustainability, local art and high-performing functionality as their core elements, Rove presents a unique approach to its visitors, which easily welcomes them in being a part of a hassle-free and omnipresent neighborhood.
Rove City Walk
The recently opened Rove City Walk is right at the heart of the city, very well connected to the best of Dubai. From Downtown Dubai, to the beach or Sheikh Zayed Road everything is just minutes away. Besides, the City Walk destination has lots of cool spots to shop, dine and play. Surrounding the hotel, there are also plenty of more undiscovered locations like Khazzan Park, Box Park or the traditional Jumeirah district.
Mohamed Eldek – Hotel Manager, Rove City Walk.
Rove Downtown
Rove Downtown's strategic location puts Rovers just steps away from Dubai Mall, The Dubai Fountains and Burj Khalifa, some of the world's most renowned landmarks. Apart from all the glitz and glam that Dubai is known for, there are also some really cool spots around the hotel that not many visitors to the city know. From the cultural, business and architectural hub that's DIFC to the wilderness of the Ras Al Khor Sanctuary where it's possible to see flocks of flamingos in the wild.
Naveen Advani – Hotel Manager, Rove Downtown.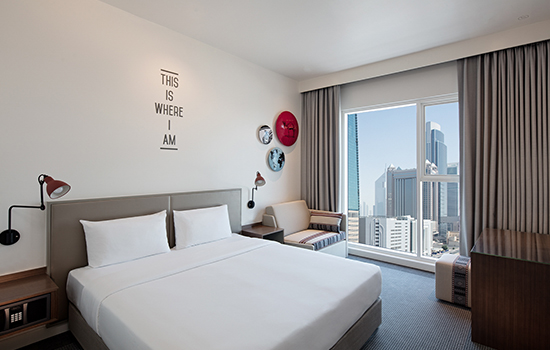 Rove Trade Centre
Rove Trade Centre is located nearby from Dubai World Trade Centre, the city's most important exhibition and business hall. However, there is a lot more to the location than that. The hotel overlooks the stunning Sheikh Zayed Road skyline and has Satwa, one of the city's historical districts, right on its doorstep. Rovers can find here lots of dining and shopping spots as well as plenty of street art across the neighborhood.
Naveen Advani – Hotel Manager, Rove Downtown.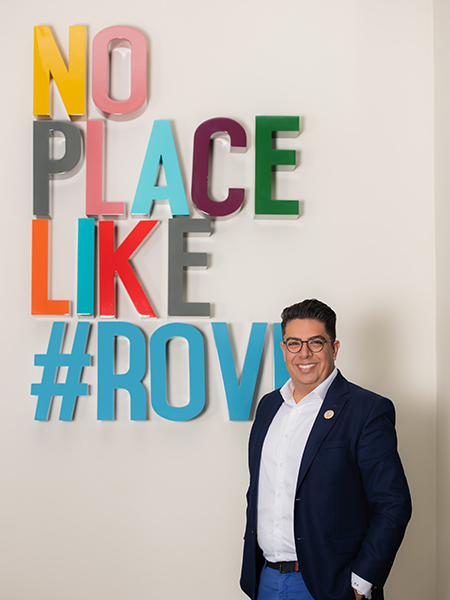 Rove At The Park
Rove At The Park is located at the region's largest theme park destination, featuring 3 theme parks and a waterpark. Definitely a great destination for families and Rovers looking for an action-packed stay. Another big attraction within the destination is The Outlet Village, which features around 70+ high end fashion outlets as well as dining spots. Additionally, the hotel puts visitors just 15 minutes away from the Expo 2020 site, which makes it a perfect location for those attending the event.
Stephanie Neuhold – Hotel Manager, Rove At The Park.