We believe there should be enchantment. We believe our visualisations and fascinations are transformed into a spellbinding reality. We also stand by the notion that possessing a great sense of detail with layers of opulence and modus operandi shouldn't have a sticker attached to it, determining our worth. Every pictorial imagination we'd like to see come to life should be a memorable process one wouldn't want to forget. An enjoyable and memorable process you'd want to keep revisiting for everything we create. 
Having more than ten, impressive years of professional experience in recruiting and headhunting key roles in the fields of construction, Oil & Gas, Healthcare and Information Technology in Dubai and MENA region, Kim Barrameda boasts of a thriving recruitment network within the engineering sectors as well as in the field of Event planning. With her proclivity for people and flair for communication, when I think about Kim, I think about her as someone who is slightly misunderstood. Someone who is so much more than what we all perceive her to be. Of course, we are all bound to have our breaths taken away by her multitalented vision. The 'wow' effect for us, is her sharp eye for detail, affable, eloquent and down-to-earth quality that sets her apart from the rest. 
Having established La Couronne Events, where comprehensive and creative solutions are offered ranging from ideation to perfectly executing your vision, you might be wondering…how did Kim Barrameda make it? What are some of the main takeaways from a Kim Barrameda event? Her work speaks volumes. Having established her mark on the shores of U.A.E, here is an individual that tries to keep herself ahead of the curve. Here is a snippet of our tête-à-tête with Kim Barrameda, the unstoppable, where the world is hers to keep. 
1.How did La Couronne Events find its way to you? What is it about La Couronne that makes it significantly unique from the rest?
Ans. I have been a head-hunter for more than a decade. I wanted to do more than that, something that will challenge and transform my passion for styling, decorations and showcase my creativity into reality. I decided to open a new business and this is the time when La Couronne Events & Co was born. La Couronne Events & Co was established in the middle of the pandemic.  It was a tough time for everyone around the world.  We have had our struggles but it didn't stop us from working hard to reach where we are today. It taught us so many lessons and one of them was to work harder because the pandemic couldn't hinder our goals.
Social media seems to be a game changer for every creative organization and talent. What are some of the go-to techniques you use to engage with the consumers who are fascinated in knowing more about your brand?
Ans. I believe that effective questioning skills in identifying the client's requirements will be your go to techniques in order to highlight the selling proposition of the brand through messaging portal applications and proper product placement in terms of branding and marketing strategy. It can twist the client's perspective of the reliability and credibility of the products. Not only is it for events, but I also think that social media has been a game changer for every creative industry involved. The marketing world in particular was taken by storm, and there is plenty of information abound on how to equip the power of social media to your advantage. Content creation and visual language have a significant role to play in attracting more audience engagement. I feel that in the field of event-planning, it has yet to be handed the guidelines. My team and I are fortunate to possess the required 'know-how' to impart in this area. We are happy to see that we are starting to foster a community of people who show their enthusiasm and excitement in attending our events. 
Q.3 This is something I'm curious to know about… before establishing La Couronne, were there other ideas you had tried to establish but for some reason it didn't work out? What did that teach you?
Ans. To be very honest, There weren't any other business ideas that I've thought about before establishing La Couronne. I was patient and gradually, the name 'La Couronne' found me. It was a name that had always stayed with me and it kept coming back to me, which was something I couldn't ignore because the name to me felt exclusive, opulent, unique and special. Long story short, I guess the name 'La Couronne' chose me and I'm glad to have made La Couronne happen.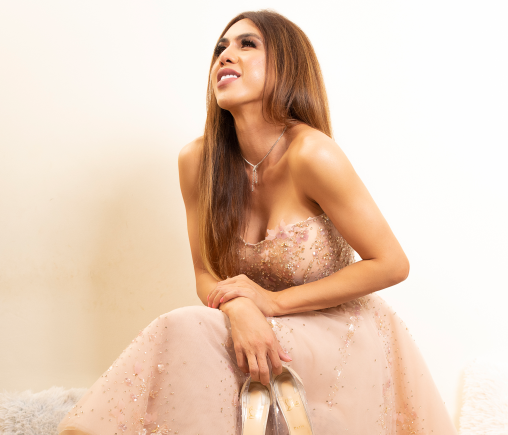 Q.4 What have been some of the exciting highlights you'd be happy to share with the magazine?
Ans. I am proud and fortunate to have experienced numerous and exciting highlights.  One that I would love to share is that la couronne is turning one year into this industry and I am so proud and happy to have created this company with the love and support of the people who have believed in my vision and ideas to make La Couronne happen. I'm here because of them. 
Q.5. In your own words. What personality traits and skills do you think all event planners must have?
Ans. Determination, wit and resilience. To be in this line of work you would need all of these traits to keep up with the trends and thrive in this industry. Being involved in events, you would need to devote and give your all in the projects you're handling. As for personality traits, every event planner must be full of life, open to suggestions, creativity and eye for detail is a must. If they can creatively think out of the box… it's a definite bonus!  
Q.6 How do you keep up with industry trends? Are there any trends in particular you aren't too fond of?
Ans. To keep up with today's trends I always try to conceptualise fresh, innovative and eye-catching ideas with sharp details for my projects that would set me apart from my competitors. I always treat it as something that I can achieve once I put my mind to it. I don't have any likes or dislikes as far as I'm aware.  
Q.7 Last but not the least…are there any exciting projects you are currently working on? Or would you want to keep it a secret for now?
Ans. Yes, I am working on a few projects right now and I am very excited to  launch my 'La Couronne Couture' collection, which is going to happen very, very soon. Also, I am working for a very big event activation which I am very excited about – this one I will keep it a secret at the moment but it will be press-released soon. Do keep an eye out for both these projects!