Over 100 years ago, the heavens gathered in a celestial meeting that blessed mankind with the greatest gift ever. The choirs of angels sang with endless abandon, trumpets thundared with pure joy and the golden streets high above for a moment turned crimson red to celebrate the birth of the greatest gift of the gods to mankind; The NEGRONI!
Okay, well, maybe it was not as dramatic, but I assure you the heavens did shake when the Negroni was born over a century ago. If you are reading this, I assume you know what a Negroni is and you celebrate the iconic crimson red drink as graciously as I do. If, in the ungodly event you happen to be part of the .001 percent who do not know what a Negroni is, I suggest you.. Well, I can't exactly type out what I would like to really say so I will instead indulge you in a The Negroni in its simplest form is a perfect combination of equal parts sweet vermouth, Campari and gin. Over a hundred years ago, some random guy called Count Cammilo Luigi Manfredo Maria Negroni (what a name! Class roll call must've been not very fun for him) received a vision (okay maybe not a vision, but you get the point) he asked his bartender Fosco Scarselli of Cafe Casoni to replace gin to his Americano, which is a concoutio, of bitters, vermouth and soda water, and thus, the legendary Negroni was born.
quick description of the best cocktail on earth (I say this very lightly… don't come for my wig!)
Over the years, as with any good thing, signatures and other variations began to erupt, with ingredients varying from Mezcal to rum to Prosecco. And of course, there is White Negroni, originally made with equal parts gin, Suze and Lillet Blanc, but I find it too delicate, too floral, for my liking, while I did find a VERY respectable white Negroni on my search, I have stuck to the classic to get the in these results.
CRITERIA FOR SELECTION
I sampled 100 Negroni's across Dubai. From the dazzling DIFC venues to the more hard to reach JVC locales. My tastebuds were on the hunt for balance between the gin, bitters and sweet vermouth. I made it a point to seek out venues who had their own signature creations; all the selections featured here are signature independent interpretations of the crimson drink. Personally, I prefer it when the gin is strong enough to cut through the rest of the ingredients as this is what carries the most botanical essence. My Negroni's had to have that original distinct bitterness -flavour, while I did find a rather interesting exception, for the most part, I kept it with those who paid homage to the original, classic recipe in their interpretation. I have kept you waiting long enough. After 100+++ glasses of Negroni, a few blurry nights and many buckets of laughter, I have compiled the best selection from my opinion on the Best Negroni In Dubai.

NEGRONI BALESTRINI, Sucre Dubai:
Chic interiors, cosy vibes and faultless service welcomes you to Sucre Dubai, a relatively recent opening, this brainchild of famed Master Chef Fernando Trocca with the bar policy designed by 2020 50 Best Bars winner of the Altos Bartenders Bartender Renato 'Tato' Giovannoni. 
The Negroni Ballestrini was Inspired by Tato's childhood growing up in Buenos Aires; with a base of Tanqueray gin, Campari, the creation takes an upward progression with a splash of Amaro, and the sweet vermouth is supplemented with sea water, a eucalyptus smoke gives it a final finish. Dangerously smooth, refreshing, its is perfect for every and any situation!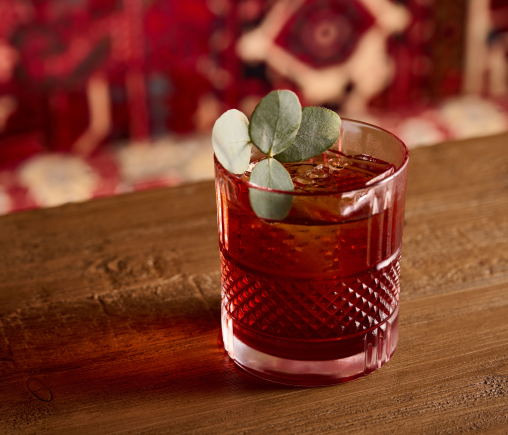 VENUS YOU GOT ME, Galaxy Bar (#45 50BestBars)
Sitting elegantly on the 45th spot of the #50BestBars List, this former storage room has completely transformed into a 60 seater magnificent starry oasis, evoking effortless luxury and a certain high-level of enchanting suave that you can't quite find anywhere else, offering intimate, out of this world  experience (no, seriously… really!) 
Venus You Got Me can best be described as a smokey, sensual, bitter-sweet interpretation of the classic Negroni with Cascara Mezcal, Forest berry Campari and delicately finished with Mancini Rosso – each sip did not disappoint.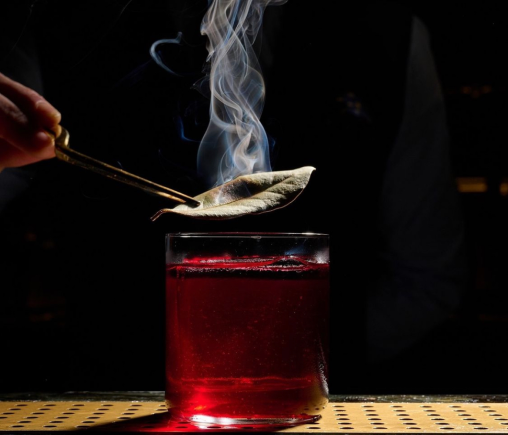 GO (五) literally translates to "Five." Thus, the Go-Groni, a brainchild of Iva Vasileva, the group beverage director of Food Fund International, encapsulates the five essences of taste. In any one glass of Go-Groni, there is a delicate balance of sweet, sour, bitter, umami and salty. The Go-Groni is best described as "luxuriously-enduring", a celebration of perfect balance.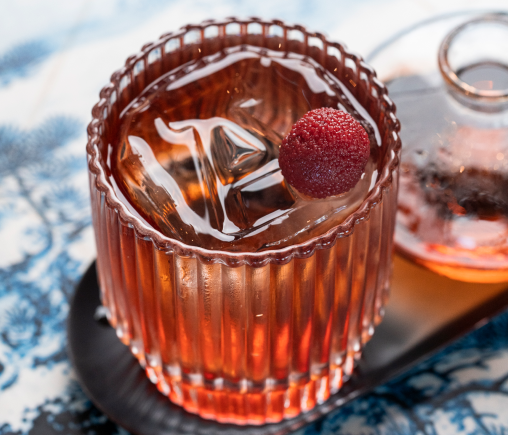 SMOKY NEGRONI – Hakkasan Dubai:

Everything is at stake. Nikka from barrel whisky, umeshu plum, Campari and Martini Rosso, smoke infused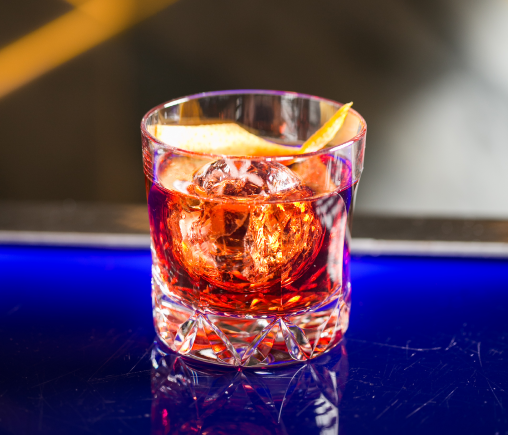 NEGRONI SAN, ROKA Dubai – 
ROKA brings seriously high gloss Japanese dining and drinking suave to the Dubai scene, opened just under a two years ago, the iconically chic venue has continuously set the bar for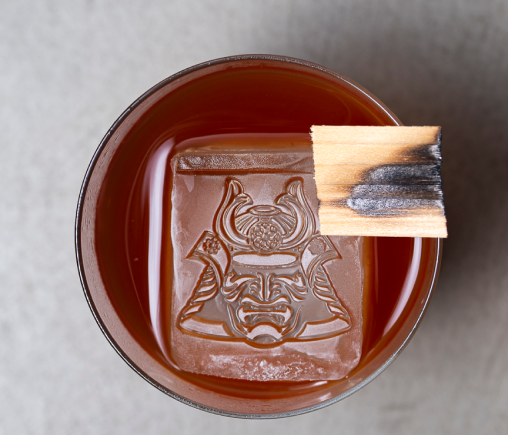 LA MEZCALERIA:

Celebrated as a modern destination with a serious sense of FUN, La Mezcaleria is inspired by local Mexican Mezcal parlours where patrons waltz in around the clock catchup with friends and family or drain their long day of hard labour over a pitcher of Mezcal.
Keeping to the classic guide yet straining far from it with cinnamon infused Rum Zacapa, cherry infused martini rubino & finished with a dash of Campari. A fine stirr of modern Mixology at its best. Created by "Iris" own, Sebouh Tato, Amber Negroni is a beautiful mix and harmony of infused ingredients, rested for days and poured over velvety smoke. From my recount, it was a very bold variation on the original Negroni, substituting Gin with Rum was a very welcomed surprise.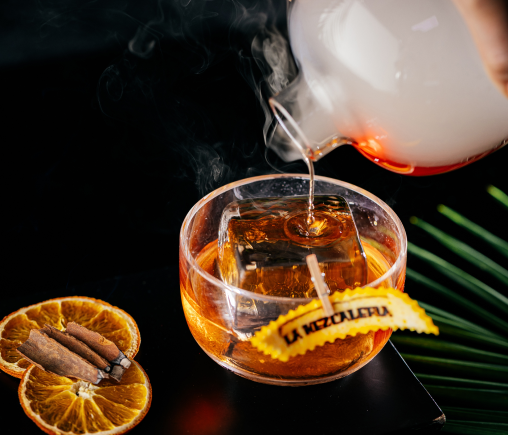 MUSTACCHIONI, II Bar – Bulgari Bar, #58 50BestBars
Happy go-lucky Dario Schiavoni, the talented maestro behind Bulgari Hotel & Resorts beverage program is a master of elevating experiences. The Musracchioni was one of five signature Negroni's that I sampled during my visit (and yes, if you were wondering, there is a Negroni menu… talk about dedication!) 
While the signature oval-shaped Bulgari Bar has become emblematic with the Bulgari Resorts brand, this signature creation is stirred table side, complete with a Negroni-mobile and endless suave of elegance and majesty. Mustacchioni is made with a Tequila Reposado base, the right flow of Campari, Tawny port, Mancino Chinato.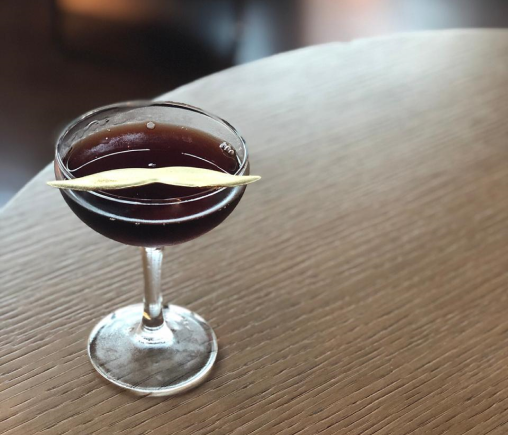 Championed as the "Best Night Club" in Dubai since its launch, WHITE has recently reinvented itself as a one stop entertainment and dining destination with state of the art aerialist shows and impossible cityscape views from its rooftop on the Meydan.
For a former nightclub, I found WHITE Dubai's Negroni stunningly elegant yet very feisty, an ode to its venue. The concoction is solely about simplicity and pays keen homage to the original Negroni recipes of the 1800's with elevated house specialty ingredients, simply put, the Negroni at WHITE is superb.