Digital Illustration Artworks: Tim de Leon
While some of these artists have created unimaginable fusions of different genres, some have broken records and some are even labelled as Leaders. As an Industry that is always introducing new faces, These are some artists that have caused quite a sensation this year.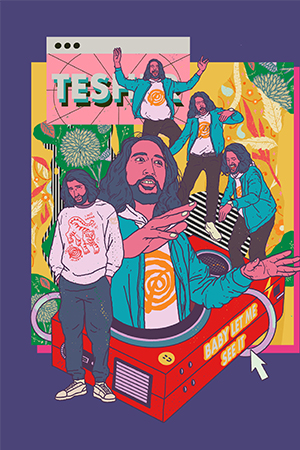 Tesher
Hitesh Sharma, better known by his stage name Tesher, is a Canadian-Indian rapper, singer, and producer. His most recognized songs are "Young Shahrukh" and "Jalebi Baby," both of which were released in 2020. Jason Derulo released a remix version of "Jalebi Baby" in 2021. He has gone viral on TikTok for incorporating his culture into the latest music trends. Tesher's flawless fusion of Bollywood and Hip-Hop has created a craze not only among the desi crowd but all around the world.
Maneskin
Maneskin is an Italian rock band formed in Rome in 2016. The group's line-up consists of vocalist Damiano David, bassist Victoria De Angelis, guitarist Thomas Raggi, and drummer Ethan Torchio. In 2021, Maneskin became the first Italian band to reach the top 10 on the UK Singles Chart, and their singles "Zitti e Buoni" and "I Wanna Be Your Slave" also reached the top 10 on the Billboard Global 200 Excl. U.S. chart. The group's music style changes from funk pop in their first album to hard rock in the second, showing us that they are still a band that is exploring their colors. Their look and sound have been compared to 70s rock music. While being great at creating music, Maneskin is also very well known in the fashion industry for their androgynous looks.
Rauw Alejandro
Raúl Alejandro Ocasio Ruiz (born January 10, 1994), better known by his stage name Rauw Alejandro, is a Puerto Rican rapper, singer and composer. Raul entered the musical industry after he suffered light depression due to an injury that caused him to quit his football career. He was one of the few artists that were featured on Sony Music Latin's Los Próximos, a project to introduce new musical talents. Through this project he was noticed by many notable artists and was featured in multiple collaborations with stars like Ozuna and Khea. He belongs to "the new generation" of Puerto Rican urban singers and rose to fame with the reputation as a thrill threat talent.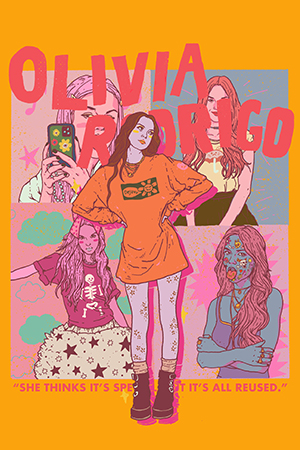 Olivia Rodrigo
Rodrigo signed with Interscope and Geffen Records in 2020 and released her debut single "Driver's License" in January 2021, which reached number one in multiple countries, including the United States.Her critically acclaimed debut album, Sour, was released on May 21, 2021 and was preceded by two more singles, "Deja Vu" and "Good 4 U", with the latter becoming her second single to reach number one in both the US and UK. The 18 year old has become the new face of pop music as every song she releases goes viral. She is popularly known as 'the voice of the generation'
BTS
Having sold over 20 million albums on the Gaon Music Chart, BTS is the best-selling artist in South Korean history and holds the best-selling album in South Korea with Map of the Soul: 7. They are the first Asian and non-English speaking act to be named IFPI Global Recording Artist of the Year, to chart on Billboard's Top Touring Artists of the 2010s, and to headline and sell out Wembley Stadium and Rose Bowl Stadium. Featured on Time's international cover as "Next Generation Leaders" and dubbed "Princes of Pop", BTS has also appeared on the magazine's lists of the 25 most influential people on the internet and the 100 most influential people in the world.