In this modern civilization of constant information feeding and learning, we have all come to learn a lot about so many different countries, their culture and traditions, and one of the most popular countries we are all strongly educated about is Mexico. But do we really know Mexico aside from its flavourful food, its refreshing warmth and the colourful streets? Mexico houses the world's largest Pyramid; the real name of Mexico is Estados Unidos Mexicanos (United Mexican States); 69 different languages are spoken in Mexico; the meteorite that wiped out the dinosaurs hit the Mexican peninsula of Yucatan. Fascinating right? Mexico is more than what the stereotypes suggest. It is a place with rich culture, history, and most importantly, a place with must-visit gems that are hidden in every single alcove and crevices of the ethereal country that has luscious rainforest rustling on one side and blazing golden dunes expanding on the other. Let's discover some of the most precious hidden gems of Mexico. 
Tamasopo
Located almost 55 kilometres from Ciudad Valles, the town of Tamasopo lies amidst dramatic mountainous landscapes. It is a place abundant in rich vegetation, pools of fresh waters and its markets which are filled with all sorts of local crafts. Tamasopo is known for its beautiful scenery and especially for its waterfalls. There are three waterfalls around Tamasopo which are approximately 20 metres drop, and shallow enough to enjoy a good swim with friends and family. The town is definitely a welcoming retreat on its own.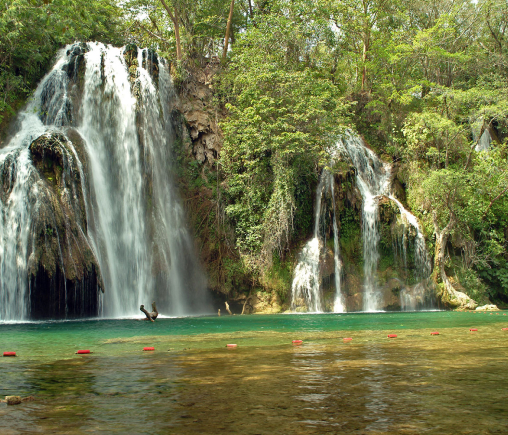 San Miguel De Allende
San Miguel De Allende is a beautiful time capsule of the 16th city, situated in the center of Mexico. The streets are a quick peek through the curtains into the times when cobblestone paths were common and magnificent baroque Spanish architecture overlooked the festive town. It is a wonderful experience with a lively nightlife and an abundance of fine dining restaurants around the aesthetic town. The neo-gothic church of pink stone, La Parroquia, is the emphasis of this gem in Mexico. The town is truly a paradise for those that seek to explore if not ambitiously but casually, since it is filled with art exhibitions, boutiques, food places with some of the most exquisite flavors, and live music performances taking your hand into the most magical evenings you could ever spend in Mexico.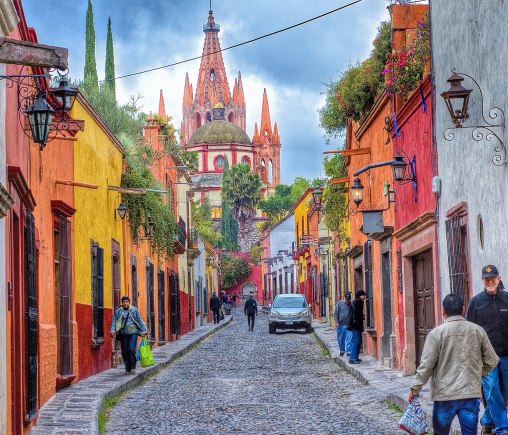 Suytun Cenote
There is no way anyone hasn't come across at least one picture of this location on any social media platform. Suytun Cenote is one of the most Instagram famous locations. A cenote is a natural sinkhole formed due to the collapse of surface limestone that exposes groundwater. What is special about this Cenote, one may ask and the specialty is that there is a natural aperture through which during the daytime, light streams to the center of the cenote. The government decided to install a platform leading to the natural spotlight and now this location is on everyone's bucket list. It is truly one of the most magical places that makes you feel like you're in a book, ready to be claimed as the mermaid queen. It is situated outside the town of Valladolid and the trip to this place, regardless is one of the highly suggested spots in Mexico.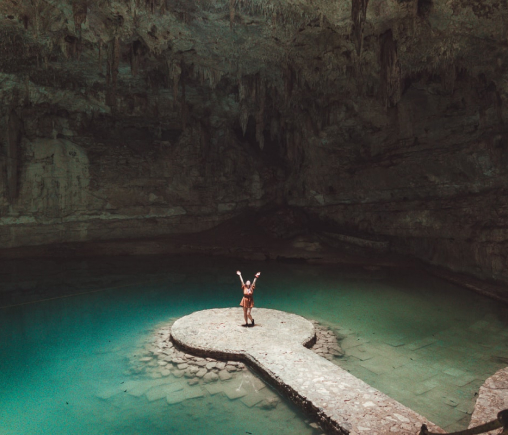 Frida Kahlo's Museum
Magdalena Carmen Frida Kahlo is a remarkable Mexican artist very well known for her incredible self-portrait, inspired by nature and artifacts. La Casa Azul which means 'The Blue House' is where Frida Kahlo was born and brought and it was also the place where she had taken her last breath. It was her home. After her passing away, her home was transformed into a museum dedicated to her life's work by her husband Diego Rivera. The museum speaks of her achievements and the pure talent for art Frida Kahlo possessed and so passionately pursued even through some of her tough times. The museum is not a simply a museum, but a place filled with stories and appreciation, a gem indeed.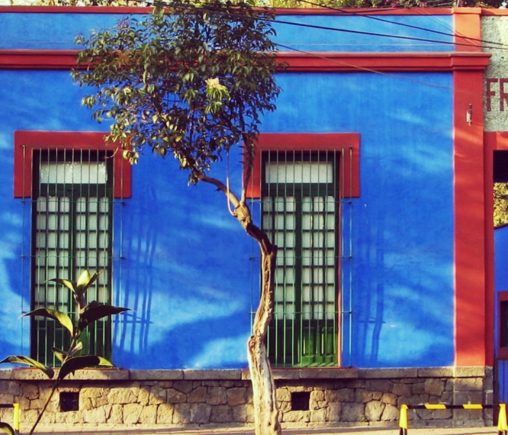 Isla De Las Munecas
Aka the island of dolls, is a spooky little island situated south of Mexico City, between the canals of Xochimilco. Where is the fun in exploring without some eerie spots to give you the hair-raising experience at least once? Legend has it, a little girl drowned in the canals long time ago and in order to appease her spirit, the caretaker of the island began hanging up dolls all over the island. It is said the dolls are possessed by the little girl's spirit and when we are not looking, their eyes and limbs seem to move. Regardless of whether it is truly haunted or not, which is a debatable topic, this island is scary in broad daylight just as much as it is at night. This will certainly add the creepy vibes to your list if this island is one of your destinations, if not for the dolls or the spirit, but definitely, for the spiders.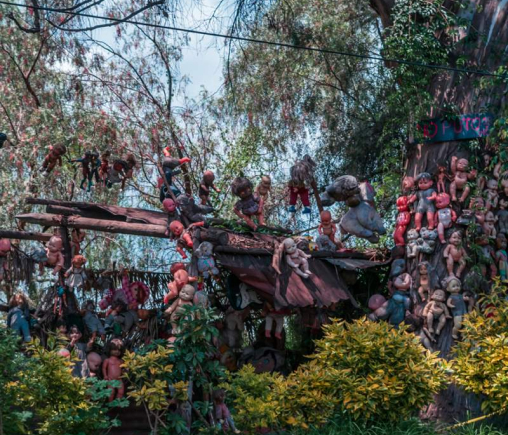 Grutas De Tolantongo
Grutas De Tolantongo is a bewitching combination of hotsprings, canyons, caves, waterfalls and most importantly Parayso, a set of small ponds that are fed with thermal water cascading from the river, overlooking one of mexico's most entralling landscapes, the refreshing mountains. This destination is surely something out of an enchanting book with its enchanting pools of blue and the ever so enthralling scenery it beholds along with its invigorating vibes.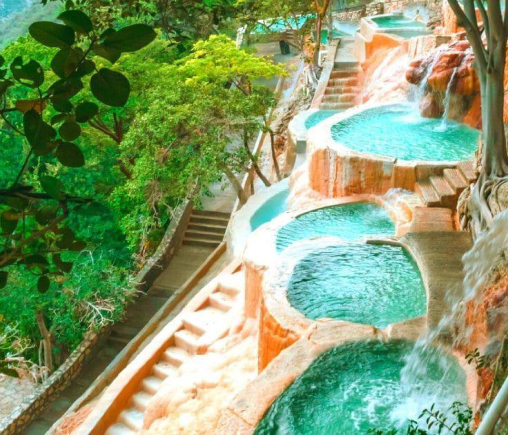 Tequila
It is not known to many where the famous alcohol got its name from and yes, it got its name from a Mexican town. The town is completely rich of fields of blue agave which is the main ingredient for the drink and this town was designated a UNESCO world Heritage named 'Pueblo Magico' which means 'magical town'. This is one of the most festive towns to immerse yourself in their culture and stroll through the cobblestoned pathways alongside the colonial architectures. This is a place where you can ride horses around and have a splendid stay in a tequila barrel surrounded by the blue agave fields.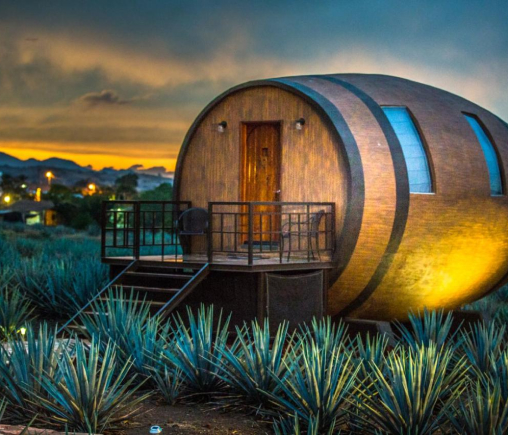 The Hidden Beach
Tucked away under a gaping cavern of lush green surface lies a beautiful shoreline. The sunlight beams through the cavern opening and casts ample light and shade on the crashing pacific tides. It is truly something out of a romantic fiction with its blissful vibes and its exhilarating experience of finding yourself in one of the most magical moment. An enchanting place such as this hidden beach does have an origin story and given how the military bomb testing used to take place in the Marieta Islands, it is highly possible that this particular delightful gem was created during one such event. Eitherway, the hidden beach is now one of the most spellbinding locations Mexico beholds.