For the past year and a half, the last 3 fashion seasons have been missed out as the traditional fashion week did not exist. It's been a long trip since we got to head down to some actual catwalk shows. As a result of the ongoing pandemic, the social restrictions put a ban on designers to be able to showcase their collections on the catwalk which in turn moved them towards digital formats or hosting audience-free related shows. However, this year we are expecting to see more in-person fashion shows, although the restrictions are slowly loosening and the schedules aren't very free-flowing as it used to be, but designers are finally going to be back on the runway after a long time since 2020. 
Here we have wrapped up some of the best trends from the runway, for this season to get a head start on shopping what's in now!
Crochet up!
From patterned kneads, to colorful knits, designers have set the stage on its way into the best of the 2000's era. Throwing it back with the exquisite shapes, interesting silhouettes and weaving techniques have made it perfectly ready for the now.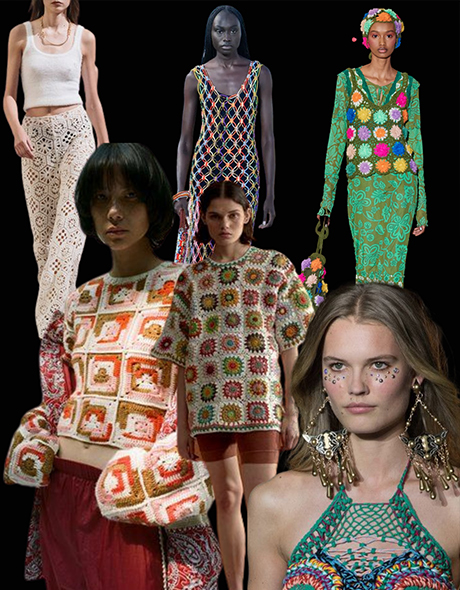 Pictured from bottom right-left: Etro, Women's Alemais Moda Operandi, Women's Sea Moda Operandi, Anna Sui, Chloe's, Women's Rotate Moda Operandi.
Leather weather!
There's no other weather to wear leather. You can never go wrong with your looks when it comes to that perfect leather piece, it's the easiest staple to pair for a full on glam look. Designers like Tom Ford & Louis Vuitton made it a notion to go out in a full leather craze.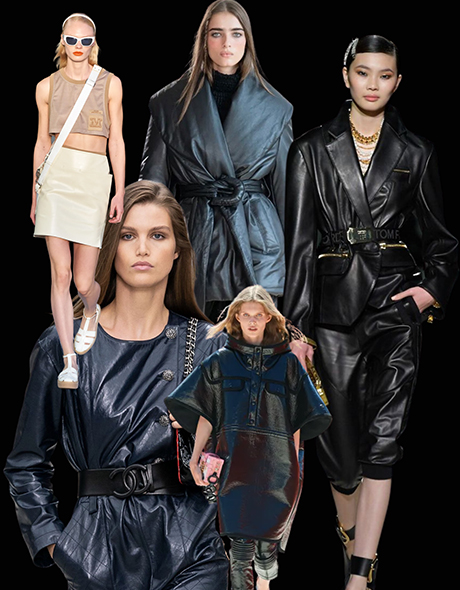 Pictured from bottom right-left: Tom Ford, Louis Vuitton, Chanel, Altuzarra, Max Mara.
Ab Fab!
It's that time of the year again to show off some midriffs and bring in that summer body. Designers from Christopher Kane to Versace prepping for that Y2K high-school girl look to Valentino and Moschino bringing out those vibrant colors and prints from the 60's, why cover when you can flaunt?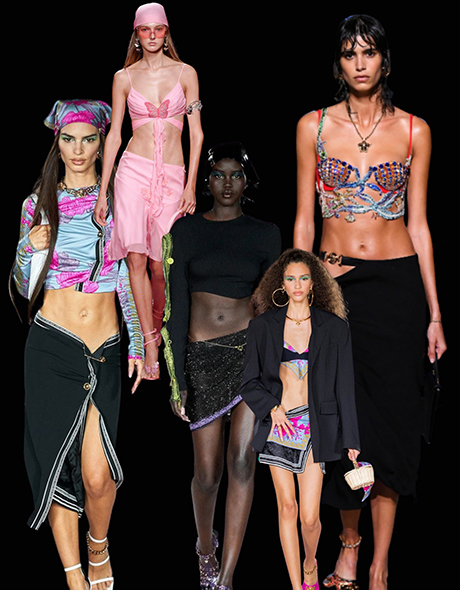 Pictured from bottom right-left: Christopher Kane, Versace, Valentino, Moschino.
Sparkle your way!
This season is all about the best fits to party in. Leading the disco dancer vibe, Valentino, Paco Rabbane, Tom ford are blinging up the runway with some sparkle and sequins. Metallic colors and a full on 60's look is getting you ready to get down on the dance floor!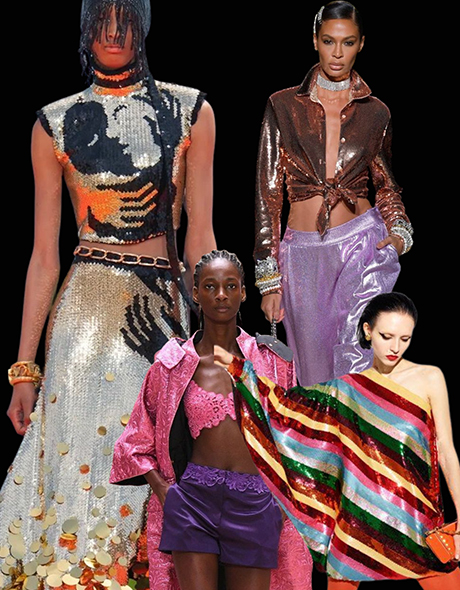 Pictured from bottom right-left: Valentino, Ermanno Scervino, Paco Rabbane, Tom Ford.
Bra in Awe!
Minimalist bras are the new tops as seen by Michael Kors, Loewe, Zimmerman and so many more on the runway. To achieve that not-so-naked look, they are paired with oversized blazers and pants or even free flowing skirts!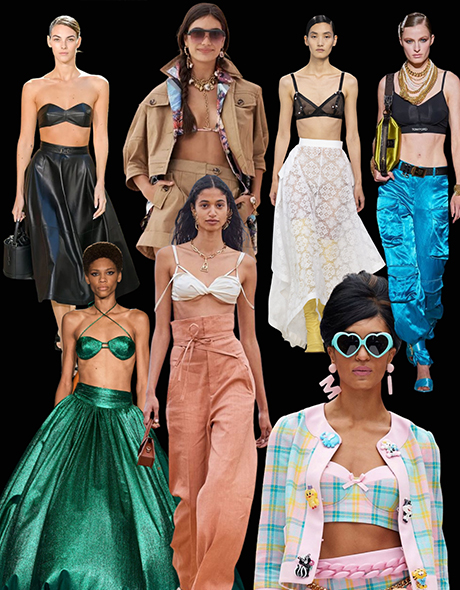 Pictured from bottom right-left: Moschino, Jacquemus, Tom Ford, Loewe, Zimmerman, Michael Kors.
Catsuit that soon!
Catsuits have become one of the most trending pieces for this season. It sure is a glamorous level-up from the pandemic and can be paired with anything and worn anywhere. From neon colors, to stripes, to prints and patterns catsuits are a go for any kind of look.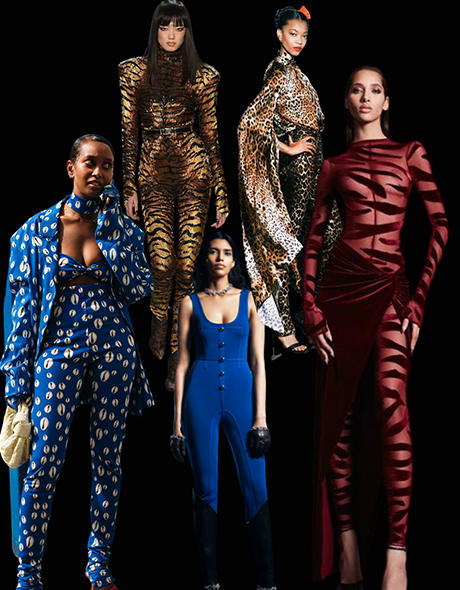 Pictured from bottom right-left: Laquan Smith, David Koma, Naeem Khan.
White in sight!
We spotted the runway with Peter Do and Elisabetta Franchi taking over with their white looks! From bridal vibes, to elegant parties white fits in silk, printed or crochet are super chic and would be a trend that is going to stick around for a long time. There's no reason to not show off or show up in all white!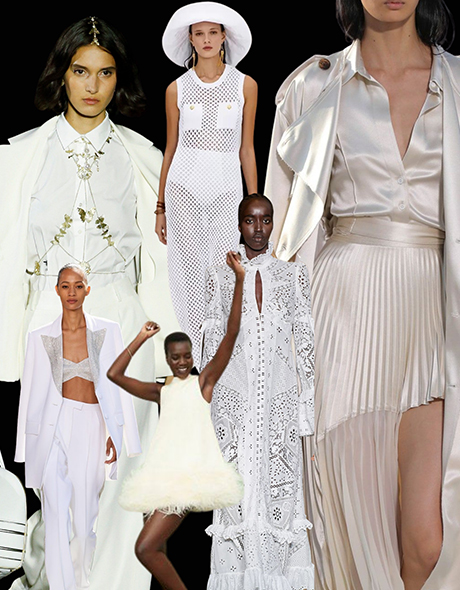 Pictured from bottom right-left: Moschino, Jacquemus, Tom Ford, Loewe, Zimmerman, Michael Kors.
Go big or go home!
The bigger the jacket the better. Every designer from Prada to Chanel supports this notion. Why bother wearing something so tight and unhinged? When you can give yourself room to move, to layer, to grow and show some dominancy. Since the bigger you are the more power you have right?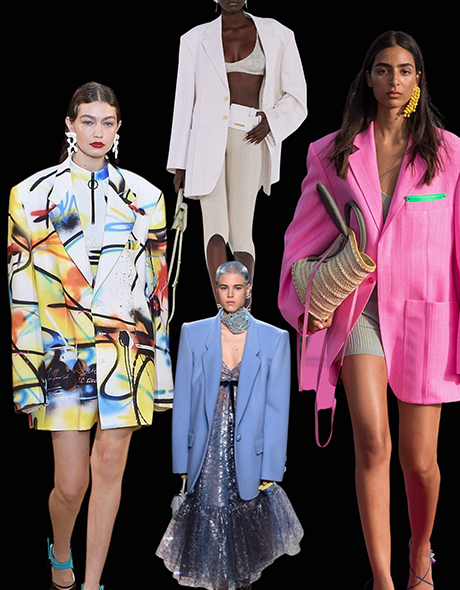 Pictured from bottom right-left: Jacquemus, Marc Jacobs, Virgil Abloh.
Print the pit!
Prints are the most emballic trends of all time. We can see brands like Valentino, Paco Rabanne, Michael Kors swoop the runway with color-blocking prints, and not to miss out the zebra and animal prints cycling back into this season.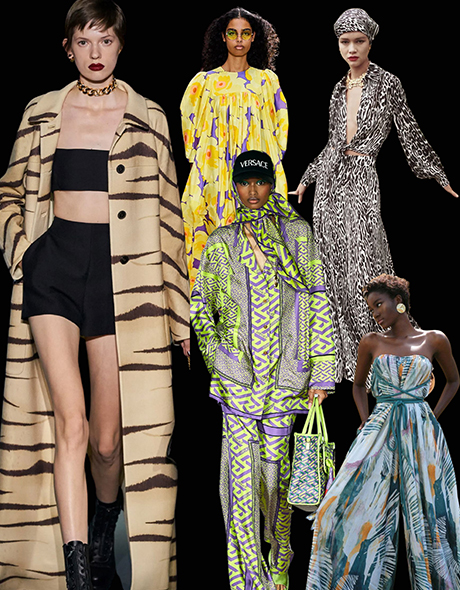 Pictured from bottom right-left: Andrea, Versace, Valentino, Carolina Herrera.
Cut out some doubts!
At first people were always yappy about random cut-outs on the belly, and clothing that were hole punched. But now, it seems it's a tamed style so shouldn't we already own fits with ovary cutouts, and sexy slices? Take them out now, because the trend is going to stick around for a while.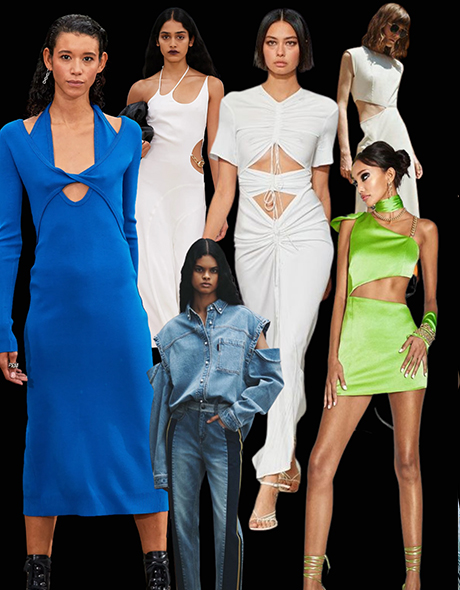 Pictured from bottom right-left: Alice & Olivia, Hellessy, Monse, Jonathan Simkhai, Christopher Esber, Zeynep Arcay.