6 Dubai hotspots you can visit this weekend for great food and live music
Throughout history, it is a known fact that people have immensely cherished the act of enjoying their meals in the presence of music. Whether it was hiring violinists to perform at dinner parties during the roman period, or grooving to your favourite music on the jukebox at a local cafe in the 80s. Music has evolved to become such an integral part of our lives. And with the diversification of music in today's time, restaurants with live music allow us to enjoy an array of music played in front of you by some of the most talented artists in the city while you eat. The right melodies sure do lift up our spirits and allow us to really relish the food that we're eating. And incidentally, it is almost as though the beautiful harmonies filling the room can make your food taste even more flavoursome.
Although we've had to experience a long hiatus in between, due to the seriousness of the Covid19 situation, live music is now returning to your favourite local hubs. As restrictions in restaurants, bars, cafes and pubs are starting to ease in Dubai, sitting back and appreciating a live music experience while you savour your favourite foods, no longer feels like a fleeting memory. Whether you're looking for a place to simply groove to your favourite artists while you eat or if you're a connoisseur in musical artistry who's craving for some entertainment to accompany your meals, we have the right places for you!
Bar Baar
This desi pub is excellent for all those Bollywood enthusiasts out there searching for a spot to unwind on Fridays! Drive down to Majestic City Retreat Hotel for some terrific brunch options and great Hindi music. The 'Brunch Aaj Kal' at Bar Baar strives to create a terrific atmosphere for families with a range of fun activities and cuisines to choose from. While you enjoy the live performances, you can also enjoy live cooking of your food at the various cooking stations. From adults to children, Bar Baar will keep everyone entertained. So our busy mom's and dad's can relax and enjoy a margarita.
Soho Garden DXB
With its modern establishment, Soho Garden DXB offers a unique combination of dining, lounging and nightlife experiences. It is a venue that offers a perfect blend of the urban scene and elegance. Their live performances consist of graceful dancers, visual and performance artists that will blow your mind! If you like a night filled with adventure and surprises then head over to the racecourse grandstand on Al Meydan road.
PizzaExpress Live
Located in Business Bay, PizzaExpress Live brings along some great performance & entertainment coupled with some lip-smacking food & beverages. This Italian restaurant provides a platform for local artists to perform and showcase their talent. They have multiple events and promotions like Jam sessions, Ladies night and happy hour every single day. Overall the ambience and crowd is amazing and really energetic. By the end of the night you can't help but sing and dance along to the music.
Iris Meydan
Looking for an elegant, sensuous and free spirited bar to have a fun night out? Well look no further because Iris Meydan is the perfect place for you! Their precision-crafted seasonal cocktail menu that includes a unique collection of innovative Iris Signature Cocktails is designed to stimulate the senses while their aromatic food celebrates flavor at every opportunity. Want a girls night? Iris Meydan has a ladies package that allows you to enjoy two starters and four beverages for 140 AED only!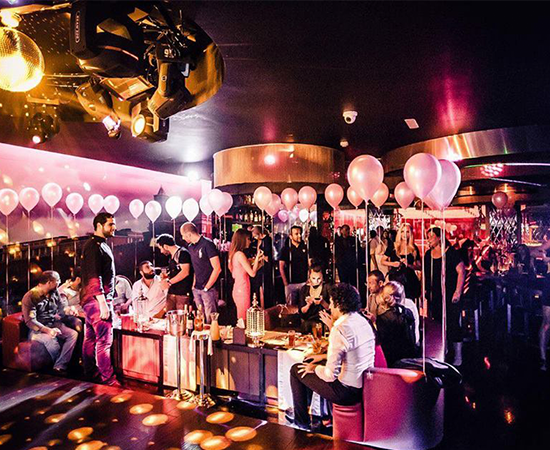 Muscovites Restaurant & Night Club
Muscovites provides a unique dining and entertainment experience for its guests in a gorgeous atmosphere while delivering wonderful original Russian cuisine and live theme night club entertainment. At Muscovites, you'll find one-of-a-kind and traditional flavors that will leave your taste buds begging for more. Whether you want to have a few drinks while dancing at a dance bar in Dubai on the weekend or go all out when it comes to partying, you can count on Muscovites to deliver. Before you hit the dance floor to show off your moves, take a seat at the bar and choose from a variety of unusual cocktails or book a table to enjoy a romantic evening with that special someone. If you aren't into drinking or dancing, grab a stick to score a few pockets at their world class pool table or order your favorite shisha flavors to celebrate life with your friends.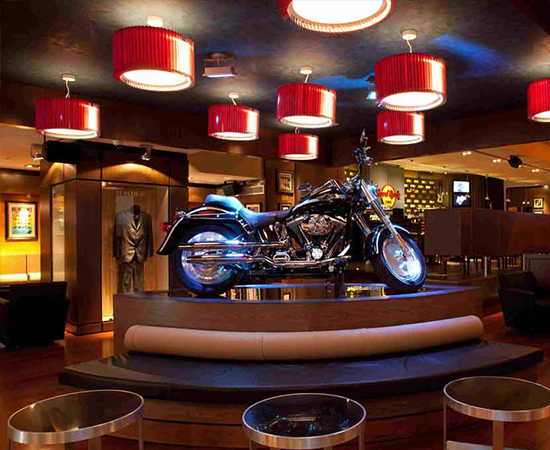 Hard Rock Cafe
The London based Cafe has been around for around 50 years now and has branched out all over the world. The rocker hub has always brought people together with good food, a vibrant atmosphere, and, most importantly, the love of music. There is always something exciting happening at Hard Rock Cafe Dubai! From local live music to special offers, they have it all. So grab a juicy burger or sip on a cold brew and rock on!