Fairytales do exist. Did that revelation excite you? Or perhaps it might've shocked you in a manner that had you in disbelief with a hint of curiosity attached to it. Late Barbadian author and psychic Neville Goddard, once quoted that 'Imagination is the very gateway of Reality'. And lucky for us, fairy tales happen to be one of them. It had always been a dream of mine, to experience the thrill in having all my desires unfold in my reality on a daily basis and let me tell you that they all started to happen, with just a random…thought doused with innocence. When we think of France, the first ideals to pop into our minds would either be 'City of Love', The Eiffel Tower, the Louvre Museum and might I add…having the love of your life proposed to you while standing in the heart of Paris. 
But for me…when I think about France…I like to think of it as a country that thrives in opulence, mystery, romance, and of course…having every single one of your dreams come alive. A country that takes Immortality to a whole new level…making you believe that you are the main hero/heroine in your feel-good, adventurous story. Welcome to Normandy; a beautiful region nestled in the north of France. With varied coastlines, white chalk cliffs, gothic abbeys, cathedrals and a repertoire of medieval castles…there aren't enough words in the dictionary to explain how absolutely…mesmerised I was when I had the opportunity to visit and experience my fairytale moment when I landed in Normandy. If you are planning a visit to France, DO NOT LEAVE Normandy or Amiens out of your list. Are you excited to experience your moment and have your dreams turned into a reality? 
I have just the travel guide for you! 
1.Visiting the Mont. St Michel in Normandy 
I cannot stress this enough, when I say that Mont. St Michel is the place where all your desires are instantly manifested into an enriching reality that you are meant to be living by. A tidal dream of an island and mainland commune in Normandy, France. The island lies approximately one kilometre off the country's north-western coast. The easiest way to get here by train would be through the Saint Lazare station from Paris, which will approximately take you 3hrs and 46 minutes to reach especially in the midday. The ticket fares are relatively easier to grab and won't cost you an arm in experiencing the beauty that this place has to offer. It is exactly what I did and do recommend for every traveller to do; travel and experience the thrill by train that will take you to this gorgeous castle. The climb will not be more than 45 minutes to reach the top by foot. The visitor car parks have been moved further inland to preserve the Mont-Saint-Michel's exceptional landscape. The car parks are around 1.5 miles from the mount. Once you have parked, head for the Place des Navettes, where specially devised shuttle buses called passeurs will take you to the mount.
Fairytale Tip: I decided to wear a fuchsia pink mini-gown with a twist and mark my entry in style! If you want to go bold…GO BOLD.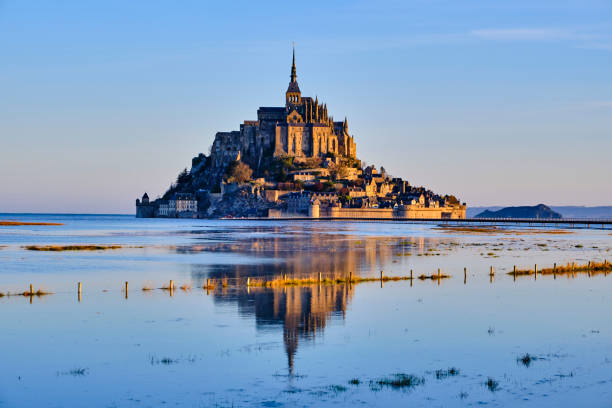 2. Château de Clermont-Tonnerre – Bertangles
Bertangles to me, is a dreamland where you are the author, the main heroine in your story. It happens and yes it does exist. I've seen it happen in my own eyes when I took the train from Amiens (another love of mine and a.k.a the place where I'll retire and make it my homeland). The Chateau de Clermont-Tonnerre looks like it's straight out of Francis Ford Coppola's Bram Stoker's Dracula, the 1992 version where you are just waiting to be engulfed by the mysticism that surrounds the castle. When I had the opportunity to visit this gem, I always enjoyed the idea that a certain dark haired enigmatic source…a shadow dancing in the dark watched me twenty-four seven regardless of where I went. It was definitely a hunter and the prey situation and oh yes…I loved the thrill. The alluring danger. The excitement. I felt and relished all of it. 
Fairytale Tip: a simple apple red skirt and off the shoulder noir crop top will do the trick;)
3. Amiens Cathedral / Notre Dame d'Amiens
Amiens will forever and always be the love of my life. (No offense to my boyfriend reading this LOL) but believe you me…when I say that I literally knew that I was going to have a hard time saying goodbye to my lovely Amiens before I could leave for Dubai. I'm pretty sure, you too would be feeling the same once you find yourself completely immersed in the city centre's dark, enchanting beauty while simultaneously having the Notre Dame capturing every speck of your attention. It follows you wherever you go.  Situated on a ridge overlooking the River Somme in Amiens the cathedral was built almost entirely between 1220 and c. 1270, a remarkably short period of time for a Gothic cathedral, giving it an unusual unity of style. Amiens is a classic example of the High Gothic style of Gothic architecture. It also has some features of the later Rayonnant style in the enlarged high windows of the choir, added in the mid-1250s. 
Fairytale Tip: Where a glossy gown… it can be a colour of your choice! That's what your girl did when she ran with the wind. 
4. Amiens Cathedral / Notre Dame d'Amiens
Built of wood, then of stone in the 12th century and belonged to the lords of Pirou, this spectacular and indomitable fortress is where the real magic begins. With deep moats isolating the fortress, accompanied with annexed buildings, feel free to indulge yourself by tasting the 18th century styled bakery's, visiting the wine presses and believing the castle is yours to keep as you bask underneath the glories of the sun while lounging in the inner courtyards of the fortress. 
Fairytale tip: cute wedges and an elegant summer dress that makes you radiate pure fairytale energy! 
Home is France. France is my home. Especially the beauty and comfort I'd found in Amiens, Normandy, Bayeux and Bertangles. Four mysterious gems that continuously keep calling my name as I, the princess had willingly given my heart and soul to these wonderlands and I'm sure you would too.  While I surely did enjoy my stay in Paris, France, I felt more at home when I took myself to Amiens, Normandy, Bayeux and Bertangles because all that I wanted came alive. One of them was by visiting the Immortal France. 
Now its your turn to have your wishes fulfilled by visiting my homeland: France and four hidden gems waiting to be unravelled and discovered by you.