Throw away all stress from the recent past and indulge in the all-new 'Tranquil and Flow Yoga Retreat' from 25 to 27 November at Meliã Desert Palm Dubai. Pamper yourself with three transformative days embracing inner calmness and relaxation from the benefits of ancient healing and mediation practices while relishing the cool breeze and lush greenery of the polo resort.
Inhale fresh air as you exercise Hatha yoga with horses at sunrise in an open-air polo field and exhale while aligning your energy with Chakra Balancing Flow and Kundalini Meditation. During Osho Kundalini Meditation, four shaking and dancing meditation stages have to be completed, helping energy flow and melt any blockages in the body while moving energy upwards in silence.
Focus on the tension in your body during Vinyasa in the yoga garden and burn all bitterness that no longer serve you through the 'Letting Go Fire Ceremony". This simple burning ceremony ritual aims to cleanse and let go of events that caused regret. Whether a relationship that produced pain or an unsatisfying job full of negative energy or a destructive mindset generating a negative thought process.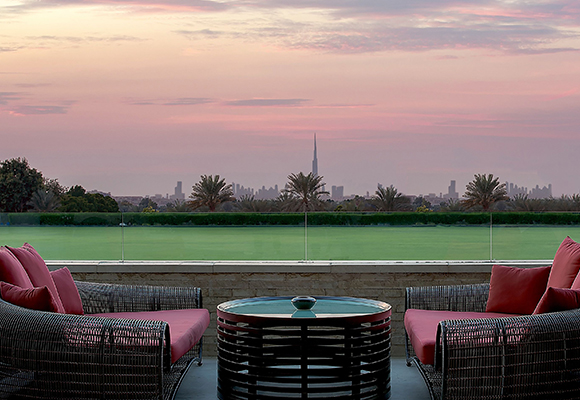 For deep emotional satisfaction and relaxation, Origami activity is an art therapy that triggers mental and physical stimulus, developing hand-eye coordination, fine motor skills, and mental concentration by directly exciting specific brain regions; origami is used in various therapeutic settings, including stroke and injury rehabilitation.
The Tranquil and Flow Yoga retreat includes nine hours of different activities with live piano performances and life-changing coaching classes. The programme starts on Thursday 25th November at 3 pm and ends on Saturday 27th November at 12 pm, including all meals from breakfast by the pool at Epicure to dinner at the terrace overlooking the lush polo field at Rare. With multiple food options ranging from healthy or intercontinental breakfast to three-course lunch including green soup complemented with traditional Arabic appetizers before healthy bowls and various choices of burger and pizza with vegetarian alternatives.
Guests will get the option to join the retreat with a two-night stay priced starting from AED 2,599 for one guest and starting from AED 4,299 for two guests, including all activities and meals. Additionally, you can choose to join the retreat without a stay, including all activities and meals priced starting from AED 1,599. For more information or reservations, call +971 04 602 9300.