Nearly 70 years after the death of one of Mexico's legendary artists, Frida Kahlo, her image and art continue to flourish across the globe.
Kahlo's story has gained popularity over the years along with her surreal self-portraits influenced by Mexican culture, a proof of her patriotism to her country's cultural history and even her political dedication. The vibrancy of colors is evident in her artworks but pain and sorrow lie beneath those strokes. Her works have been a reflection of herself, making her story an open book for the world to see. 
Magdalena Frida Carmen Kahlo y Calderon, although originally born in 1907 in Coyoacan, Mexico, often told people that she was born in 1910 as she wanted it to coincide with the start of the Mexican revolution. She, however, does not intend to appear young but rather political. At the tender age of six, she has contracted Polio, making her right leg thinner and the other one shorter. Her legs were kept hidden under long and colorful skirts.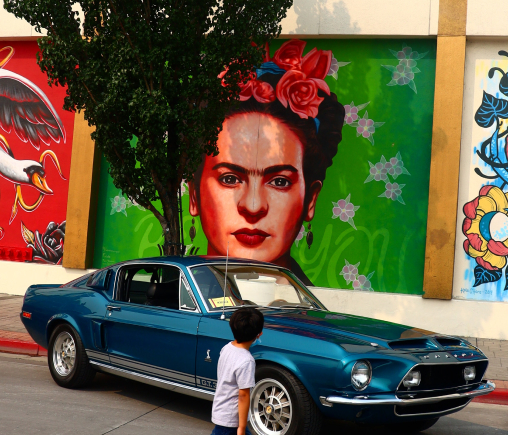 Life changing accident
Her interest in the arts was influenced by his father but it was no greater than her interest in the sciences and biology as she wanted to become a doctor. But fate was cruel to Kahlo as one accident changed her life forever. At 18, she was seriously injured in a vehicular accident causing her to undergo close to 30 operations. Her pelvic region was pierced by a metal rod, her neck and spine were fractured, her right thigh had a series of fractures and her foot was entirely crushed. Although she survived, her life was in full agony and tremendous pain.
With her dream of becoming a doctor shattered, the accident has been the catalyst for her art. She started making self-portraits with the use of a customized easel on her bed and a mirror on the ceiling. Art, being her salvation and voice of her pain, has helped in her recoveries. 
The Wounded Deer (1946), a self-portrait by Kahlo depicting herself as a deer symbolizes her physical and emotional distress due to her injuries. With the deer struck by multiple arrows, it shows that it is likely going to die; briefly correlating Kahlo's declining health during the time the painting was created.
Married life
In 1929, Kahlo married Diego Rivera, a famous visual artist who is 20 years her senior. Despite being in love, the public has long been referring to their marriage as both intense and disastrous. She even quoted long before that the two terrible accidents she experienced in her lifetime were first caused by a bus and the second was by Diego. He has cheated on her multiple times and even committed an adulterous affair with her younger sister. Kahlo, on the other hand, reciprocated his actions with the same, having relationships with both men and women. 
One of her paintings entitled "Self-Portrait Dedicated to Leon Trotsky" (1937) was made in remembrance of her brief affair with the legendary Russian communist and founder of the Red Army, Leon Trotsky. 
After all the emotional havoc from his husband's betrayal, she divorced him in 1938 but their bond and affection was tough, thus being reunited in 1940.
Completed a year after her divorce with Rivera, one of her most widely recognized self-portraits entitled "Self-Portrait with Thorn Necklace and Hummingbird" (1940), shows her between a monkey and a panther with a necklace around her neck made of thorns and a lifeless hummingbird as its pendant. Her stoic face and blooding neck from thorns were a portrayal of her emotions during her divorce.
Frida's life depicted on art
Throughout the course of her career, she has made approximately 200 paintings, sketches and drawings with 55 of them are self-portraits. A lot of people claim that she is a surrealist painter but she strongly suggests that she is not. Rather, she paints depictions of her experiences and her works are symbols of her personal journey, may it be from her illness, accident, bisexuality, political stand or complicated marriage life.
Her painting "Self-Portrait on the Border between Mexico and the United States" in 1932 shows her anti-American stance.
On her first solo exhibition in 1953, she arrived in the gallery in her bed as the doctor has banned her from leaving her bed as a result of her worsening health. A few days before her death on 1954, she wrote "I pray it will be a pleasant departure and I pray I never return back". She succumbed to Pneumonia a few days before her 47th birthday.
Iconic and Timeless
In her living years, she has remained in the shadows of her famous husband but she has now become an icon of Mexican women, feminism and even LGBT organizations. Her strong personality, unapologetic strength and boldness to embrace her sexuality have made her a symbolic figure that broke barriers and redefined the society's standard of beauty. Her own face is a work of art alone. Her unibrow and flower on her top of her hair are staple identities of her.
Her style influence has also inspired some of the most famous designers like Carolina Herrera, Dolce & Gabbana, Riccardo Tisci of Givenchy, Kris Van Assche and Jean-Paul Gaultier. Her love of vibrant colors, bold patterns of Tehuana dresses and embroidered skirts paired with earrings, necklaces and rings have inspired different collections that have graced the runways. She has reached an international acclaim that memoirs of her have been published, films about her were created and her previous residence was made a museum. Her works have set records with one of her self-portraits sold for USD5.6 million in 2006.
Frida Kahlo is a great example how one can change the misfortunes of life into something beautiful. Amidst the physical and emotional turmoil she has experienced, she remained positive. More so, she has acquired immortality through art. One truly dies if forgotten and so, she has acquired immortality through art, imprinting her name in history. As ironic as it seems with her words before her death to never return back, she has never left at all.