This past Sunday marked the start of the Holy month of Ramadan. The month-long religious holiday for Muslims serves as a time of inner self-reflection and strengthening their relationship with God. Ramadan is dictated by the lunar cycle, beginning and ending with a crescent moon. The religious holiday involves fasting, praying and being around loved ones. 
For most people, including those who observe the Holy month and those who do not, it is a progressive and beautiful time to unwind with friends and families around iftar – a typically sumptuous feast which starts at sunset to break the day of fasting. For those looking for a truly memorable Ramadan experience this year, we've rounded up some of the iftars not to be missed in Dubai. There's something to suit every taste and budget and style.
SUCRE
Following the successful launch of its third global venue in Dubai, DIFC earlier this year, SUCRE is pleased to expand its authentic offerings by offering an ethnic Iftar menu specially curated by Master chef Fernando Trocca himself. The Latin Americas' 50 Best ranked restaurant brings a combination of exciting flavours to its Iftar menu all while staying true to its Latin roots – grounded in traditional open fire techniques. Guests can expect experience the Holy month of Ramadan with family and friends in the exquisite renaissance-esque interiors with a posh ambiance and dine on revitalising dates, grills and freshly prepared Tuna & watermelon ceviche, refreshingly the best food for ramadan juices during Iftar or the Dulce de Leche &  Date "Baklava", an exciting crunchy sweet finish on the Iftar menu. For a price point of AED 250, Sucre's Iftar menu is exclusively available only in Dubai; fusing both Latin American and Arabic cultures together to create an expressive dining experience like no other.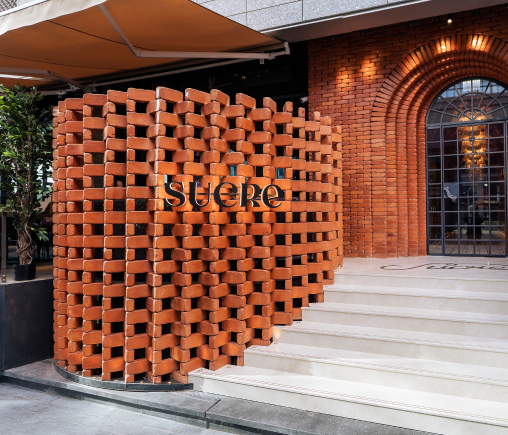 For booking visit: https://sucredubai.com/
THE CROSSING
Dubai's newest elevated Indian fine dining, The Crossing, invites guests to discover their two Iftar packages that celebrate true Indian culinary mastery. You and your folks can select from two distinct menus featuring five mouthwatering courses of Indian cuisine curated from across the entire Indian subcontinent. The Crossing promises an evening of unforgettable culinary experiences starting from AED 130 per person, you can discover the goat curry, butter chicken and the dal Moradabad. Want even more? For  AED 175, you and yours can enjoy signature renditions of chaat, batakh salad and the infamous gunpowder powder prawns (a favourite of ours)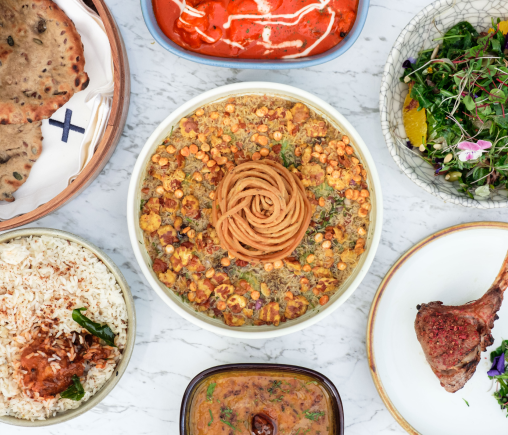 For booking visit: https://crossingtherestaurant.com/
SHI 
Break your fast with premium Chinese platters at SHI, you can experience sharing style platters for Iftar with main course for dinner at SHI. Take Iftar to another level at luxe Chinese dining destination, SHI, at Bluewaters. Offering guests abundant sharing platters to break the fast, inclusive of soup, sushi, dumplings and sides, followed by two options of main courses, plus close up views of Ain Dubai and the JBR cityscape, SHI is the perfect place to break the day's fast with loved ones starting from AED 210 per person.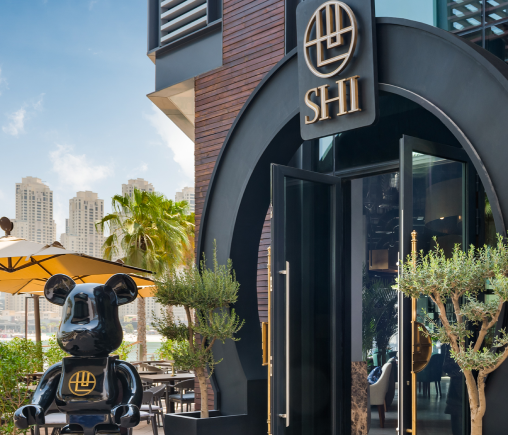 For booking visit: https://www.shirestaurant.com/
HUTONG
Contemporary flavours meet traditional meals at Hutong, the Northern Chinese dishes take up centre stage this Ramadan at Hutongs. Born in Hong Kong in 2003, Hutong restaurant is acclaimed for its contemporary and occasionally fiery Northern Chinese cuisine, as well as its stunning views of the Hong Kong skyline. Fasting or not, everyone is welcome to dine with Hutong for a new gastronomical experience this Ramadan. Break the long day of fasting and delight your taste buds with a carefully curated Iftar menu. Get a taste of tradition by starting the meal with a date, which will then be washed down with a choice of juices, or the special Iftar Mocktails. Choose from a range of delicious Northern Chinese dishes such as Mushroom Soup Dumpling, Black Pepper Beef Bao, Wok – tossed Chicken with Laoganma Chilli Sauce and Roasted Peking Duck with Pancakes. End your culinary escapade with some Date Pudding, a perfect Arab – Chinese fusion with spiced caramel and high notes of fresh mandarin. Enjoy all these decadent delicacies this special season while overlooking Dubai's majestic and iconic skyline at Hutong. Hutong's special Iftar set menu will be available daily from 6:00 pm to 7:30 pm. Book your table for only AED 198 per person, with a minimum of 2 people per reservation.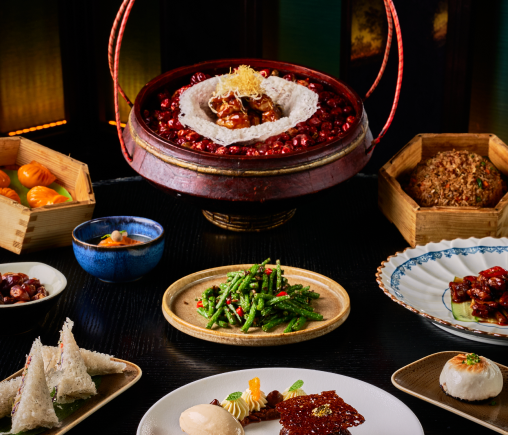 For booking visit: https://www.hutong-dubai.com/
ROOBARU
The spotlight is on Roobaru's freestyle Indian Iftar for the month of Ramadan. Homegrown modern Indian concept Roobaru introduces their sumptuous 2022 Ramadan menu with new items to enjoy throughout the month, not just for Iftar! Known for their spectacular freestyle Indian specialities, the Downtown Dubai – based restaurant will offer a splendid 3 – course meal throughout the holy month for just AED 99 per person. Diners will begin their meal with an appetiser of their choice, which includes the likes of Ramadan special Chef's Haleem (Special Braised Spiced Mutton Stew with Lentils), succulent Aslam's Chicken (Old – style Chicken Tikka), perfectly crisp Sharjah Sambusa , and Middle Eastern – inspired Corn Hummus. 
.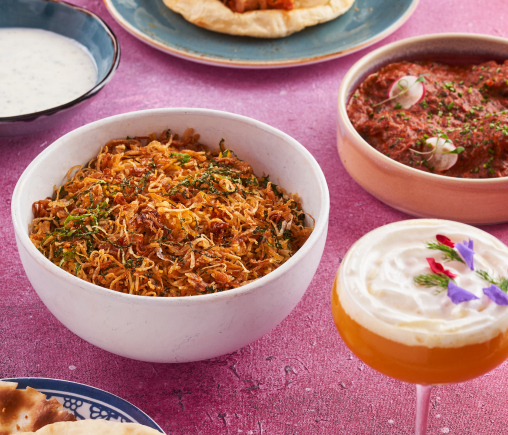 For booking visit: https://www.instagram.com/roobaru.me/
BASKO
Basko invites guests to a carefully curated Ramadan menu at the heart of Business Bay. Patrons and casual diners will enjoy their meal while basking in the charming 60s inspired interiors. For a more intimate setting, guests can opt to dine out at the iconic balcony, overlooking the magnificent Dubai skyline. The retro – style restaurant offers a reinvented Iftar spread featuring dishes inspired by the fabulous Mediterranean region. Each guest will be served a dish of their choosing from the splendid 6 – course set menu, starting with tartines and brioches. The options include Crispy Tuna Tar tines , Tuna Brioches , Smoked Brisket Brioches , and Cecina & Tomato Tartines . A selection for soups, sides, and salads will also be served to complement the guests' dining experience. The Ramadan menu at Basko will be available daily from 6.30 PM till 12.30 PM throughout the holy month for AED 390 per person.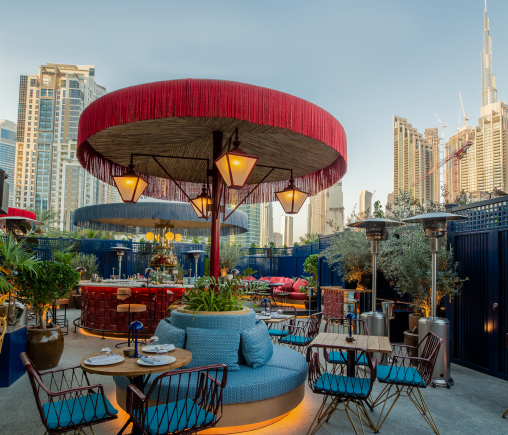 For Booking visit: https://baskorestaurant.com/
MAREA 
Marea is the story of rarified worlds colliding to create a modern and chic institution. At the original Marea New York, the authentic, bracing flavours of coastal Italy meet the swagger of New York to form a new kind of gusto. Now in Dubai, Marea is bringing its signature style and hospitality to the world-class International Financial Center. Marea charts the tide for restaurant culture, with exquisite food and unmatched service that set the stage for an experience like no other. An anchor of the DIFC, Marea attracts those who don't chase luxury, but who live it-by elevating life's moments, indulging their senses, and celebrating every day with the best food, service, and surroundings in the world. Marea is offering guests a four course set menu at AED 250 with non-alcoholic mixology pairings to elevate the dining experience throughout the month of Ramadan.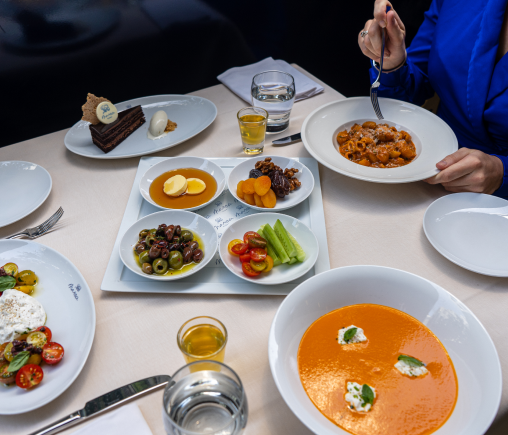 For booking visit: https://www.marearestaurant.com/dubai