Royalty and society's affluent gathered in April to raise nearly $10 million in Dubai at a live charity auction to feed disadvantaged individuals across 30 countries.
The hall was lined wall to wall with rare artworks by household names including Salvadore Dali, Pablo Picasso, and Nelson Mandela, of which a single piece might be valued at more than the lifetime earnings of the average person.
The star of the night was one of the world's most expensive living artists, who despite his title, stressed that the value of art should come at no cost.
"It's about each and every individual feeling worthy to look at something and enjoy something and connect with something," Sacha Jafri told The Victor Magazine on the night of the auction.
Disengaging with the mind and connecting with the soul is not limited to the art elite according to the British artist, who believes the tight knit community is excluding others.
"You feel like you're stupid if you don't understand this work of art, and that's wrong, and it's the art world that's to blame and that's been going on for centuries."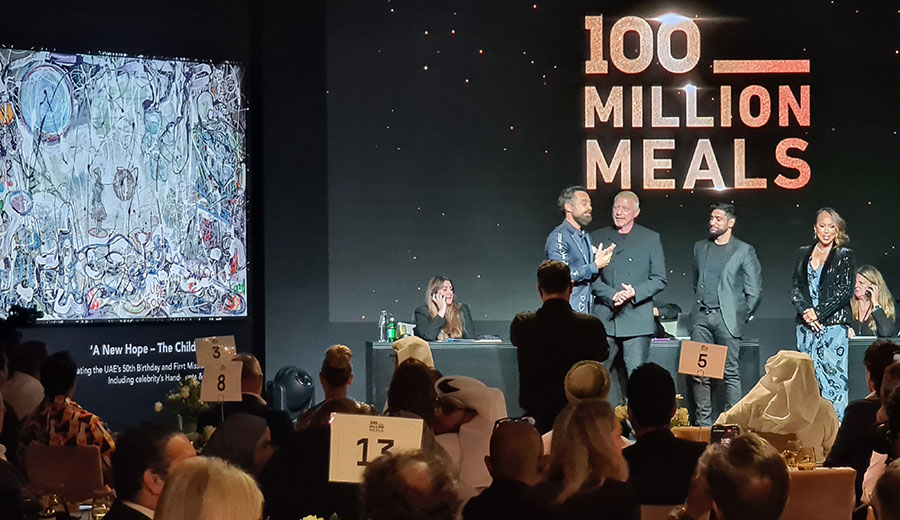 The value of art
This idea of art for everyone was embodied in Jafri's "The Journey of Humanity" that he painted on a nearly 1,600 square meter canvas, making it the largest art canvas in the world according to Guinness World Records.
The artwork was split into 70 pieces in order to sell and raise money for children in need, along with the message that we are all connected.
The canvas pieces were bought altogether by Andre Aboudoune, a French cryptocurrency entrepreneur living in Dubai, for double the intended price at $62 million.
On the auction night Jafri sold his painting called "A New Hope – A Child's Prayer" for $1.7 million, which featured handprints and signatures of celebrities including Cristiano Ronaldo, Eva Longoria, and Idris Elba in support of the "100 Million Meals" campaign.
This is the name of the Dubai initiative that American actor Will Smith described as a "beautiful and wonderful concept" in a video message shared at the event.
A piece of the holy Kaaba cover was also up for auction from the personal collection of Sheikh Mohammed bin Rashid Al Maktoum, the Vice President and Prime Minister of UAE and Ruler of Dubai.
Jafri, a Dubai resident, said UAE initiatives such as this campaign and others being implemented are changing the art landscape.
"The UAE is seeing things like the rest of the world isn't seeing them," said Jafri, describing the country's recent moves to build up its creative sector.
"I think the benefits are going to come in the next five years, and it's going to be very interesting."
Creative investment
The UAE is looking to help unclench the hand grasping access to creative opportunities in order to enhance its society and economy alike.
It's doing so with supportive legislation and frameworks such as issuing visas to attract international talent and empowering creatives with ownership over their intellectual property.
These industries include everything from cultural heritage museums and book publishing to the growing video game market and of course – individual artists selling their work.
Dubai hopes to double the creative industries' GDP contribution to 5% of its economy by 2025, which made up 2.5% in 2020 according to the UAE's government news agency.
Over the next five years, the emirate plans to double the number of industry companies and the currently 70,000 registered creatives working in them.
The UN declared 2021 as the "International Year of Creative Economy for Sustainable Development" as strengthening creative economies is seen as a method to diversify products and exports of developing countries that can employ and empower more people.
Democratizing the art scene
More welcoming environments for creatives have encouraged companies such as miPic, a UK-based social media art and photo marketplace, to expand their reach in the UAE with new labs and marketing partnerships with artists.
Instead of only uploading images to Instagram for views and likes, the application allows artists to take interactions a step further and sell the images they post.
"We turn Instagram feeds into money making businesses," said Carl Thomas, the founder and CEO of miPic.
Thomas says that similar ecommerce platforms such as Shopify require membership fees, while hobbyists can eventually receive up to 40% commission from each item sale without commitment and directly through Paypal.
"The way of creating great products today is by democratizing art and basically enabling everybody with a smartphone or a tablet to be able to create an image or a great shot and be able to sell it," said the artist turned technology entrepreneur.
Sara Shakeel, a dental school graduate from Pakistan, is one of the platform's nearly 100,000 global users.
She was able to earn about $28,000 in sales within six days by selling more than 350 items of her crystal themed art in 2018 during miPics soft launch.
The hobbyist turned selling artist now owns her work, and partners with digital technology companies in addition to make-up brands to supplement her earnings.
More recently, an artist by the name of Indg0 was able to consistently generate thousands of sales and earn passive income each month while confined at home during the pandemic.
The application is also indicative of how people are consuming art, with options to print an image of your favorite artworks on a pillow, smartphone case, and also clothing rather than traditionally hanging them on a wall or placing them on a countertop.
Revenues rose by 500% from 2019 until 2020 during the pandemic lockdown according to miPic, as consumers spent more time connecting with artists through social media.
#thevictormagazine #victormagazine #fashion #fashionmagazine #magazine #art #lifestyle #dubailife #influncerlife #blackfashion #culture #victor #UAE #dubai #instagram #influencer #influencers #socialmedia #social #beauty #antiaging