Arab Fashion Week, finally making it's breakthrough after a long interval due to the covid outbreak. Featuring some of the top notch designers locally & internationally, we came across someone special who has just made his way through into the fashion industry with a unique story to tell, Michael Leyva. 
Michael Leyva, one of the most appreciated and celebrated designers in the Philippines, despite the pandemic still continued to thrive and prepared to conduct his first ever fashion show in Dubai with the Arab Fashion Week. His fascinating collection, as mentioned, was inspired to "celebrate life" which is why he named it Diamonds – as for the saying diamonds last forever, sparkling & magical.
Diamonds speak a language that transcends across nations. A language of love and beauty. Inspired by jewelries purposefully designed to reflect distinct beauty and elegance, the Diamond Collection reflects Michael Leyva's maverick vision as it shines, sparkles and speaks on a theme that is timeless. 
He combined elements and used different fabrics, beads, crystals, gems and played on colors to create his best collection to date. Indeed, every piece of the collection shines bright like a Diamond! 
Leyva longed to do fashion shows, which is when Michael Cinco asked if he wanted to do a showcase in Dubai at the Arab Fashion Week for Spring/Summer 2021 last October. After the screening, he was tied up in preparing a collection of 30 pieces and mentioned "the preparation time is short, but we are going to execute a stunning collection." Here we stand with Michael Leyva, the up and coming Filipino designer at the Arab Fashion Week getting to know more about his life changing journey as a designer.
Q1. Tell us: How did your journey in fashion start? Where did the passion toward designing clothes emerge from?
Well, actually I was a flight steward entering the fashion industry. It was my brother Brian who was a fashion designer and then very unfortunately he passed away so I am the one who continued his legacy. At first, I was very afraid to continue what he started because I really didn't know how to draw or deal with fabrics and designs but with his guidance everything went well and I think it's really a God's blessing that all the opportunities came through.
Q2. As you mentioned, you're not really a designer but instead you were a flight attendant. How does this drastic change in your career path make you feel?
During my first year as fashion designer it was really a challenge, I had to study everything about it, from sketching to identifying fabrics, but as time went by through experience and education, I got used to it. I love my job, the  struggles, the victories and everything in it  God's blessings.
Q3. In your own words, what does "Fashion" mean to you? How would you describe it?
Well, fashion for me is always an inspiration. We get inspired by what fashion is all about.
Q4. It is often said that our struggles start when we aim to create our own destiny. Before establishing yourself as a prolific fashion designer, what were some of the challenges you faced at the beginning stages of your career?
Well, the additional problems that I encountered at first was, I really didn't know how to draw so I thought of how I could learn the fashion industry on a whole since I am not a designer, I am a flight steward. So I believe that is the first thing I dealt with. 
Q5. Explain to us what your creative process is like and how you tackle blocks when it comes to creatively expressing yourself while designing. How do you manage to overcome this?
I always start with an inspiration, only after I come up with designs and create  the collection and whenever I am going through a creative block I always conceptualize things and focus on it so that I can come up with a beautiful design in my head.
Q6. I'm a little curious..who are some of the eminent figures who have worn your designs?
Celebrities from the Philippines have worn my design. Politicians have worn it to several fashion shows, but only in the Philippines, not in Dubai. 
Q7. Being a part of your first ever fashion show in Dubai, how was your experience with Arab Fashion Week?
The show is one of a kind. I love everything about the Arab Fashion week. I am amazed how passionate are the Arabs when it comes to fashion. The organizers, the models and everyone who participated in the show are all pleasant. Indeed an amazing show.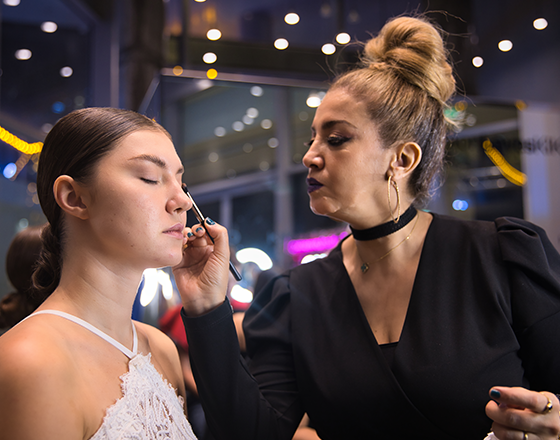 Q8. Were there any challenges you faced or barriers that you came across, along the way in preparation for this show?
I had a very short time preparing for the show, the collection I presented was so far my best collection ever. Every single detail of it was made with love and passion. I may not have enough time. I still have my best team who's been working overtime just to finish everything on time.
Q9. What was the concept or message you were trying to convey to your audience with your latest showcase?
Life is worth celebrating. Dress up, have fun and color up your life.
Q10. Last but not least, are there any exciting projects that we as the audience should be on the lookout for?
Hopefully, I am excited to be doing shows internationally and it's a wake up call for the Philippines and that Filipino designers can do great things and make their way into the fashion industry.