6The highly anticipated speakeasy is set to revive the night as doors open for after-party celebrations.
Last week, after an incredibly beautiful tasting menu experience; and my Boss Lady rolled into Basko Dubai, the tastefully decked out mediterranean venue on the ground floor of the legendary Opus by Omniyat building, business bay, for a first look experience of the highly anticipated, 1960's inspired speakeasy bar Suave which is set to activate Dubai's late night scene. 
Well, the secret is finally out. The chic Mediterranean venue Basko has officially launched its exclusive speakeasy bar, SUAVE, opening its doors on Thursday the 24th of March. It literally feels like stepping back in time to the swinging sixties, while I may not be old enough to know what that was like, Hollywood has done a good enough job in highlighting as the best decade there ever was. 
The spanking new venue, designed by Lazaro Rosa Violan, boasts retro vibes and exquisite tastes, from the statement piece chandelier-inspired staircase, to the premium suede interiors gushing with deep reds and velvet blues. The printed retro carpet flooring and layered tassels that fall from the ceiling creates an intimate, artistic feel to the space that is Suave.
Lovers of Basko are welcomed with a warm and inviting atmosphere, to dine with the finest of Mediterranean cuisine then encouraged to stay after hours and 'party like it's 1962'. Those ready to carry on the evening, this private club is where to find the ultimate mixology-bar experience. Where the drinks keep flowing, and the music blends from golden Jazz to that old school funk, and disco house rhythm (you should try their Negroni… ulala!)
You can fall in love all over again with the old-time classics as SUAVE revisits the well know Cosmopolitan, Sex on the Beach and others with a totally different twist. Guests will be surprised by the mixology expertise of SUAVE and the secret recipes only known to this speakeasy.
Taking the center stage before red draped curtains is the Suave Bar as it shimmers with its gold and platinum structure, setting the mood for a special night ahead. Taking guests right back to the revolution of fashion, fame and culture, Suave emits that charm, confidence and elegance that everyone yearns to experience. The authenticity of the venue has been set deep within the walls, featuring a library of over 200 vintage records. Let the nostalgia set in as guests browse the tracks collected over the years from Miles Davis to David Bowie.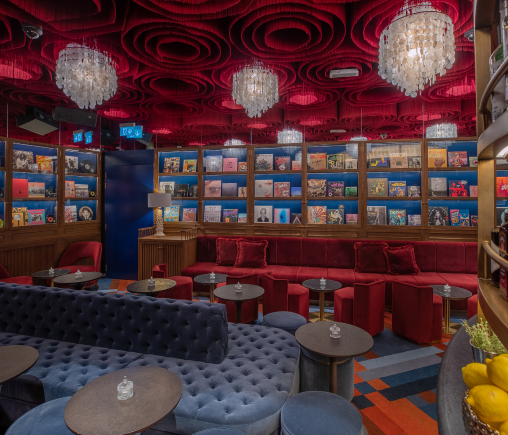 Be transported to another era and discover the vibrancy and class that is Basko as you step through the doors of their exclusive speak-easy.
For reservations contact:
+971 4 582 4242
Website: https://baskorestaurant.com/ 
Instagram: @baskodxb