Behind every beautiful song, there is a talented singer singing it and a creative writer penning it. As a spectator, have you ever attempted to comprehend the experience of creating music with mere words? Yet, what else do we have to understand?
Turning to music at the age of 15 by picking up a guitar his mother got for him, Danny Aridi's dreamy voice is not the only thing he has got going for him. He writes his songs as well. In fact, writes and releases new numbers every 2nd month. Sentimental music is his forte, and strongly believes soul stirring, heartwarming, numbers strike a chord with listeners. His guitar and he are an inseparable team. In his own admittance, he is usually the guy with his guitar hanging around his neck…just in case someone asks for some music. When not performing or writing songs, this charismatic versatile singer spends his time at the gym or going for runs because he "enjoys staying active and being in and around nature"!
Singing and composing music have been his greatest source of expression. No wonder, with over 28K followers on Instagram, even before he is ready to present to the world officially, his followers are on high alert – following, keeping track of what this Canadian/Lebanese multi award winning wonder has to offer next.
Based in Dubai and signed by Universal Music, Danny has been performing internationally for over 10 years, and opened concerts for some of pop, EDM and rock 'n' roll's biggest names — from Guns 'n Roses and P!nk to Calvin Harris and Katy Perry.
A wanderlust at heart, his foray into the industry commenced from making short videos and posting them on YouTube.
Read our 'rocking' interview with the man himself as we discuss all things music and much more.
What or who were your early influences to foray into music?
I used to watch MTV growing up and my generation was lucky in the sense that we were exposed to a wide variety of genres of music. Everything from pop, alternative rock, to RnB and hip hop. I think it's healthy to keep an open mind and listen to a variety of artists from different genres. They all have their unique traits and inspire me in different ways. I'm drawn to people like John Mayer, who is an excellent songwriter, and Amy Winehouse and Ray Charles, who both sang with so much passion and emotion in their performances.
What are you first – a singer or a songwriter?
Like most people, I started singing before I was able to write good music. Singing came naturally and intuitively, whereas writing is more of a skill that I was able to develop over the years. I'm lucky enough to be in a position today where I'm very comfortable with singing any genre and writing a song about anything. For example, I've written a song from Instagram comments that was picked up and aired on TV in the USA.
How does the writing process begin? Have you ever experienced a writer's block?
Not anymore, writer's block used to be a common phenomenon until I realised I shouldn't force myself to write. It will come naturally. Oftentimes, songs and poems come together in patches of sentences and paragraphs that accumulate over a number of hours, or days or even weeks. The song writing process for me is always a fun challenge. I ask myself, what is the purpose of this song? What is the message I'm trying to convey? What is the story and emotion that I want the listener to understand? And I usually go from there.
Did you face any roadblocks when you decided to pursue a career in music?
As with any career in the creative field, everyone advised me against it. The uncertainty of this path is high and chances of success are quite low, so I understood where the advice was coming from, but I didn't give it much attention. It was always an intrinsic burning desire to pursue what I'm passionate about. In my opinion, this career choice requires a lot of patience and consistency and you have to be driven by the desire to share your art rather than fame and money. At the end of the day, life is full of risks, no matter what path you choose, so you might as well risk it doing something that you love.
'Fool for you' is touted to be one of the most downloaded tracks and topped the charts in international downloads. Tell us more.
I released that song on Valentines Day and it's one of my favourite songs to perform. Everyone has felt like a fool for someone they loved or admired so it's no wonder the song gained international success. The catchy chorus and alternative rock influence gave it a memorable and unique sound. I filmed the music video for this song in the streets of London, and it fit the vibe of the song so well.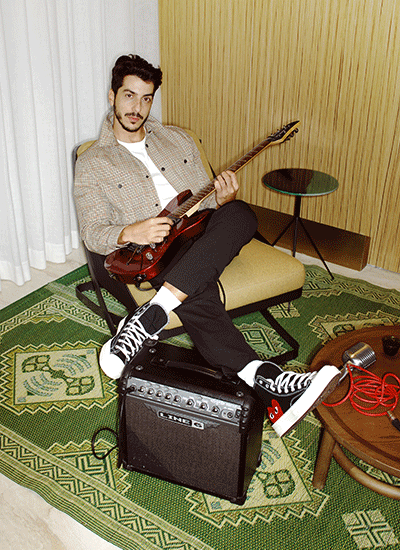 Tell us about the wanderlust in you. How has that helped you with your music?
I think we all have a desire to travel and be exposed to different cultures, influences, and arts. I released a song called Wanderlust that is all about that feeling. The music video was filmed all around India and it really showcases the city and its people in a beautiful way. That was one of my favourite trips and music video shoots, you can check it out on YouTube by searching "Wanderlust, Danny Aridi."
Over the past 10 years, how has your style evolved or changed?
I've learned to implement the unique style and tone that my voice has while also embracing my influences from different genres. Over the years I've given each song its own unique style and attention. You can still tell it's me singing, but each song is very different from the next.
Are there things that you as a singer would like to do, but haven't had the opportunity to?
I would like to collaborate with more international artists on original songs. That's something I've always found interesting.
What is your current project about?
I'm happy to reveal that I have a new song coming out at the end of August that is one of my favourite songs to date. Stay tuned! Readers can follow my Instagram @dannyaridi and subscribe to my YouTube to stay up to date on new releases.
Some Rapidfire questions –
The song closest to your heart …
My new song is coming out at the end of August.
The best compliment you have received…
It's a tie between a message I received about how my song helped someone through a difficult time in their life, and how my performance moved an audience member to tears.
The one thing you cannot do without
My guitar
Your greatest fear…
Not being able to write or perform!
Your favourite muse…
People are inspiring; they're full of stories and songs that are just waiting to be shared!
If you were to describe yourself in one word, that would be…
Determined
Your biggest ambition…
To share my music with the world and leave behind a lasting legacy.