Tan lines and good times, Here's why this pet friendly beach resort is the perfect holiday season getaway!
Nestled in the foreshore of the Arabian Gulf, Vida Beach Resorts, Umm Al Quwain are classified as the first 5-star luxury property in Umm Al Quwain that has become the buzz for the upcoming holiday season. With various contenders in UAE's luxury market, and the downfall from the recent pandemic, Vida Hotels has managed to set its benchmark in hospitality, from their welcoming service staff to their lavish amenities. Seamlessly facing a bay along the gulf, the classy exterior of the resort with lush sandy hues and arabesque structure, envelopes it's guests before they take a step in.
Wooden key cards are presented upon check-in to show the Vida's sustainability promise, with detoxifying refreshments while the guests await access to their rooms.
The interior of the property is bathed in natural light, with direct access to their selection of dining outlets, the spa & the beach. Every step of the way you find an Instagrammable spot, from their pop of color furnishings, immaculate pièce de résistance to their design-led spaces.
Boasting the numerous selections of eatery 'Origins' for all-day devour, the cuisine there is equally as delectable as the chic décor indoors, with also an open-air seating for the view lovers. While you may be at the resort to relax, we would propose to not sleep in fear of missing out the bountiful breakfast buffet at this social diner.
Stage 2 which is a typical lobby lounge to connect, socialize and grab a cup of coffee to go. The perfect spot for a high tea with their delicious chef's selection of snacks, pastries, desserts and unlimited coffee! Dipping at the poolside? Grab a bite with their exquisite menu of handcrafted beverages or enjoy the 'SoCal' rooftop venue where unconventional food meshes with live entertainment and sunset
views and is said to have a Southern Californian vibe.
That's not all! During this festive season, families and friends can enjoy the numerous following offers:
Festive Themed Afternoon Tea:
What's better than enjoying the festive season at an afternoon tea on the shores of Vida Umm Al Quwain with everyone you love, pets included?! An afternoon curated with everyone in mind, Stage2 at Vida UAQ's Afternoon Tea is everything you would need for an any-day getaway with its pristine water views from a contemporary and stylish setup, in a unique location. Nibble on scones and sandwiches, sip on hot and cold brews for a stylish beach affair that doesn't compare!
Served from 7th December 2021 to 7th of January 2022, 3PM to 6PM.Priced at AED 150 per person. Advance bookings required.
For reservations: Afternoon Tea With A View  
The Night Before Christmas (Festive Dinner Buffet):
Whether you're little or big, the night before Christmas is filled with excitement, anticipation and unfiltered joy! Why not add a scrumptious dinner under the starry skies of Umm Al Quwain into the mix at a spectacular location where kids under 6 dine for free? Join us on 24th December 2021 from 7:30PM to 12AM at Vida UAQ for a festive spread that features all your favorite festive dishes in a magical setup, plus fresh catch, hot mezzehs and delightful desserts. Dine alfresco or indoors.
Enjoy our Festive Night before Christmas Dinner at AED 190 per person with soft beverages and AED 290 per person with house beverages. Children between 6 and 12 years old can indulge in the festivities at 50% off.
Festive Day Brunch:
A day to celebrate for one and all! Family, friends, furry little buddies, VIDA UAQ's Festive Day Brunch is the perfect pick for a holly jolly Christmas celebration. Traditional festive dishes, high spirited vibes and joy all around make this brunch a memorable affair. Book the festivities on 25th December 2021. The Festive Day Brunch runs from 1PM to 5PM. Pick from an AED 190 per person option with soft beverages or an AED 290 per person option with house beverages. 50% off for kids aged between 6-12 years. Little ones under 6 years old dine for free.
Bookings must be made 48 hours in advance.
For reservations, call +97167065000 or email [email protected].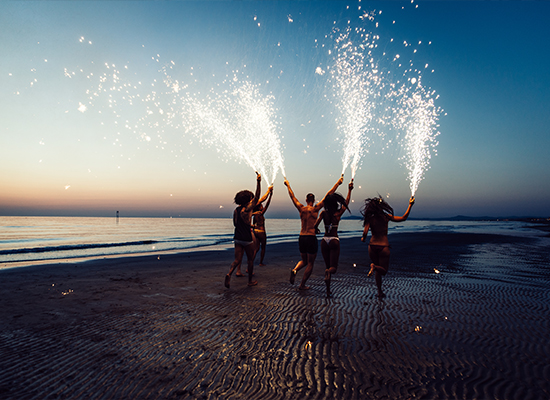 New Year Eve's Party
Ring in the New Year beach style at Vida Umm Al Quwain. Lounge on the bean bags, laze by the pool and dance the night away by the sea at the Beach Dream New Year's Eve's Celebration. Live entertainment, delicious bites and unlimited bubbly and sparklers to keep your spirits running high.
Package: AED 750 net (Single Occupancy) | AED 1500 net (Double Occupancy)
Minimum Length of stay 3 nights (for stays from 30th December)
Minimum Length of stay 2 nights (for stays from 31st December)
Time: 31 December 2021 | 7.00pm – 1.00am
Dress Code: Beach Casual
For reservations: Beach Dream NYE Party – Vida Hotels and Resorts
Home to elegant rooms and suites, the lounge is extravagant, with a ligneous aesthetic and royal blue tones furnish the stretch, the walls painted with a soft wavy tint with wide glass balconies peaking the cosmic sea views. The spacious white marble bathrooms, stocked with organic and sustainable products and a seperate rainfall shower to sweep the sand off your feet after a day at the beach. Binuclear family in town? Need a place for them all, the chalets are the perfect quarters for everyone! From the interior to its exterior, it feels just like home.
Speaking of the beach, the golden shoreline across the sea is likely one of the reasons guests would love to getaway at the Vida. With a plethora of sun loungers spread beyond the sand and an insta-worthy swing, the ambiance is just right. The options aren't limited, above the shoreline is their temperature controlled infinity styled swimming pool, complete with jacuzzi jets and flanked by palm trees to dive in. Vida Beach Resort is a firm favorite amidst those seeking an escape from the hustle and bustle of city life.
This pet-friendly resort is an inclusive staycation spot that appeals to every member of the family with their dedicated pet playground, Qix kids club, splash pad and an allocated kids' pool.
As such, the Spa is a comforting blend of contemporary elegance and Thai traditions. Modern minimalist structure, with unlimited amount of natural dim light, a perfect duo to set a sense of tranquility. With their three private rooms for men and women, and not to forget a special room for the love birds providing the perfect backdrop for relaxation and rest. For the aftermath, tan tones are offset by a light pop of color, toned-down yellow lights for their maximum luxury, minimum distraction ethos. Relaxation reigns supreme with their composed recreation of sitting.
In between dining, exploring the city and toe-dipping in the waters of the shore, guests can also get active by spending a day at the fully-equipped gym to fit in some time for fitness after a long day of leisure, to get that beach body ready for the next day. One can also jump down to some table tennis at their playground or consider fetching a partner for a competitive game at the tennis court!
Remarking on exploring the city, and as sleepy as Umm Al Quwain sounds, the resort is located within close proximity to many interesting activity destinations, such as a water adventure day at Dreamland Aqua Park, sightsee interesting landmarks at the UAQ fort or indulge in eye-pleasing murals at the UAQ National Museum. Need another way to make your excursion worth it? Grab their cutesy bikes for your voyage and lay your hands on their complimentary Instax Polaroid Camera to take home some memories!
Vida Beach Resort Umm Al Quwain is more than just a place to hang around at the beach. The property has a sense of identity and a great first impression. Start your day of pampering by arriving early and enjoying a plunge at the infinity-pool by dipping in and out lounging at the beachside. Continue the zen, with a 60-minute massage session at The Spa by Vida, followed by a choice of 3 course meal at the Origins for lunch or an afternoon tea at the lobby lounge. Fill up the remainder of your day lazing around the resort's sun loungers or maybe get active at the gym.