Dr. Aleix Maximus Bazzi is a man of many interesting ideas and passion. One of which has to do with spider webs but we will get to that later. Dr. Aleix M. Bazzi is medical practitioner at L'Artiste Aesthetics. The practice sits in the Golden triangle, in the heart of Beverly Hills on Rodeo Drive. On top of the world in a way, the office opened since early 2017. It's been successful but of course the pandemic affected everybody including Dr. Aleix Maximus Bazzi. He also has a rheumatology practice in Arizona, he is an innovator, artist, ambassador, influencer and actor in the entertainment industry.
Cassie: What type of medical practice and procedures do you perform?
Aleix: So what I perform is cosmetic procedures without surgery, we do have a surgical suite there, two of them and the surgeons in the office performing the other procedures. I just do cosmetic non-surgical things like Botox, fillers, butt enhancement without surgery with different things such as Sculptra. BDO thread lifts etc.
Cassie: You have an interesting innovative procedure and story, can you explain what they are for the readers?
Aleix: I came up with an idea called the spider butt lift, that's been coined in the past but no one has ever attempted it like a spider web just like the name suggests. I created that in 2018 and as soon as I posted it went viral throughout the planet everybody took that photo and started sharing it, within a day of the post I was asked to join the show The Doctors and perform this procedure on live television. I performed it live. It was a big hit and they kind of liked my innovative ideas. They invited me again later for another procedure called the "O" shot.
Cassie: What other procedures are popular right now in your field?
Aleix: I'm sure you've heard of the vampire or anything vampire this is part of that. The "O" shot there's a "P" shot for the male. I went on for a second session on the show The Doctors with the "O" shot.
Cassie: Location, Location, Location how important is that? Is it true that it's about who you know and who knows you?
Aleix: Rodeo Drive comes with its perks you're not in the middle of the desert no one will ever know about you, it gives you that notoriety. I considered Palm Springs. They have a street called El Paso in Palm Springs. It's exactly like Rodeo drive in Beverly Hills so I went there in the summer to see how dead it is in the summer. It was dead and nobody was walking the streets. It was so hot. I said this is not for me. I looked at all the real estate there and I said if I'm gonna do this I'm gonna jump into the middle of the Pacific Ocean by swim or sink better put myself on Rodeo Drive it took off right. I have friends in the entertainment industry and that sort of propels me towards different things including now acting.
Cassie: What first inspired you to go into cosmetics procedures? Did you have this dream when you were kid, did you have a play doctor kit?
Aleix: A lot of times people give you what you expect them to say, I'm never gonna do that going from the opposite. 2013 to 2015 as a successful rheumatologist internal medicine physician I was almost burned out. It was the same, same, same, what's next I needed more challenge so I wanted to do cosmetics and I was an artist from the beginning a visual person. I see things in a different way. I see numbers, I see them as art, I see structures as art, I see flowers, I see dirt and I take pictures of the minuscule things and that is art to me. From an artist perspective I said maybe I can do my art on the human face. I went into a cosmetic fellowship and did well. I actually scored the top on my board exam in my class.The inspiration is being a visual person and artist from the heart and that's what is inspired to become a cosmetic physician for celebrities or whoever comes my way. I'm a very generous and fair man, my prices are great compared to a lot of doctors in the same area. The inspiration is more of a like what's next what's the next challenge
Cassie: I'm sure it makes you feel very rewarded to have someone come into your office and get exactly what they envisioned, it must give you that satisfaction knowing that you helped empower someone and make someone feel better about themselves correct?
Aleix: Exactly a lot of ladies when they come in they're afraid of what the spouse would think when they go home after a procedure. I will encourage them to be strong and say this is what they wanted. This is for the client not for them. They cannot be controlling your decisions. If they have any issues they can call me but no one ever called because you know women are strong and they say what they need. They just need their spouse to support but to question what they're doing. They feel good about themselves looking in the mirror.
From personal experience I'm the person who did cosmetic enhancements since the 90s. I did five hair transplants back in 1994, 1995, 2002, 2010 and this March 2021. I never allowed myself to become that bald looking guy 'cause I did it in stages so I'm a cosmetic consumer and I feel great.
Cassie: Are there any future goals or any future innovations you would like to see may be accomplished in your career in the next 5 to 10 years?
Aleix: I don't have anything at the moment I could perform or do in the cosmetic industry but more in the film industry because there's so many projects lined up for me. Next week we're doing a miniseries that's going to start filming next Saturday. Just the other day around 11:00 PM I got an email from someone who is casting for one of the main actors in a movie, a leading role and they said we heard about you and we'd like to cast you. Please send us a photo to see if you're the right person. I sent four and they were like done deal, you're the person. Things are coming around like crazy so much work is coming, where am I going to fit them in my schedule?
We're working on releasing French Connection soon at the end of the month. Working on a billboard poster, been doing a lot of Instagram posts and behind the scenes. Season one is eight episodes, hopefully it'll generate enough income to create season two. We're going to invite a lot of you know celebrities who are in the industry. I have a pretty nice team I'm working with and they're very generous, very nice, and cook. One role leads to another so it's been a blessing knowing these guys.
Cassie: What's the best advice you have ever received or you can give someone reading Victor Magazine?
Aleix: Best advice is basically number one never quit your day job, second is if you think the next best thing could be a job and at the beginning it's a hobby, work at it and if the role gets bigger and bigger fine you can jump into the next profession. In terms of daily success you gotta be consistent and persistent. For example exercise you'll never see results if you exercise every other day. You have to do it daily and you gotta eat right. You're feeding not only your body and nourishing your body. If you eat right you're actually nourishing your brain that gives you those feelings of happiness. If you eat wrong you're going to be sluggish mentally you're not going to be successful, you're not gonna have those successful thoughts that entrepreneurs do. Proper vitamins, hydrate and sleep. You can't get any other better or simple message from anyone, basically a physician's message but also a life message: exercise, eat right, sleep and things will follow, you'll be successful.
Cassie: Is there anything in life that you would like to be remembered for?
Aleix: Being generous and kind to animals and humans and being an environmentalist and conscious about the environment. You know they can say Aleix was here, that's it my existence hello Aleix was here. If you're simple in the way you think, that philosophy is very powerful. You don't have to have sophisticated words behind it, just simplify things. Simplicity is king. Just a few words can stun you, if they're profound but they have a lot of meaning, you can go in every direction so they're not rigid, they're just simple, and simplify everything.
Cassie: My last question is if you could master anything overnight what would it be?
Aleix: Martial arts. I've been drawn to martial arts since I was a kid. I remember the first discussion with anyone, since I could start to remember my father's friend who said you have the physique of a tiny little Bruce Lee. He said you should pursue that and I took martial art classes back in the 90s. Then I had to do medical school and now I'm back into it. The art itself is how our human body can know before a flexible kick and not from the violent part of it but the artistic ways of moving. Especially the graceful moves of Kung Fu but I do Taekwondo right now and self defense.
Dr. Aleix Maximus Bazzi a man of understanding, kindness, generosity and innovation. A real life Dr. Spider-Man and empowering hero. I was incredibly grateful to have minutes of this very busy and successful man's life.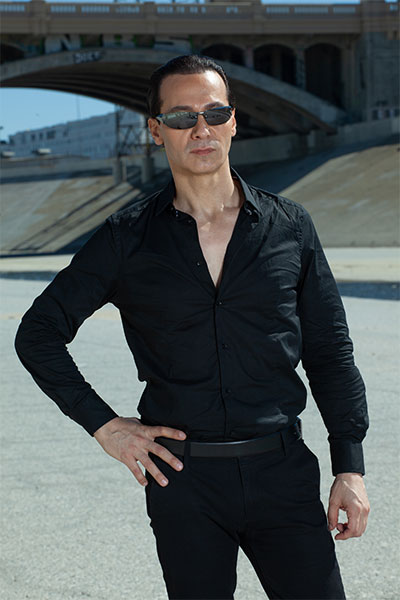 #thevictormagazine #victormagazine #fashion #fashionmagazine #magazine #art #lifestyle #dubailife #influncerlife #blackfashion #culture #victor #UAE #dubai #instagram #influencer #influencers #socialmedia #social #beauty #antiaging