Dear Dubai,
As we're leading up to summer, are you now gearing up for leisure travel?  Yes, that term that we somewhat lost in our vocabulary – thanks to the last couple of years that forced us all to just travel vicariously or scroll through throwback photos of our vacay's heydays!
If the world will continue to be kind (knock on wood, let's keep our fingers crossed and not jinx it please), seems like it's the opportune moment to revisit that travel bucket list and again start tinkering the jetsetter side in all of us.
Enriching once-in-a-lifetime travel experiences make journeys more meaningful.  Fortunately, the trend among travel junkies has evolved from the passé country-ticking to a more matured aspiration of fulfilling a personal travel wish list.  Composed of a variety of compelling, provocative, and real-life moments unique to a destination, each person's list reflects one's personality, preferences, and dreams.  Once experienced, every bit remains memorable and will inspire to think about 'what and where next'.  
Back in 2014, I was fortunate to have ticked off two from my ever-growing docket – Peru's Machu Picchu and Brazil's Iguazu Falls.  Both situated in Latin American countries and part of the new 7 wonders of the modern world and 7 natural wonders of the world respectively.  True to the claim that each rightfully deserves, both aren't just awe-inspiring and breathtaking, but also glorious larger-than-life experiences that should be considered in the 'must visit in this lifetime' catalog if you'd ask me.  
Machu Picchu is a sight to behold due to its seemingly simple yet intricate composition, rich history, and architectural grandness.  Believed to have been built by the Incas tribe during the 15th century in the Andes ridge, it is dubbed as a lost, yet preserved ancient city on top of a mountain in a tropical forest rich in flora and fauna.  If you're a hardcore hiker and into trekking in its purest sense, you can sign up for the challenging trail that is meant to be completed in several days.  Yet, if you're just an urban traveler who's there as an adventure-loving tourist like me, you can take the bus that takes you to its entrance and simply hike close to its peak.  Be prepared to take a few hundred steps in varying slopes and once you find your spot, simply take it all in – you'll appreciate earth's beauty as you embrace your tininess in the midst of its green grandeur and intimidating height (tip: to avoid altitude sickness, get yourself acclimated first so you won't find yourself barfing on a brown bag that's highly recommended to bring along).             
On the other hand, Iguazu Falls is dramatically cinematic as you gaze through it if you're taking the chopper tour, while a thrilling and chilling encounter as you go face-to-face its waters while riding a boat.  A collection of falls (more than 200 and spanning more than 2 kilometers) bordering Argentina and Brazil, I included it as another stop when I visited Rio de Janeiro and Buenos Aires – definitely, worth it!  Not only is it a multi-sensory experience, but on a good day, you may also touch a rainbow (literally!) as it plays with the body of water.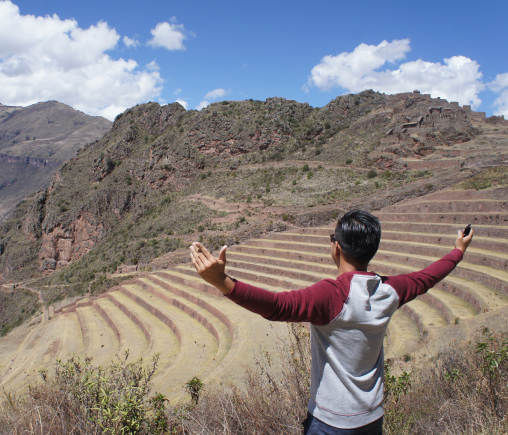 If these personal anecdotes don't trigger your imagination and encourage you to book that much needed and well-deserved travel spectacle, I don't know what will.
Why not make 2022's summer your travel bucket list season?  As we've all learned, life's too short to hold back – so dust off that luggage bag and hop on a plane!      
Always inspiring,
Joseph