The 28 Letters, is a newly launched brand that focuses on the arabic language and incorporates it in all of their designs. I sat down with 20 year old Othman Ahmed who launched the brand with his 2 partners.
It made its way to mainstream fashion in the 1970s with hip hop culture taking it and glamorizing it.
Now, hoodies are a staple of streetwear fashion. With new and growing fashion labels taking on that style, it becomes a hassle to find a name for yourself.
" Hoodies are the easiest and most essential pieces that our generation owns," he said. Due to its simplistic style and comfort, everyone has one. It's multi-style aesthetic also plays a big role in its popularity. That's when Othman realized that his company can be a walking billboard, " I wanted it to be relatable to our generation and most importantly I wanted everyone to own one,and that's when it hit me! When deciding on what I wanted to do, I realized fashion plays a big part of our generation and it's a great platform to promote whatever I need and that's how it all started."
Coming up with an idea is something but actually working on it is something else. The name of the brand is it's entire identity that's why this project had to exude what it stands for. Now the arabic language isn't new in fashion, but lately the focus has shifted onto different handscript.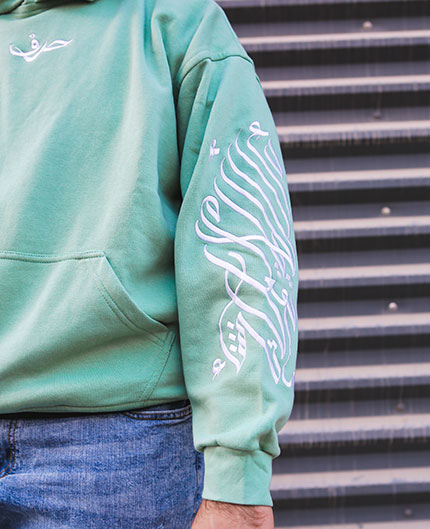 The 28 Letters is a brand that focuses on bringing more of the arabic language into fashion, "We made sure our entire brand reminds you of the middle east" he noted. That's why the name actually comes from it. It's the number of letters in the arabic dictionary and when coming up with a name it was the most obvious thing they could think of. As you can see, all our clothes have " حرف "(letters) on them and the "ف " has " ٢٨ " (28) instead of the dot.
"It's all in the details," he pointed out.
When planning for the launch of his brand in the beginning of march 2020 he had to put everything on pause because of COVID. "During the lockdown, I was focusing on developing the brand and upgrading the concept and elevating the brand," he said. Making sure to stick to his initial style, Othman wants The 28 Letters to be a form of platform for all local designs to voice their originality. " To some it might just be a fashion label but to me, it's a sense of community and that is what our mission is, is to make the 28 Letters a community."
#thevictormagazine #victormagazine #fashion #fashionmagazine #magazine #art #lifestyle #dubailife #influncerlife #blackfashion #culture #victor #UAE #dubai #instagram #influencer #influencers #socialmedia #social #beauty #antiaging